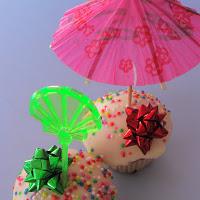 It's no secret that you need to serve food at parties.  Whether it's a sit down meal, buffet table, or a few plates of nibbles you're providing, I've got lots of ideas to get you into the kitchen (or the supermarket at least!)  
If you're thinking of
hosting a Deep Sea party
, think fisherman, mermaids and pirates, here's some quick and easy points to try;
Young pirates love adventure, so why not bring an element of danger and suspense to the dining table?  Line up small bowls of pretend "blood and guts" for a yucky buffet.  Encourage everyone to take a spoonful of something, but don't push anyone if they're not keen.  For the truly reluctant, make sure you explain the real identity of everything.  Go for a castaways BBQ or a rebels banquet, or a DIY pizza bar (ok, that's not so piratey - but it's fun!)
For mermaids play it safe and serve seaworthy fish food; fish fingers, fish cakes, tuna salad or fish and chips!  Put especial effort into making everything look petite; little girls feel special when served little food on dainty dishes.  Decorate standard cupcakes with accessories such as edible flowers, piped blue icing, or little decorations such as ribbons, bows, umbrellas or shells in the colour of your party. Fisherman love fishing, so it's more of the same, plus sub-sandwiches, clam bakes and other hearty meals, or serve family favourites in take-home lunch boxes.And if your kids don't like fish?  Then find a cookie-cutter in the shape of a star-fish or fish, and use it to shape everything from biscuits to jam sandwiches.
For the main cake there's still more ideas.
Consider
Devil's Food Cake
or anything covered in lashings of dark chocolate for 'wicked' pirates.  Mermaids can try an 
ice-cream cake
to stay in the mood, or you could buy or bake the family favourite then pipe blue frosting around the base (or all over!) and stick on chocolate-shells, or other sea-worthy sweet-creatures (jelly frogs, stars, pearl-mint balls).  For a fisherman theme try a standard cake and then
cut out a
scalloped corner
 as if the fish-that-got-away took a nibble before it swam off!
Don't forget the adults 
(they get grisly too); 
splash out (ha ha) and provide oysters and sushi or make prawn cocktails and fish cakes 
or adult-sized serves of fish and chips.
And what's on the menu for Mimi's upcoming 'Pirates Love Mermaids' 4th birthday?  Probably sushi and tuna salad for the adults, and fish cocktails and chips served in little newspaper cones for the kids, followed by decorative clam-biscuits for the girls and chocolate jolly-roger biscuits for the boys.  Lolly bags will be mini-aquariums... you'll see!
Can't wait; then jump across to Partycraft Secrets for more birthday party ideas... the ebooks have detailed menu ideas for each party theme - mmmm.... it's making me hungry!