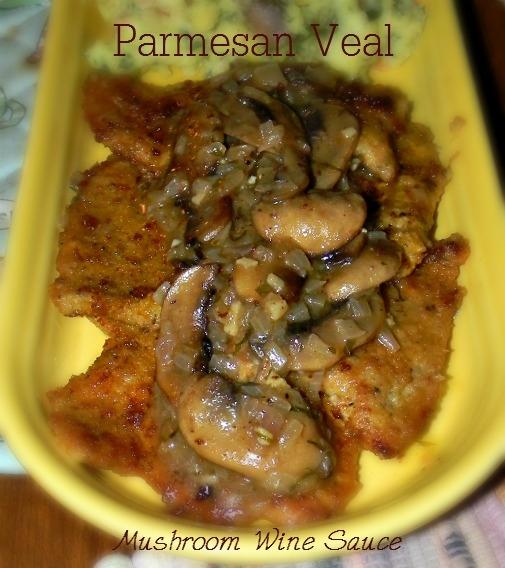 I found really nice looking veal cutlets this week. The Nudge was surprised, last time we bought veal at the butchers we were so disappointed we were afraid to try again because let's face it, with the price per pound, nothing makes me sadder than to throw money in the garbage.
This time, I thought I would peruse my local market. Yes, the one where I avoid the fish section as if my life depended on it. But since we aren't talking fish here and they have renovated the whole store, I am hoping that included the meat counter.
I scored 6 cutlets at the same price as a package of lean ground sirloin.
They were small ones but if you tenderize them with a few pops of your handy dandy mallet they actually grow in size.
I must have been a wizard with that mallet because The Nudge took one bite and didn't say one word till he was done. If I knew it was this easy to get him to be quiet I would be feeding him veal every night. I actually got the chance to tell him about my day. Hmmmmmmmm
There's a moral in there somewhere. Let me know if you see it. I on the other hand will continue to find a way to work the same magic on vegetables. I wonder if broccoli can be tenderized............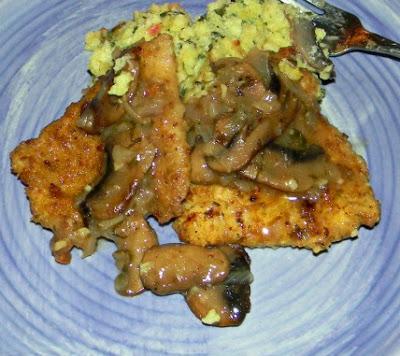 Parmesan Veal
makes 4 servings
* 1/2 pound veal cutlets, pounded to 1/8" thickness
* 1/2 cup breadcrumbs + 1/4 cup Parmesan cheese (store grated is fine here)
* salt & pepper
* 1 egg or 1/4 cup egg substitute
* 1/2 cup vegetable oil
* 1 cup chopped onions
* 1 cup sliced mushrooms
* 2 cloves garlic, minces
* 4-5 fresh basil leaves chopped
* 1/4 cup white wine
* 1 teaspoon flour mixed with a teaspoon of wine
* 1 tablespoon chopped parsley
1. Salt and pepper veal cutlets. Dip in egg then in bread crumb/cheese mixture.
2. Heat vegetable oil in large skillet to when you drop in a bread crumb it fizzles immediately.
3. Saute veal until the edges start to brown, flip them over and repeat with all the cutlets. Remove to a platter
4. In same skillet, add the onions and garlic. Turn heat to low and slowly cook the onions. Once they become translucent add the mushrooms. Cook them till they soften. Add the wine, the flour slurry, basil and the parsley.
5. Simmer until the sauce thickens and place the cutlets back into the pan. Cover and heat through.