Here is a look into Paris Fashion week 2012.I have selected 3 designers which have caught my eye and created interesting and fresh collections.
Chanel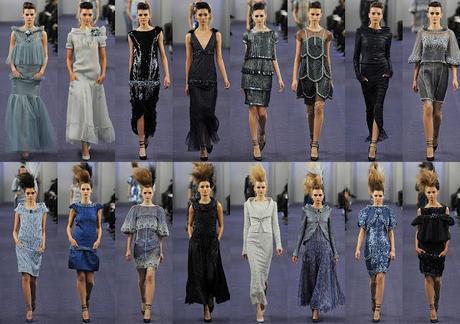 Every shade of blue was represented at 
Chanel's
 2012 Couture show.The once traditional Chanel have styled their models with faux Mohawks and fascinators. The show was themed as a large aeroplane interior , so models looked as through they were walking down the drive aisle while onlookers were sat in there allocated seats. Standard tweed dress suits in powder blue, drop-waists and pocket seamed shifts with high cuffed necks, a scattering of blue sequins that shimmered with a aquatic theme .From the images above we can see longer length gowns were displayed from midnight blue to the palest shade of blue chiffon. It was a Chanel couture take on air hostess outfits chic , if only this was reality.
Dior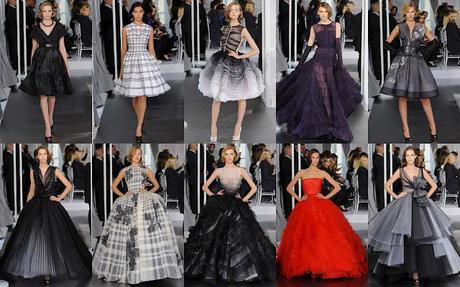 Another collection which has inspired me is Christian Dior's
 Couture collection. In the collection we see that Dior has created  another vintage-inspired collection including vintage shapes, from the  1950's to the more stern and constructed Victorian era. Floral designs were 
embroidered on to 
A-line dresses, while pencil skirts were seen in hounds tooth and grid prints. I could see a trend of mixing up of contrasting materials creating a heavy sheerness to the pieces. Layering is a key theme and we see layers of see-through tulle which were created into  dramatic gowns with volume skirts. Ruffles are certainly trending.
Valentino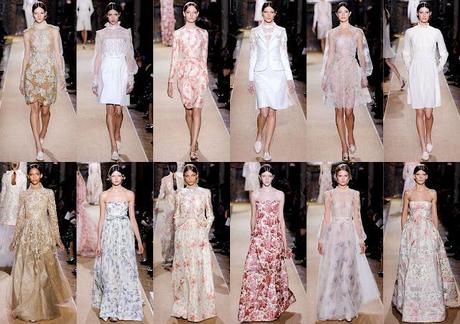 Valentino couture collections are always the collection i look forward to , the delicate and traditional elegance are continuously shown season after season. From this collection i feel a very regal theme surrounding the Spring Couture collection. This give me the idea of the more modern monarchy which exists today, so this collection is made to suit the younger generation of royalty like our own Kate Middleton, this collection is made for a young princess.White and ivory knee-length dresses along with traditional floor length gowns.A lot of sheer fabrics and lace give a traditional look but styled and created to give a contemporary look. Feathery light floral prints give a subtle demure.I can see throughout other collection a lot of more  high-frilled collars and sheer organza sleeves are trending throughout these spring collections as spring/summer weather sees the consumer wearing more covered up garments.