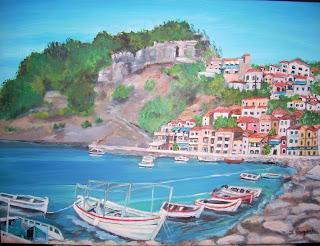 It was our first visit to

Parga

, and can certainly see us returning in the future.
Parga

is a picturesque small town on the north-western coast of Greece, in the area called Epirus. Parga town is situated in a sheltered bay and its houses climb the mountainside from seaside to the top. It's got a castle, one large beach on the other side of the mountain called Valtos Beach, two smaller beaches in town, an island across the bay with a chapel on, a pier for the tour boats and fishing boats in the middle of town and another beach a couple of kilometers south of town in the next village called Lichnos beach.



Parga

is surrounded by mountains covered with olive groves.
Visit Parga in Greece