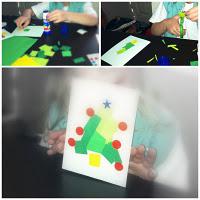 It's no secret that I love showcasing my readers' craft projects... especially when I inspired them!  It was with great pleasure that I opened an email yesterday from Kylie, and Australian mother of three, saying "

I wanted to thank you for the great idea for the Christmas cards on

your website, we had a lovely afternoon doing craft; I'd forgotten

how relaxing and therapeutic it can be!"
Attached was a set of photos showing the cards under construction and the final product.  I love the sticker baubles and star on top - it's a neat improvement on the mosaic trees my daughters made; well done Kylie and family!
If you're looking for crafty things to do with the kids this holiday, why not try some of the projects I've blogged here - and send me a photo, or upload it on
Flickr
. 
My website also has lots of free downloadable art and craft projects, such as the
Mini Mona Lisa
add-a-face artwork; simply print, play, and frame!
I've also uploaded a 'page-flipping' preview of the free "how to host a themed party" on both the side bar of this blog and on the website.  You can also see the free printpaper package and 10 preview pages of each of the themed party craft ebooks online.  Current themes you can look at include;  Ballet, Fairy, Mermaid, Pirate and Princess, with more underway.  All Themed Party Planners include shopping lists, printable make and take craft projects, as well as dozens of ideas for invitations, costumes, decorations, games and keepsakes.
Thanks again to Kylie for trying my idea, making it her own, sending me the photos, and letting me share!