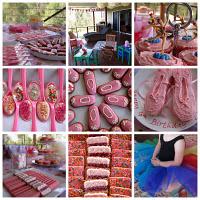 It's no secret that it's very rewarding to see ideas turn into reality, and even more encouraging to see your dreams adopted by strangers.  About a month ago, one mom saw my ballet biscuits on Flickr, got inspired, went shopping and made the biscuits for her daughter's 4th birthday, ballet-themed party.  I've included a number of her photos in the montage and there the ballet-slipper biscuits are; at a real party, ready to be eaten by real party-people!   Hooray!
Needless to say, I'm in love with all the other pink biscuits, birthday cake, and dolly-dancers as cupcake toppers, but my personal favourites are the rows of iced-spoons and the rainbow tutu, it's too-too cute!
For decorations, this clever mom added giant white paper pom-poms and pink bunting which added instant charm to her outdoor-do.  Other ballet-party decoration ideas I promote include;
·

  

Drape the entry door with a beaded curtain or fabric to create a stage-curtain effect so visitors can make a grand entrance. 
·

  

Hire a pink carpet for added effect and photograph guests as they arrive in all their excited glory. 
·

  

Place a full-length mirror in the main area, decorate it with some ribbons and feathers and let the girls prance and preen under a spotlight.
My daughter Mimi has her first ballet-concert this weekend.  She dances about the house in great anticipation,

but she has a bit of a reputation for last-minute stage fright, so it's anyone's guess what she'll do when the curtains open!  I'll keep you posted.