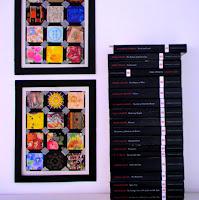 It's no secret, to those that know me, that long before I was a stay-at-home mom I was dabbling in paper craft.  One experiment that has survived is a paper 'sampler'.  Onto a piece of A4 black card I used masking tape triangles to stick down several snippets of favorite paper.  In this way, each one is framed and allowed to speak for itself, so to say, and at the same time, all the pieces work well together.  From a distance, the two pieces look almost like paper quilts.  
It's a shame that not much survives from my 'younger days' as a crafter; I often did things quickly, was impatient, and if I didn't like it, tossed it.  Now, I have children, I'm more forgiving of my failures, partly because I can blog about it, partly because I can give it to my girls and they can use it in their dolls house, and partly because I've come to realize that I can set a good example by emphasising the process not the product... afterall, look at what they bring home from preschool each day!  LOL!
When you get a moment to yourself, why don't you go through your old craft boxes, journals, diaries or memory bank, and see if you can recall any old craft experiments; what worked, what didn't, what could you try again with the new skills and tools you have today, and what old ideas would your children enjoy?
Go on... get nostalgic. x