Its been few months i got some samples from Reward Me for Review. One of the products which i got was this PANTENE Pro-V Total Damage Care 10 Shampoo- 80 ml bottle. it is a product of +P&G (Procter & Gamble) India.
I liked that they have sent a good sample quantity rather than a sachet or something to test.
Lets see how it worked for me Dry, frizzy and thin hairs.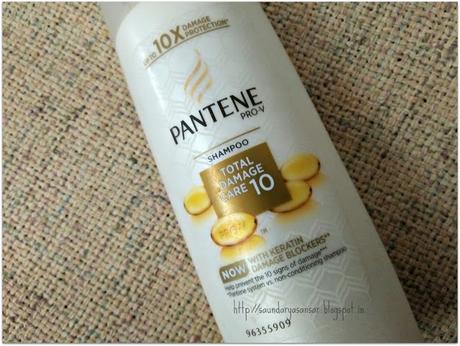 You can buy the Pantene Pro-V Total Damage Care shampoo from retail outlets or online as its easily available.
Use daily to help prevent the 10 signs of hair damage. Contains Keratin Damage Blockers technology that provides 99% protection against damage, giving you softer and more manageable hair.
* Repairs 10 visible signs of hair damage
* Protects hair against future damage
* Leaves hair feeling smoother and softer
Ingredients- has a long list of chemicals, not free of Sulphates (SLS).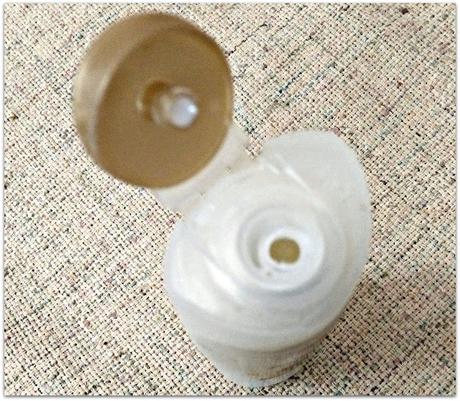 My hair type usually makes me resist trying various types of hair products but since the product came to me and the claims made were worth trying-so used it.
The shampoo comes packed in opaque plastic bottle in white and gold. it has a flip cap to prevent spilliage and also controls outflow while taking the shampoo. S o a sturdy and travel friendly pack.
Shampoo is pearl white in color with a medium consistency. It has a pleasant floral fragrance which lingers on for a couple of hours post wash.
As always i apply this too diluted in water on my hairs.
It lathers well on oiled/non-oiled hair well. It cleans the scalp well without leaving any residue-washes off well. People with oily scalp would also find it good for hair cleansing.
I found that my hairs were not only clean but lustrous after every use. It helped me retain bounce & volume of my hairs. My curls were defined with reduction in frizz. Although i use conditioner post wash but the effect was something i got from this shampoo only.
I was happy to find my hairs healthy and yes with little reduction is split ends too.
Usually i opt for hair trimming to manage my split ends but its been months i have gone for a trim.
Leaving the SLS free/Paraben free range, till now i was happy with my Loreal Paris 6 Oil Nourish Shampoo, But Looking into the results, i have recently grabbed a bottle of conditioner from the range. Will review that soon.
The quantity in the bottle was good enough to last for a couple of months for a regular user.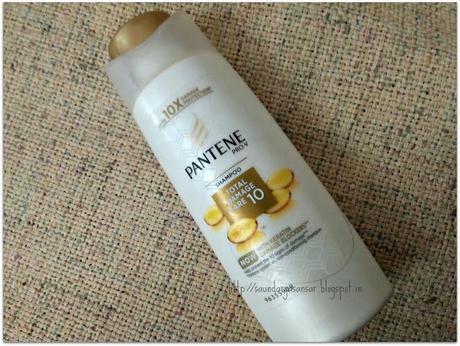 Overall I found the Pantene Pro-V Total Damage Care 10 Shampoo is a good shampoo for every hair type and is a MUST TRY. It wont disappoint for results claimed except the long list of chemical ingredients.
Have tried any of the PANTENE shampoos? How was your experience?
Disclaimer- This was a sample sent in exchange of my review. But the review is totally unbiased and based entirely on my experience.