paneer kolhapuri recipe - easy paneer recipes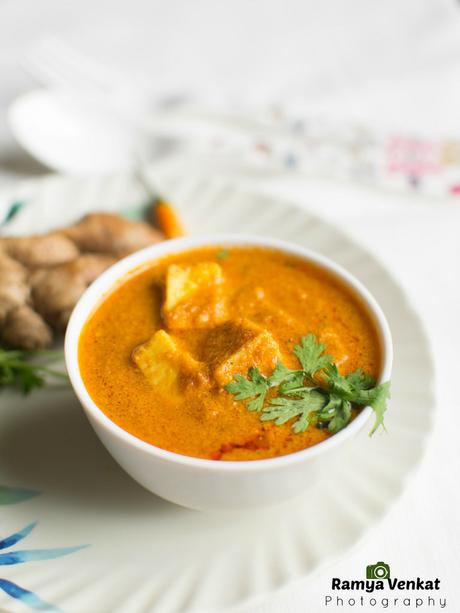 paneer kolhapuri is such a wonderful recipe with freshly ground spices.For this recipe,you did not need any cream or yogurt for making the gravy thick and rich.Here you need simply coconut and tomato make the recipe delicious one like our kurma recipes.I already posted chicken kolhapuri recipe here and i took that recipe as a base and made some changes and made this recipe.this is perfectly paired with any Indian flat breads and rice varieties.
this recipe is little bit different from the chicken kolhapuri recipe as there i marinated the chicken pieces with spices and then i added it to the recipe.But here you did not any marination for paneer and we are going to add paneer finally as we preparing other paneer recipes.I reduced the spices a bit and added garam masala and kashmiri red chilli powder for making the recipe spicier.You can follow the same method for this too if you want more spicier curry.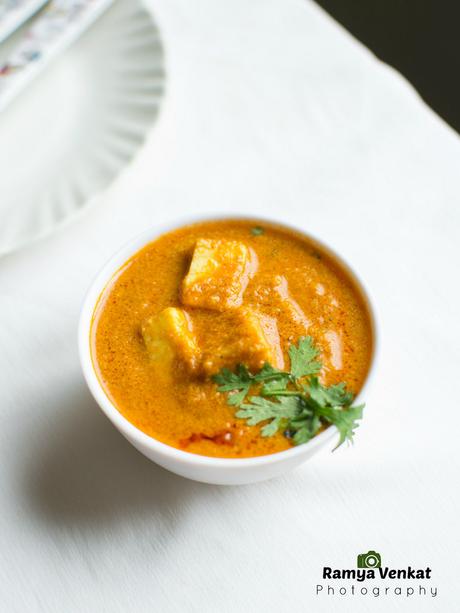 Roasting and grinding the spices like coriander seeds,cumin seeds,poppy seeds and red chilli is must in the recipe.But i avoided and i roasted the grated coconut and ground it with red chilli powder,cumin powder and garam masala.The taste is little bit similar but you will definitely see a difference there.I want to make this paneer recipe a milder one compared to the chicken recipe,so i reduced the spice level here.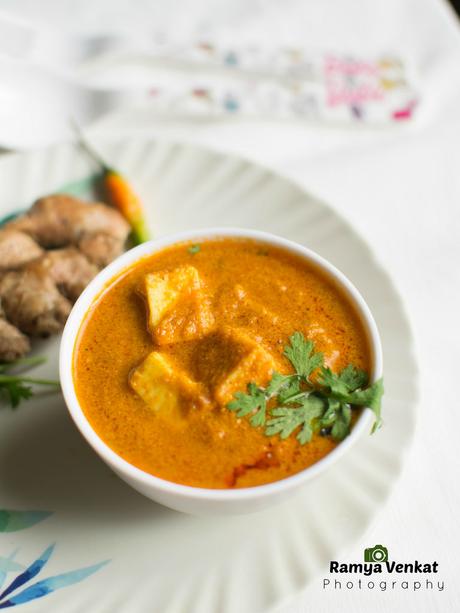 Really its hard to shot the snaps in low light and its very must to utilize the light when it comes in between work.Is that really happens to you all?Like,if we are planning to shoot a recipe on a fine day,but unfortunately the rain comes and becomes more cloudy:(So nowadays i did not planning anything to prepare,just make it and shoot that day whenever light comes(once a week only).That day,no rain,so happily i shot the recipe but forgot to take step pictures.:(I will update once i make this next time.Sure try this one and let me know the feedback.Lets move on making the recipe.,
paneer kolhapuri recipe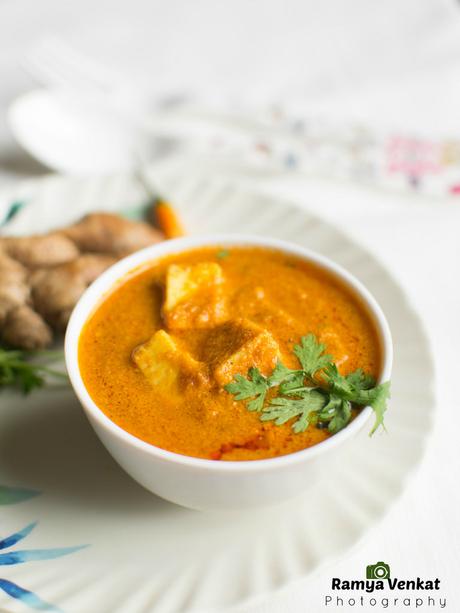 Gravy based curry made with spices and cottage cheese


Ingredients

paneer,cubed - 1 cup
onion - 1 finely chopped
tomato - 2 nos
green chilli - 2 nos
garlic- 2 cloves
ginger -1/4 inch piece
coconut - 3 tablespoons
asafoetida - a pinch
kashmiri red chilli powder - 2 teaspoons
garam masala - 1 1/2 teaspoons
coriander powder - 1 teaspoon
turmeric powder - 1/4 teaspoon
cumin powder - 1 teaspoon
cumin seeds - 1 teaspoon
salt - to taste
oil - as needed
coriander leaves - as needed
Instructions
In blender take tomato,garlic,ginger and green chilli and make a fine paste from it and set it aside.

Roast the coconut for few seconds until it turns light brown and cool it.
Make a paste with roasted coconut,cumin powder,1 teaspoon of red chilli powder,garam masala with few teaspoons of water.
Now heat 2 tablespoons of oil in a kadai and add cumin seeds.Once it splutters,add asafoetida,coriander powder and turmeric powder.Roast it well it the raw smell leaves and proceed the recipe only in medium flame.
Now add finely chopped onions to it and saute it well till it becomes soft.
Tomato paste which we made before is added in this stage along with salt and saute it well till the oil separates.
Another teaspoon of red chilli powder is added and saute it well.Coconut paste is added with enough water and mix it well.
Place the lid over the pan and cook the gravy for approx.,6 to 7 minutes till oil separates.
Now add the paneer cubes and cover it again with the lid and simmer it for another 2 minutes.
Add finely chopped coriander leaves and switch off the flame.