paneer handi recipe - easy sides for rotis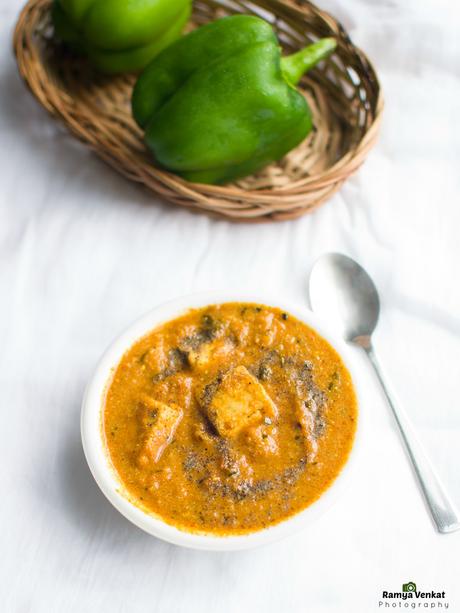 paneer handi recipe - made with brown onion paste,tomato puree and marinated paneer cubes.
paneer handi is one delicious recipe that has a different technique which involves browning the onions and make a paste from it,adding pepper powder instead more red chilli powder and some yogurt and cream for marinating the paneer cubes along with kasuri methi and pepper powder.
I adapted the recipe from Sanjeev Kapoor's recipe ,there i saw the video and adapted the recipe according to my taste.I added red chilli powder and turmeric powder here just for the color and added loads of black pepper powder as indicated in the recipe.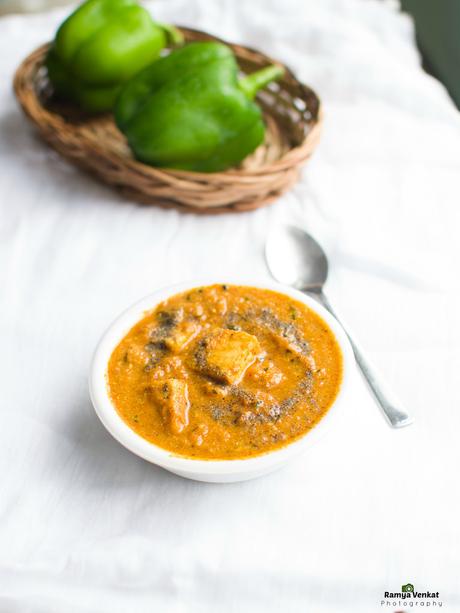 The recipe is more like other paneer recipes involving onion-tomato paste but here you have to puree the tomato separately and brown the onions evenly and then make a paste.I made this along with tomato soya chunks pulao before few weeks and this tasted amazing with it.You can pair it with any flat bread or biryani recipes too.As we are adding pepper powder in the recipe,the recipe is little bit mild and this is perfect for the monsoon season.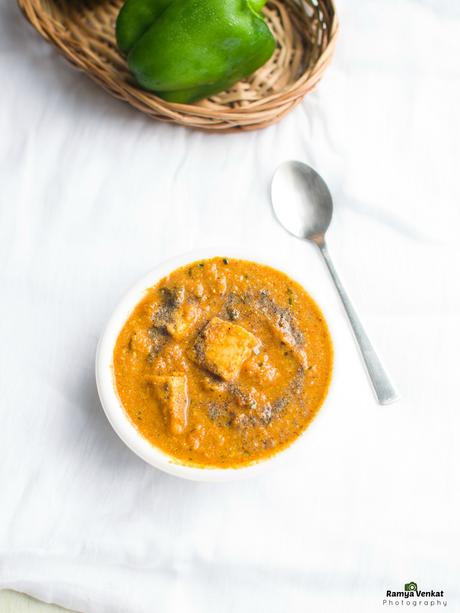 On that day,i really want to make something gravy like recipe and not the usual raita or anything else,then this recipe came to my mind and start marinating the paneer cubes in yogurt and cream with kasuri methi and black pepper powder.Yes the marination is so simple and you does not need ginger garlic paste in the marination and it should remain for atleast 30 minutes for better texture of the paneer.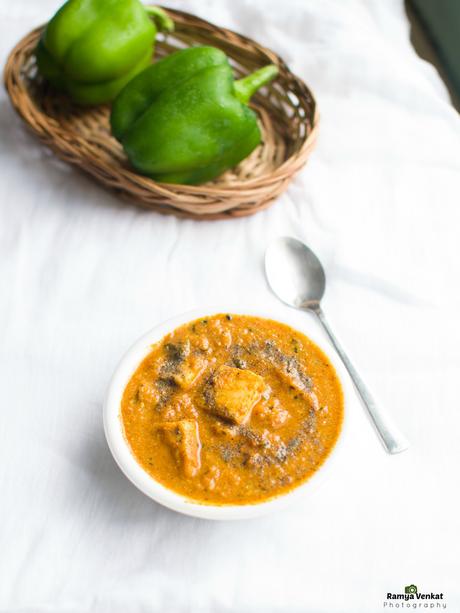 In home,we both had severe cold that time and unable to take food.So i made the recipes mostly related with black pepper rasam and kuzhambu.Really those two make you breathe free and you will surely get better results within weeks.After these kinda food,we need something tasty and also good for the season.So i made tomato pulao and this gravy and also we took this along with some roits in dinner too.There is no need to cook the paneer in oil or ghee before or after marinating.Just add the marination along with paneer cubes and mix it and cook it till oil separates.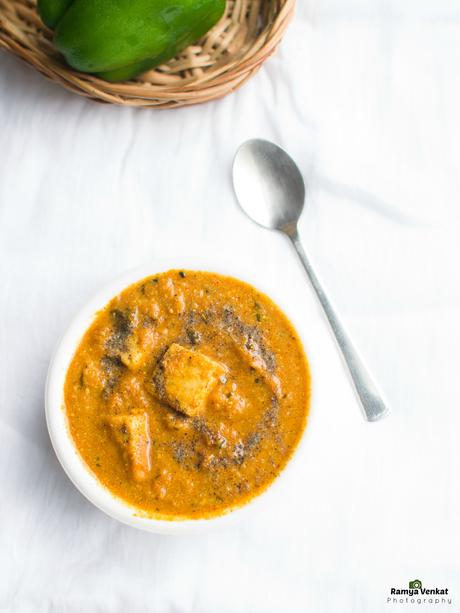 Traditionally the recipe is made in clay pot or handi which tastes more delicious compared to the recipe in normal kadai and i made this in kadai only.You can also make this recipe as veg handi,there you can add vegetables instead of paneer in the recipe.I saw so many versions of this recipe,but the recipe which involves different techniques with same ingredients and the result was fabulous.Do give a try on this one,am sure you will enjoy it.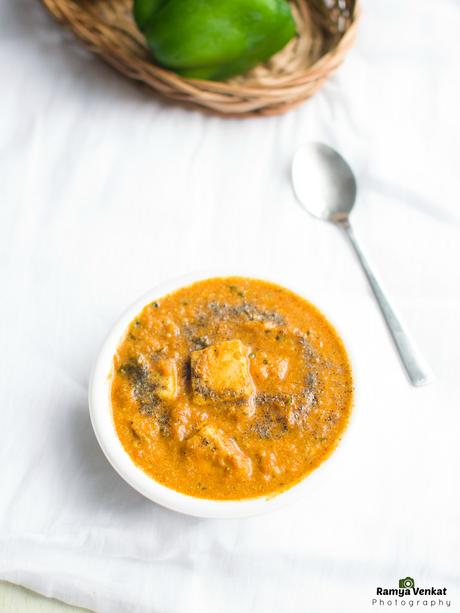 paneer handi recipe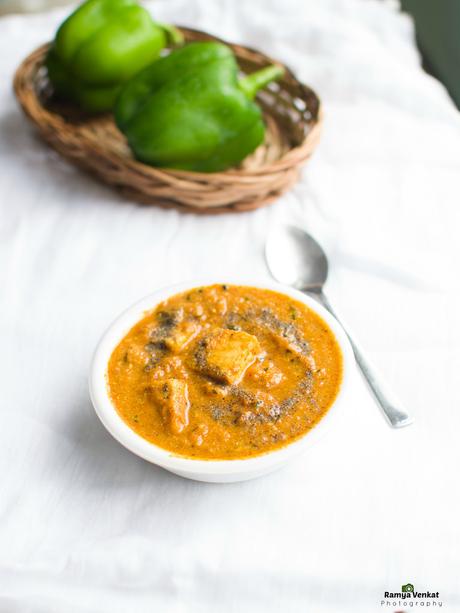 curry made with paneer and black pepper

paneer ,cubed - 200 gm
onion - 3 thinly sliced
tomato - 2 ,pureed
green chilli - 1 no
ginger garlic paste - 2 teaspoons
yogurt - 1/4 cup
fresh cream- 1 tablespoon
red chilli powder - 1/4 teaspoon
turmeric powder - 1/4 teaspoon
black pepper powder - 2 teaspoons
garam masala - 1/4 teaspoon
coriander powder - 1 teaspoon
kasuri methi - as needed
salt - to taste
ghee / oil - as needed
bay leaf,cinnamon,cardamom,cloves,cumin seeds - for tempering
Instructions
Marinate the paneer cubes with yogurt,fresh cream,kasuri methi ,salt and 1 teaspoon of black pepper powder.Rest the marination for atleast 30 minutes.

Meanwhile heat oil in the pan and fry the onion slices till golden brown.Drain excess oil and cool it completely.make a fine paste from it with enough water.
Heat 2 teaspoon of ghee and 1 teaspoon of oil in the kadai and add all the spices given for tempering.
Now add green chilli followed by ginger garlic paste.Saute till the raw smell leaves.
Add the brown onion paste and saute it again till the oil separates.Then add the tomato puree and cook till the water evaporates and oil separates.
Now add red chilli powder,corinader powder,turmeric powder,1 teaspoon of black pepper powder,garam masala to it and roast it well.
Add enough salt to the recipe and adjust the consistency with little more water.Once it boils,Add the paneer cubes along with marination and keep on stirring in low flame.
Cover it cook for approximately 5 to 6 minutes till all combines well and you will see the oil at top.Adjust the gravy consistency with enough water,if needed.
Add crushed kasuri methi and then switch off the flame.serve piping hot with a sprinkle of pepper powder on top of it.