Ever wondered how to make paneer without tomatoes? I am sure almost all of you, just like me have been adding tomatoes to all gravies since ages. Can you imagine one without them? This recipe results in a buttery gravy with soft succulent paneer and I assure you, you won't miss tomatoes at all and its super rich.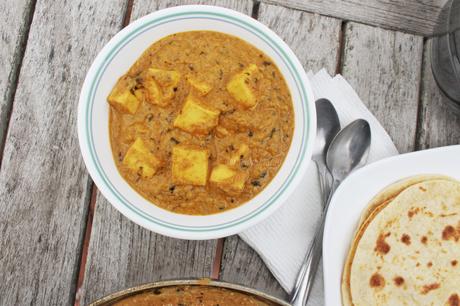 Your kitchen will be filled with the aroma of this flavorful dish. This recipe does not have cream or cashews or almonds or any other nut. Whole milk and butter adds richness to this gravy and spices make this recipe so flavorful. It's also great for the people who are allergic to tomatoes, or people who suffer from kidney stone.
Bookmark this recipe – for the next time someone says how to make restaurant style paneer without tomatoes, or without nuts or without cream, you have an answer. If you want to try one with tomatoes, do not forget to check out my Shahi Paneer recipe.
Things to remember/Tips:
Do not skip the sugar, it really adds restaurant style flavor to this gravy
You may use salted or unsalted butter and adjust salt accordingly
Super Tip: Microwaving the paneer cubes with water makes them super soft. Try it once and you will use this tip for the rest of your life
You can use this gravy for different veggies, just replace them with paneer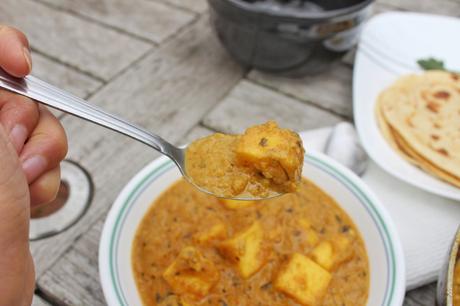 Ingredients (Makes 4 servings)
2 tsp. oil
2½ cups chopped onions
4 -5 cloves of garlic
3 green chillies
½ inch garlic
3 tbsp. butter
¾ tsp. sugar
1 tbsp. kasoori methi (dried fenugreek leaves)
1 bay leaf, broken in to smaller pieces with hand
3-4 cloves
3-4 cardamom (or 1 tsp. cardamom powder)
1 tsp. kitchen king masala
1 tsp turmeric powder
1 tsp. coriander powder
2 tsp. red chilli powder
1 tsp. amchur powder (dried mango powder)
200 grams paneer, cubed (cottage cheese)
1½ cup whole milk
1 tsp. salt
Method
In a pan heat oil. Add the onions, garlic, ginger and green chillies and sauté over medium heat. Once the onions turn golden, turn off the heat and let this mixture cool. Blend this into a paste (add little water to blend).
Heat butter in the same pan over medium heat and add sugar. Stir continuously for a minute. Add kasoori methi, bay leaf, cloves, onion paste, kitchen king masala, cardamom powder, turmeric powder, red chilli powder, amchur powder and salt. Heat this masala mix for about 3 – 4 minutes, then add milk (little at a time) and simmer it for about 8 – 10 minutes. Meanwhile, microwave the paneer cubes with 2 cups of water for 5 minutes and drain the water. Add paneer cubes. In 4- 5 minutes, do a taste test for salt and make adjustments according to your requirements.  
Turn off the heat and serve with roti, rice or paranthas.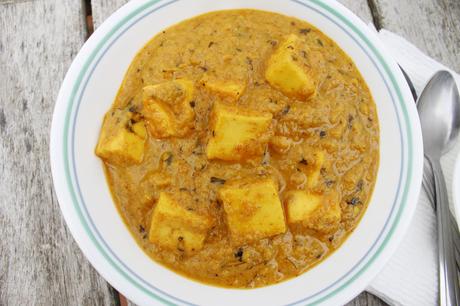 Advertisements