Eating naan or kulcha with any sort of paneer gravy is a norm in our house when we visit restaurants:).Paneer being my favorite,I try to taste different kind of paneer dishes.Though I try different dishes,butter naan with paneer butter masala is my standard and beloved combination.My husband is quite bored of eating the same thing over and over(well even though I order,I never finish the whole plate and he is the one who has to finish :P ).
Now coming to the recipe recently we had been to a punjabi resutarant called Pind in Chennai and I loved everything there right from their interiors,service and homely atmoshpere. But what I loved the most was their paneer butter masla. Super soft masala in resturantst panner pieces dunked in sucha rich and lovely coloured gravy was to die for. I just asked about the ingredients with least hopes they would share,but indeed they did :).After getting the outline from them I tried it at home and it was the best paneer dish I have prepared till date:).Try this once and I am sure you will love it.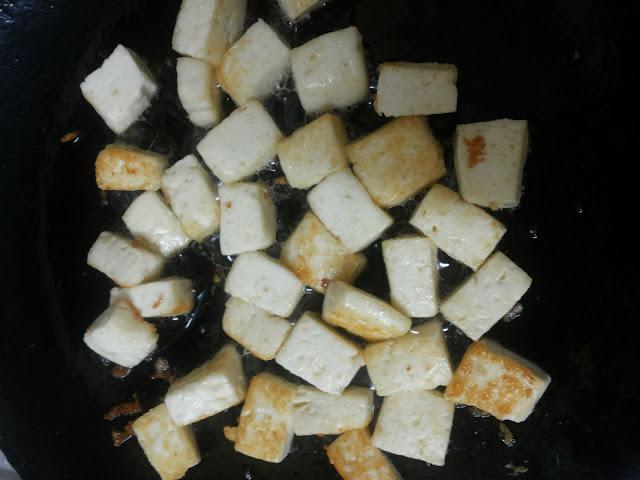 Ingredients:
1 cup small pieces of paneer
2 large onions
2 large tomatoes
1 small piece of green bell pepper
1 small piece of ginger
3 green chillies
1 dried red chilli
1 teaspoon cumin seeds
1 teaspoon mustard seeds
1 teaspoon coriander seeds
1 teaspoon turmeric powder
1/2 teaspoon chilli powder
10 cashwes
5 almonds
2 cloves
2 cardamoms
1 bay leaf
Butter 3 tablespoons
Salt to taste
Fresh cream and kasuri methi for garnishing
Method:
1.Heat little ghee on a cast iron tava and fry the paneer pieces till golden brown.In the mean time bring a large pot of water to boil and once the paneer is fried put it in the boiling water,remove from heat and close.Keep aside.
1 .Grind roughly chopped oninons with cumin seeds,green chillies,red chilli,ginger,coriander seeds to a coarse paste and keep aside.
2.Soak almonds and cashews in warm milk and grind to a smooth paste along with the milk.
3.Wash and blanch the tomatoes.Puree the tomatoes along with bell pepper.
4.Heat butter in a kadai,add bay leaf,and saute for 1 minute.Next add cloves and crushed cardamom and saute well for 2 minutes.
5.Add the onion paste and saute well for 5 minutes.Next add the tomato puree and bring to a boil.Once it becomes a bit thick,add the cashew almond paste and mix well.Now add turmeric, chilli powder and salt and simmer for 10 minutes.
6.Now drain the water from the paneer pieces and slowly add to the simmering gravy. Simmer for few more minutes,garnish with kasuri methi and remove from heat.Add fresh cream,mix well and serve hot.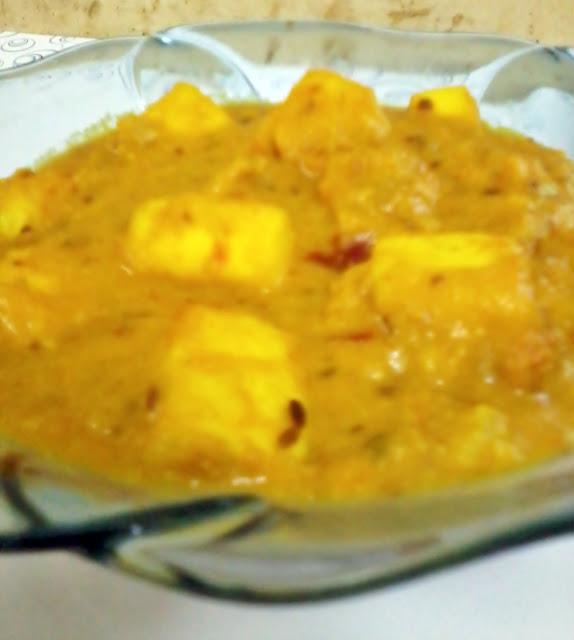 Time: 40 minutes
Serves: 4
Notes:
1.I have simplified the procedure and minimized the grinding work by combining onion with chilli and ginger.I also think by this way the flavor is fantastic.
2. I did not add garlic as we are not big fans.Add 3 cloves of garlic with ginger if needed.
3.Saving the fried paneer in hot water till adding to the gravy ensures the softness of paneer.
4,Fresh cream is purely optional as the gravy itself is quite rich with butter and cashews.
5.Vegans can substitute paneer with tofu and butter with sunflower oil.
6.Turmeric powder lends beautiful color to the gravy so make sure you use that.It does not impart turmeric smell to the gravy.