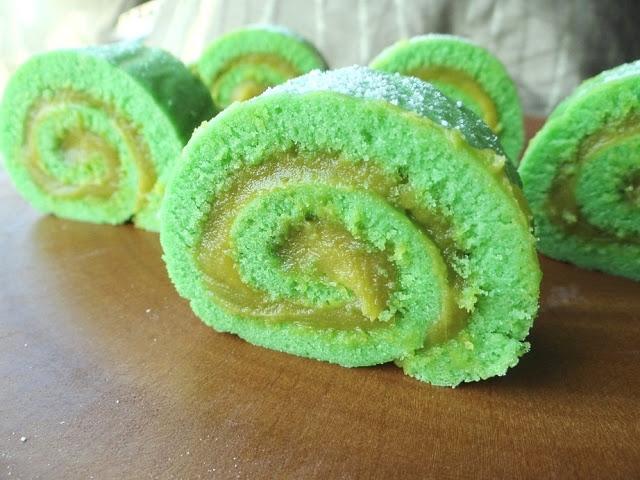 I've been bedridden with a bad cold for the last couple of days, and apparently being drugged up with cold medication isn't really inspiring for blogging, so it's been a while! I was trying to squeeze this post into January although looks like I've missed it... Anyway, please don't let the bright green color of this cake scare you, this recipe is rather good, if I do say so myself.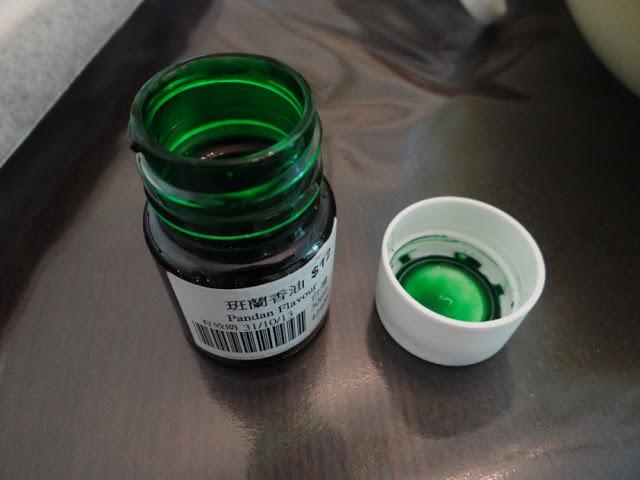 For those that aren't aware, Chinese (Lunar) New Year is coming up very soon! For me, that means heading over to Malaysia to celebrate with my dad's side of the family. CNY is another holiday that demands continuous days of overeating and overindulgence (which is why any new year resolutions that go along the lines of eat healthy doesn't work at all for me) and lots and lots of cookies. Cookies of which I will share very soon, but before that, I thought I'd contribute a little taste of my cultural heritage.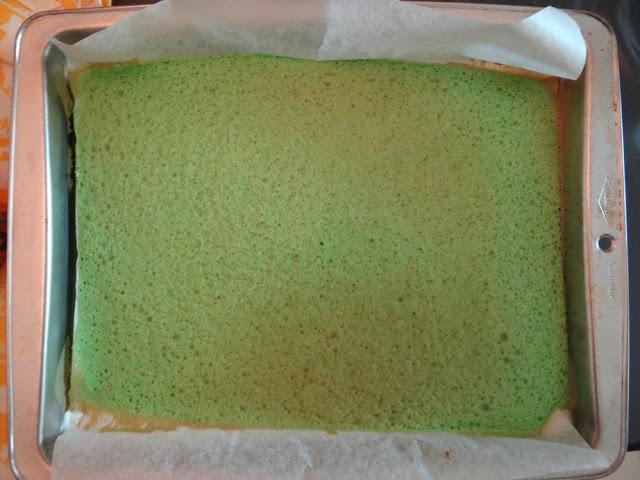 This swiss roll is composed of two main flavors: pandan and kaya, both of which are Malaysian favorites. You should be able to find both at your nearest Asian grocery store. Pandan leaves are actually used quite frequently in Southeast Asian cuisines, often in its original leaf-form to infuse a subtle flavor. The kaya jam actually has pandan in it, but it's mainly a sweet concoction of coconut and eggs - you can't tell me that doesn't sound good.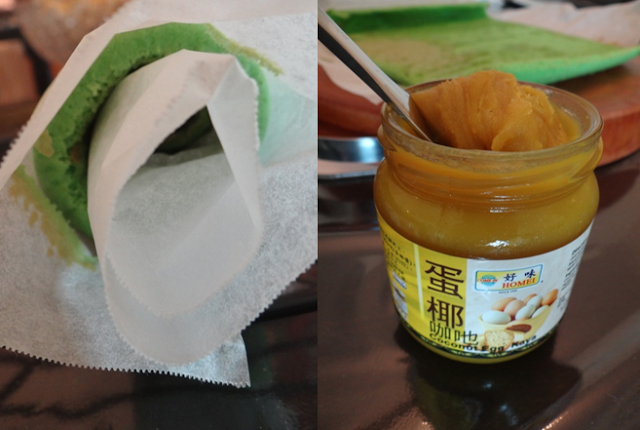 If you've never tried pandan, I'm not sure how to describe its flavors to you - it's sweet, fresh and a little herb-like.  Its flavor is unmistakably Southeast Asia. As for kaya, if this venture seems a bit too out there for you, kaya butter toast is one of my all-time favorite things to eat.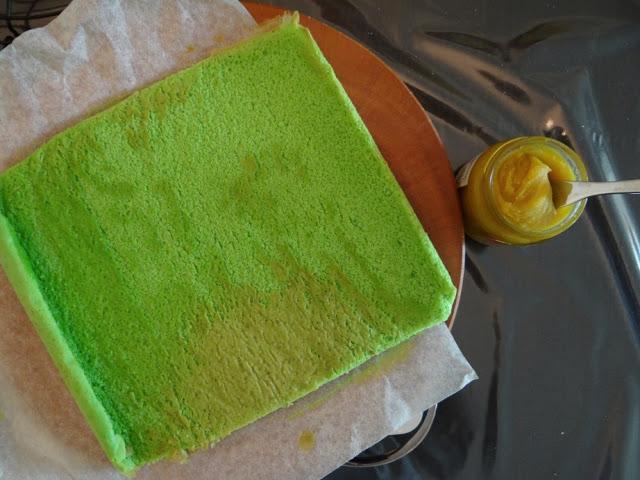 If you don't like this flavor pairing, I urge you to try this swiss roll recipe anyway, skipping the pandan extract and using flavors of your own choice, because this is by far the easiest swiss roll recipe I've ever made (original recipe I adapted it from made a nutella swiss roll, which I think would appeal to most people). It's quick, one-bowl, and easy to roll with no cracks. One point to remember when rolling the cake though is to use non-stick parchment paper. I forgot and put it straight onto a tea towel, and as a result the top layer of skin peeled off. It doesn't affect the taste, but from a purely aesthetic point of view, remember to use paper.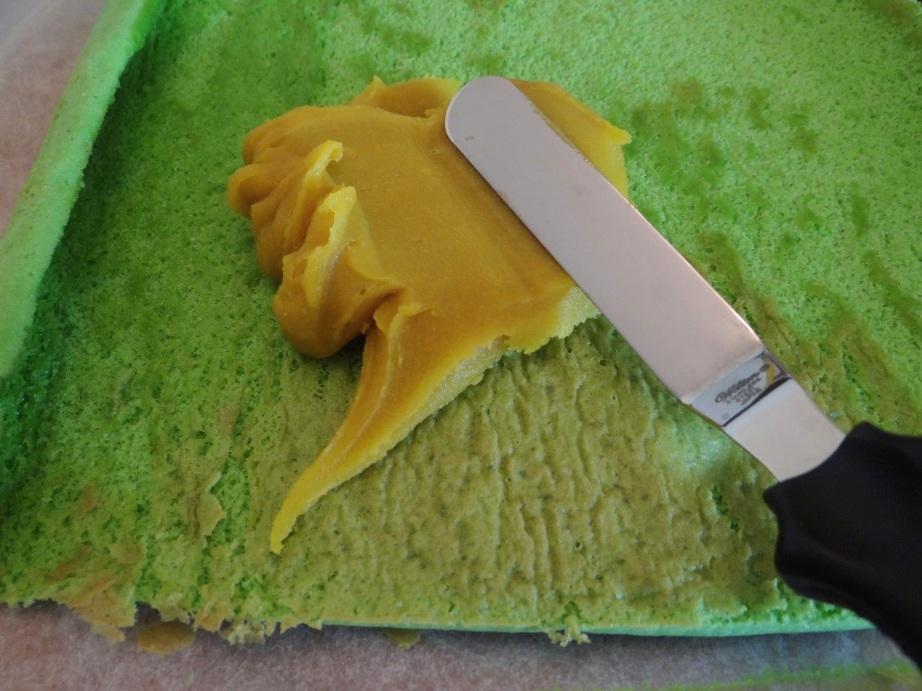 Pandan and kaya goes together like salt and pepper, bread and butter, coffee and biscotti, Ross and Rachel... you get the idea. If you've never tried either of these flavors before it would probably taste a little unusual to you, but I swear you'll like it after another bite. And then another. And one more. And before you know it, it's all gone.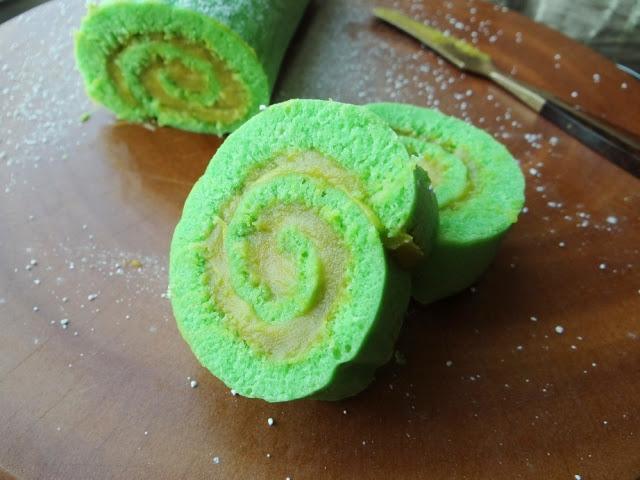 Pandan & Kaya Swiss Roll Adapted from Happy Home Baking Makes 1 roll
3 eggs, at room temperature 65g caster sugar 80g cake flour (plain flour works too in a pinch) 20g unsalted butter, melted and cooled a little 1 tsp pandan extract A jar (280g) of kaya jam (coconut egg jam)
Preheat your oven to 356F/180C. Line a 9" x 12" rectangular pan with parchment paper and set aside (lamington tin works just fine).
In a large bowl, using an electric beater, beat eggs and sugar together on high speed for about 7 minutes, or until the batter is pale and doubled in volume. When you lift the whisk out, the batter should fall back in ribbons. Continue to beat for another 2 minutes on low speed.
Sift in a third of the flour and fold into the batter gently. Repeat with the remaining two thirds of flour, taking care not to deflate the batter.
Fold in the butter and pandan extract.
Pour the batter into the pan and smooth it out evenly - it may look like there's not enough but don't worry, it'll work out, just smooth it out the best you can. Bake for 10-15 minutes or until the surface is brown and a toothpick comes out clean. Be sure not to overbake as that will increase your chances of cracks when rolling.
Remove the sponge cake from the pan. Either sift icing sugar over a teatowel or line it with parchment paper, then put the sponge cake straight onto the lined towel and roll it up as tightly as you can, and leave on a rack to cool. Alternatively, you can put the sponge cake straight from the oven into an airtight plastic bag or cover the tray with another rectangular tray - the aim is just to retain the moisture so that it's easy to roll later on.
Once it's cool, unroll the sponge and spread with kaya. Roll it back up, slice and serve.