Roald Dahl and Pan Seared Fungi... Err...Mushrooms... Got it off David Rocco again... Hot Chef and Hot Fungi... Great Combo! Only he did not have button mushrooms...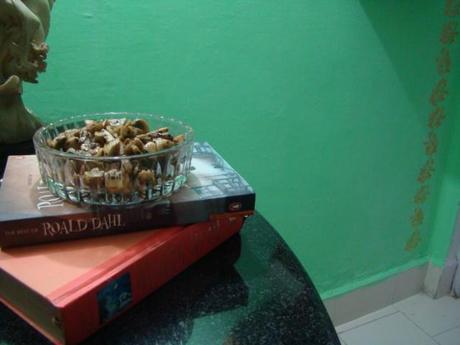 And green walls... New house and a wee bit of enthusiasm for painting walls... Only this wall became too green... Hubby dear literally shields his eyes when he passes from here to the bed room-I have to admit this wall does cast an eerie glow...but WTH...till I get the creative bug again this wall stays so green-its either that or hubby dear needs to pick up a paint brush-don't quite see that happening real soon... So the Mushrooms were to please his palette. Something Hot for the Hot (headed ) man!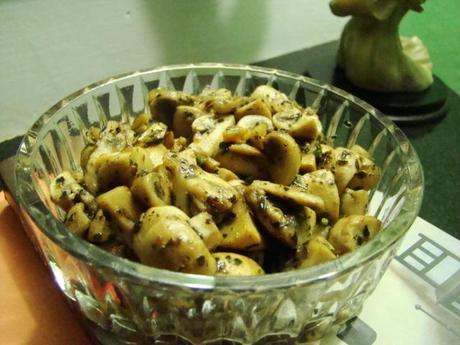 An extra hot pan, a little bit of salt and pepper and these babies are done. They taste of firmness and flambe'ed olive oil. And Garlic... Loads of it! Super easy...will go well with bread and a bake or with dal and roti...or lie just as pleasantly on a pizza. I also tried to clean them differently this time. Plain washing with water makes the mushrooms watery and limp...so I tried to wash them with flour/maida and found that they indeed absorbed less water. Read on...
for the 

Pan Seared  Fungi-Mushrooms David Rocco Style...


you need
200 gms/1 pack button mushrooms-whatever is easily available 1 tbsp olive oil 1 tsp chopped garlic 1/2 tsp dried basil 1/4 tsp salt 1/2 tsp black pepper 1/2 tsp butter 2 tbsp plain flour-to wash and clean the mushrooms-optional
My maid is back from her 6th day off this month-respite to my dish pan hands which were itching to do something extra, and my dentist just scheduled me for a root canal treatment... Maybe he should have scheduled a psyche consult-Too much Grey's Anatomy??? I actually scrubbed each mushroom with a little flour to remove the dirt and fuzz...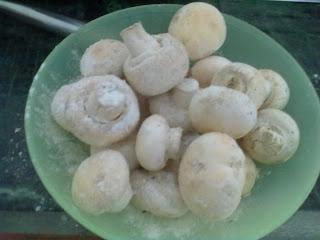 Seriously?? Yes, seriously! Each one-Ok there were only maybe 20 small ones... That I then rinsed with water, drained and cut.. Fortunately this time the fungi was no worse for wear... The mushrooms absorbed less water!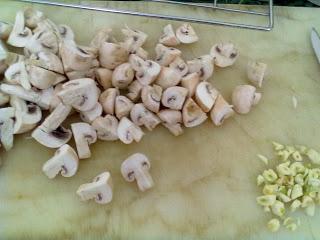 I placed the long handled pan on high heat while I chopped the garlic and mushrooms... Just basically let the pan smoke. I wanted the sear... Collected all the stuff and got ready to cook.Need to work super fast now... The oil in... The garlic sizzling with all its might...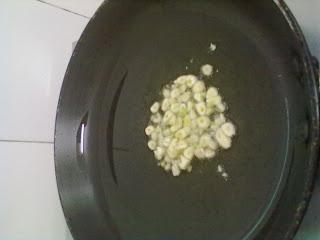 The mushrooms in..a third at a time- did not want to reduce the temperature of the pan too soon..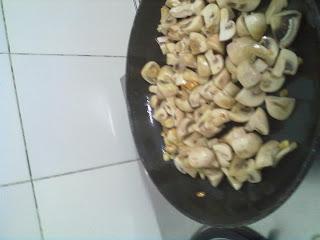 Toss ... Spices in.. Toss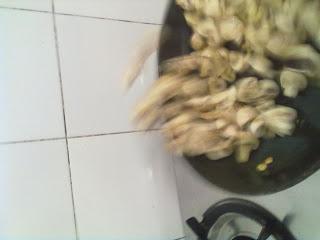 A little bit of flambe here...that the camera did not catch... Not one mushroom on the counter top..I toss well...Thank you! Sprinkle the salt just before the flame is turned off... And ready to serve... With the minimal of gravy...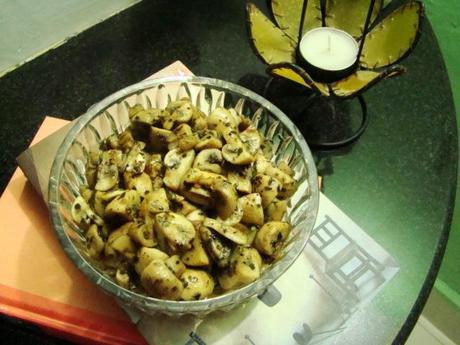 And Roald Dahl was keeping me company.. I like! Sanity is the most treasured thing when sweet child is preparing for his end of term exams... He has taught himself to twist a pencil -and fast-in two fingers in the last two weeks a la Boris Grishenko
 from Golden eye... Ahh!!!!!!!! Coming up... The promise of Nuts and Zero Fat and absolutely low sugar... What a crackling deal!!! In the mean while ...comment for the 5 free  Tandoor Chef  coupons- Free Frozen Food!!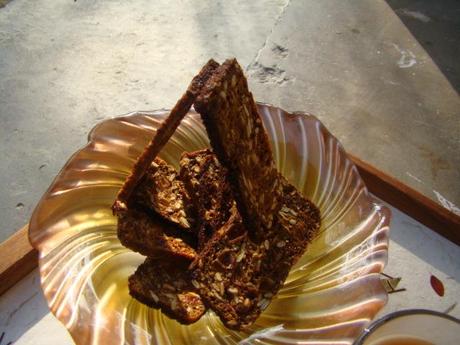 Come on...

So what are you baking today???