Gold Manicure & Pedicure Introduced for the First Time in India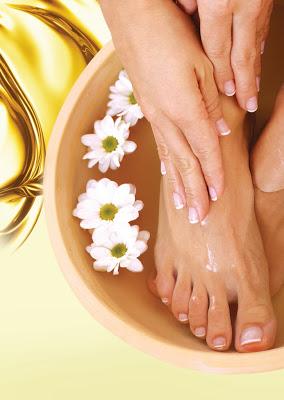 Indian women love gold and the special bond that they share with the precious metal need not limit itself to jewelry. What if women could indulge in the ultimate experience of soaking their hands and feet in gold and let its goodness and luxury do magic? 
Gold essence manicure and pedicure is a deluxe hand and feet ritual that pampers the skin to slow down aging and impart glow. Inspired by advanced cosmetic research, the Gold manicure and pedicure contains effective age defying ingredients that are combined with trace elements of gold to leave the skin feeling radiant and revitalized.
The Gold Manicure and Pedicure begins with a thorough cleansing procedure followed by an exfoliating scrub and a 'Gold Soak'. This is followed by a luxurious massage with a special cream mixed with gold essence for stress relief and to stimulate blood circulation. A gold pack is then applied on hands and feet which are then covered in sun wrap to seal the goodness in. The end result is softer skin and feet pampered to perfection with a massage for complete relaxation. The Gold manicure-pedicure offers the ultimate indulgence and is best suited for the festive / wedding season.
Gold Manicure and Pedicure is available across all
YLG Salons
in Bangalore, Mumbai and Chennai.