BEAUTY
❤ ❤ ❤ ❤ ❤ ❤ ❤ ❤ ❤ ❤ ❤ ❤ ❤ ❤ ❤ ❤ ❤ ❤ ❤ ❤ ❤ ❤ ❤ ❤ ❤ ❤ ❤ ❤ ❤ ❤ ❤ ❤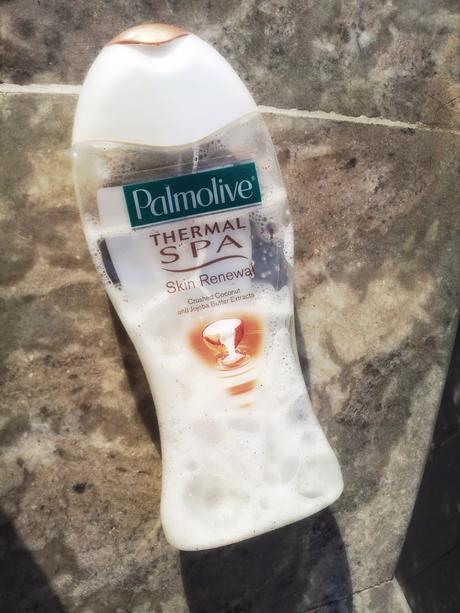 This is a quick post about why I like Palmolive Thermal Spa shower gel and it should be used in winters. 
I love body-washes because they have the capability of making your dull and tired day fresh and lively. And
Palmolive Thermal Spa Skin Renewal Shower Gel
is of that kind. But one clarification - this shower gel is made for specially winters because it
leaves skin moisturized
and a soft, buttery layer all over which might not be liked by some in summers.
MORE: POSTS ON BODY WASH
More often than not, I have witnessed scrub particles mostly useless because they fall off, they are too abrasive or too fine. But
crushed coconut (as Palmolive claims!) in this shower gel is like right in the middle
, what I really want. It sticks to the body and scrub away the dead skin to some extent. To some extent, because I find the proportion of creamy body-wash work against the crushed coconut. But it still does a decent job of scrubbing dead skin off!
ALSO: IT LOOKS LIKE I HAVE TALKED ABOUT SCRUB MORE THAN BODY WASH 
This product is loved by many, I like it and I know
you can certainly give it a try
! If you have dry-skin, go ahead buy it this summer and work it up! 
I would recommend this product to anybody who is looking for a
double-duty body wash
because they have no time to clean the skin, scrub the dead skin layer and then moisturize. Even if you skip the moisturizer with
Palmolive Thermal Spa Body Wash
, you know your body is still hydrated!
BOUGHT
: Local Shop
ONLINE
: www.nykaa.com
For The Shopaholic In You
Try this body wash and do let me know how you find. If you have already tried, feel free to leave comments about your experience.
From where you bought Palmolive Thermal Spa Body Wash ?
Never miss A Post

  :
NEWSLETTER | FACEBOOK | TWITTER |  GOOGLE+ 
Disclosure Policy
.