Palmer's Cocoa Butter Formula is probably the most popular cocoa butter product in the world. It has a huge cult following. Most of my friends swear by it. So what makes it so special???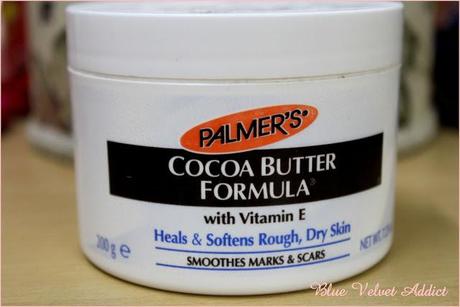 First, a look at the Cocoa Butter collection: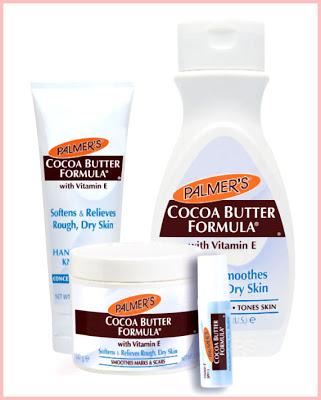 From left :
Palmer's Cocoa Butter Cream
Palmer's Cocoa ButterBody Butter
Palmer's Cocoa Butter Lotion
Palmer's Cocoa Butter Lip Balm
PRODUCTS & PACKAGING
The body butter comes in a sturdy white plastic jar. The lotion comes in a white hourglass curve plastic bottle.
The cream in a plastic squeeze tube.
The balm in a usual balm twist bullet.
THE FORMULA
The key ingredient of all 4 products is offcourse Cocoa Butter. Although, it varies in the percentage used.The lotion has the lowest intensity and hence is more viscous. Then comes the cream, which is rather thick and additionally contains Vitamin A & Vitamin C along with Vitamin E(which is in all 4 products). Lastly, the Cocoa Butter Body Butter jar, the most concentrated formula, is a solid which softens upon contact with the skin.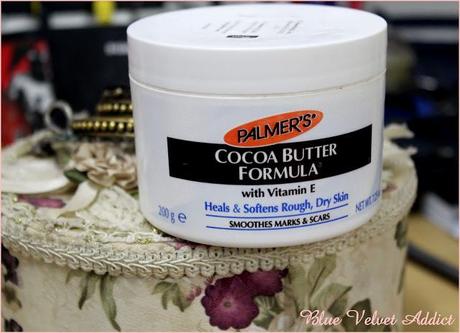 The product I am reviewing is the 
Body Butter.
PALMER'S COCOA BUTTER BODY BUTTER
"Natural Cocoa Butter and Vitamin E help to transform your skin with this thick and creamy Palmer's Cocoa Butter Formula Body Butter. This extra rich, moisturizing formula melts into skin leaving it silky soft and smooth with an even, radiant tone. For Dry to Very Dry skin."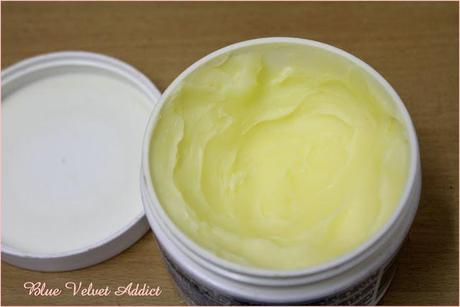 Ingredients:
Water, Theobroma Cacao (Cocoa) Extract, Urea, Propylene Glycol, Isopropyl Palmitate, Theobroma Cacao (Cocoa) Seed Butter, Isopropyl Lanolate, Glyceryl Stearate, PEG-100 Stearate, Fragrance,
Dimethicone
, Cetyl Alcohol, Stearic Acid,
Fragrance (Parfum)
, Bentonite, Stearyl Alcohol,
Mineral Oil
, Lanolin Alcohol, Tocopheryl Acetate, Phenoxyethanol, Methylisothiazolinone, Yellow #5 (CI 19140), Orange (CI 15510), Ozokerite.
I have highlighted the few ingredients which some may worry about in bold. Mineral Oils are in other words Parabens or some for of paraben.
REVIEW
It is smooth gliding, its rich, very creamy, highly moisturizing and very versatile. If you ignore the paraben and dimethicone (which is an essential ingredient here, else cocoa butter might get sticky and hard to slap on) it is obviously the best body butter for dry & extremely dry skin.
The jar might not be liked by some, but this product is solid, making it impossible to squeeze it out of a bottle or a tube...so jar was an inevitable choice for it.
It is the property of cocoa butter to be is a solid form, also another intrinsic nature of it is that it melts even with a slight brush of warm air. So as soon as you apply it on yourself, the heat of your body immediately melts it on your skin for an easy application.
I like this product a lot, it make claims of smoothing out marks and scars, which is probably true. I have come to find a lot of difference on my scars. I don't yet have stretch marks but I am pretty sure that if it could fade my scars, it can very well fade stretch marks.
THE MANY USES OF COCOA BUTTER (FOR ME ATLEAST)
I use it as an under eye cream. (Vitamin E and Cocoa Butter!!)
On my dry hair, it provides smoothness. (use it before wash, very lightly)
Preferable for night time use as it is a really dense, thick and yea...leans towards greasy.
Perfect cream to apply for that "sleep with gloves & socks on" for an over night hand& feet spa!
When going out, apply it over the places where you spray you perfume, it works like a primer for them!!..you perfume will last much longer.
Works as a great relief over frostbites and sunburns.
Works perfectly good as a cuticle cream.
Apply on your scalp at night if it itches.
Offcourse on stretch marks and scars...
A great overnight lipbalm.
Helps soften skin on knuckles, elbows and knees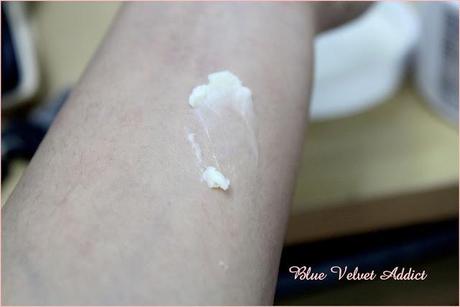 Above all are pros of this product. I couldn't really find any disadvantages of it. i mean it works great with my skin, so I can't really say anything against it. . 
PRICE : INR 699/- for 200 g (7.25 oz)RATING : 9/10