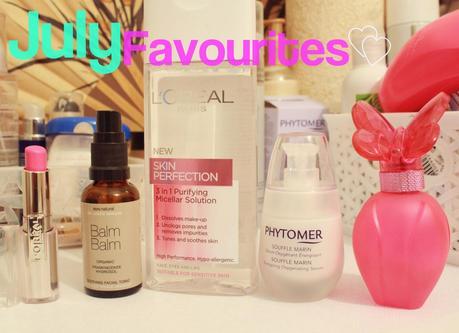 So a new month begins which means it's time to summarise July's favorite picks! Usually I have a truck load of favourites, but since last month I haven't changed much of anything, so my go to items remained mostly the same. Hence, only 5 items made the list this month.
L'Oreal Rouge Caresse Lipstick in Cheeky Magenta -
Love the formula, love the color. It is moisturising, easily buildable and leaves a subtle stain on the lips.
Balm Balm Frankincense Soothing Facial Tonic
- I recently bought a few items (
click here for the haul
) from
FeelUnique.com .
Most of them are still under testing. But this one being a facial spray, became a quick favorite of mine. First of all, I really do need to research more about this Frankincense ingredient. This is the new "argan" in the world of skincare as I am seeing it in a lot of prestiged brands like REN, Neal's Yard etc. It smells heavenly, provides moisture surge, and has healing properties.
I am so sure this healed my acne quicker that they normally do.

L'Oreal Skin Perfection Purifying Micellar Water  - An excellent dupe of the Bioderma. Cleans as effectively and as quickly, and guess what ..you pay half the price!!
Phytomer Souffle Marin Oxygenating Serum
 - A quick absorbing, light moisturising serum. Great especially for the dryness caused by the changing weather. I have been using this for almost 2 weeks now, and I have noticed increased suppleness..and I am not kidding!!
Mariah Carey Lollipop Splash Inseparable
-  This is the second time I am featuring this cutie in my favourites of summer 2014. I just love it. It smells like strawberries+Vanilla+Jasmine+Sandalwood ...ahh just so succulently sweet.
I think I once saw Mariah Carey Perfumes in Shopper's Stop or Lifestyle here in Hyderabad, I can't recall where exactly..but if you can find it girl...you have to smell it...yummm
. It is a very inexpensive perfume as well.
Lifestyle Favourites
Book - Started reading Delirium by Lauren Oliver 
I am half way through it and have been loving it till now. It is the first of the trilogy followed by
Pandemonium
which will be followed by
Requiem
(unreleased). It is a dystopian young adult novel about a young girl,
Lena Haloway
, who falls in love in a society where love is seen as a disease. Sounds dull I know..trust me..its good.
Movie
- Recently saw
Transformers - Age of Extinction
, man it was one hour too long.. but had to as my hubby is a hardcore Transformer, or should I be precise "Bumblebee" fan. Loved
Dawn of the Planet of Apes
...it was brilliant...period.Although really excited about
Marvel's Guardian of the Galaxy...woot woot!
TV Show -
Started watching
The Strain.. man is it creepy! ...
really happy about not having to wait for a series to start here in India...thank my stars for
Star World Premie
r
..
Well these were my faves for the month. I am sure you guys had a lovely July and I wish you all a lovelier August...
So what were your favorite things in July???...
 xoxo ~SJ~Facebook|Twitter|Instagram|Pinterest|Bloglovin