Take a break from the ordinary and sweeten up your salsa! That's exactly what I did when I hosted a picnic with my bridesmaids after a little wedding DIY project.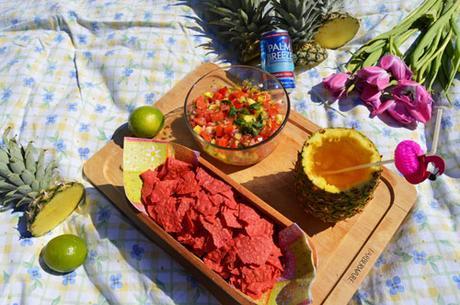 I was inspired by the tropical flavors of Palm Breeze spritzes, so I incorporated fresh pineapple and mangos into a Pico de Gallo style snack. I served the tropical salsa with organic red corn tortilla chips from Que Pasa Foods to add color. Then, I repurposed the pineapples! After removing the flesh, we poured in Palm Breeze Pineapple Mandarin Orange and used them as festive cups. Straws adorned with paper flamingos complete the theme. Check out the recipe below!
What You'll Need
1 cup diced pineapple.
1 cup diced mango.
1 red bell pepper, seeded and diced.
1 large tomato, seeded and diced.
1 tbsp fresh cilantro, finely chopped.
The juice from 1 lime.
1 jalapeño pepper, seeded and finely diced.
1/2 cup diced red onion
Sea salt to taste.
Directions
1. Slice off the top of your pineapples. Carve a large circle around the body of the pineapple and score the middle. Use an ice cream scooper to remove the flesh, then roughly chop it up and place 1 cup into a large serving bowl. Save the pineapple shells for drinking vessels and the tops for decoration. Freeze the leftover pineapple flesh for a later date.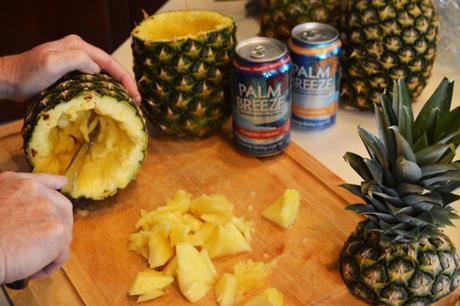 2. Skin and dice 1 fresh mango, removing the pit in the process. Seed and dice the jalapeño pepper, red pepper, and tomato. Dice the red onion and finely chop the cilantro. Add to the serving bowl and toss to combine.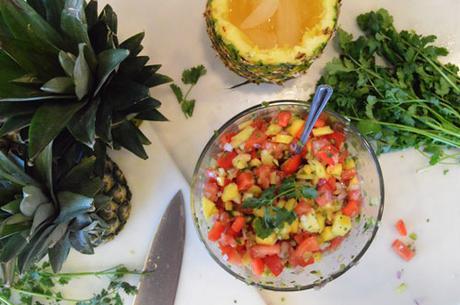 3. Slice the lime in half and squeeze both sides into the bowl. Sprinkle with sea salt to taste (we used about 1/2 teaspoon) and fold to combine. Serve with Que Pasa red corn tortilla chips and Palm Breeze sparkling alcohol spritzes.
This post was brought to you by Palm Breeze. I received compensation to write this post but all opinions expressed are my own. Palm Breeze sells for $6.99 for a six-pack and $13.99 for a twelve-pack and has an ABV of 4.5%, making it a clean, crisp, refreshing drink with just the right amount of kick.
To find Palm Breeze nearby, visit For deals, perks, recipes and more simply Shazam the Can:
http://www.drinkpalmbreeze.com/
and don't forget to follow them on Instagram and Facebook.