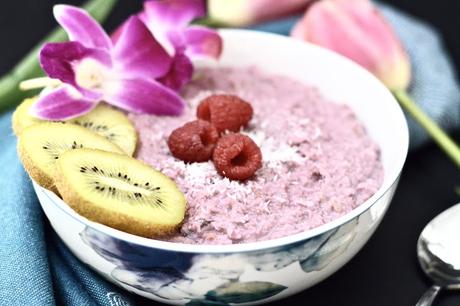 If you follow me on Instagram you know that I am currently on vacation in Bali. It's amazing. If you haven't been to this beautiful country yet I highly suggest planning a trip. Like now. I will do a full re-cap of my experience once I am home and have had a chance to do some real photo editing. I am also now strongly considering writing a Paleo Indonesian/Balinese Cookbook. The food here is incredible! But there have been a few dishes I had to miss out on since they contained wheat, dairy or soy. Would any of you be interested in a Paleo Balinese cookbook? Think curries, sautes, coconut milk stews, coconut pancakes and so much more. My mouth is watering just thinking of everything I have been eating. In fact we just ordered room service and I am waiting for my grilled chicken in spiced coconut milk to arrive. Does that not sound amazing?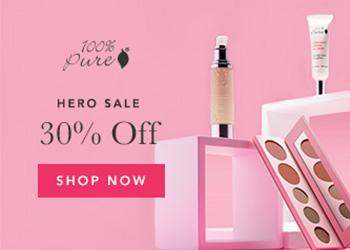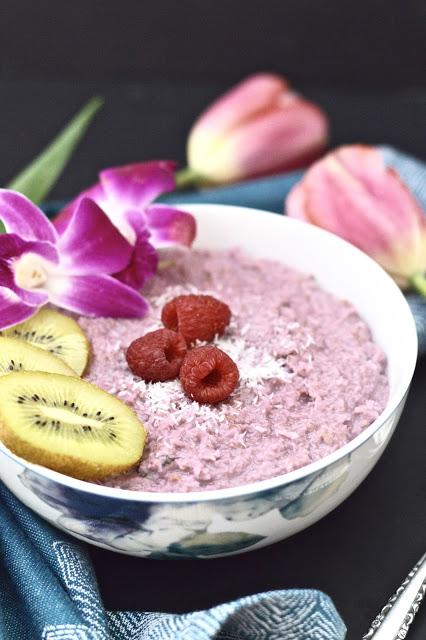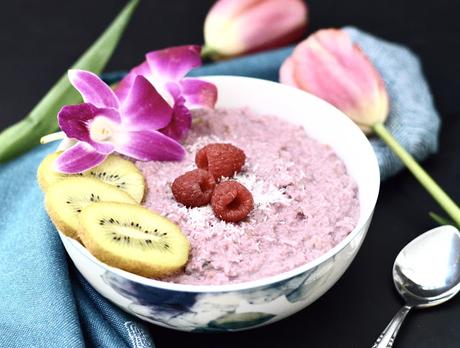 The thought of coming back to snow and colder temperatures really does not make me happy. I personally hate winter. I think I might have said that once or twice on here before. But in case you missed it now you know. I. Hate. Winter. If I could permanently run away and live on a beach that would make me one happy girl. It might be possible... If I ever start making some reasonable money from this whole blogging thing.... But for now I will have to stick to planning as many beach vacations as I can. So if you have any suggestions for me please let me know! What beaches are your favourites? And which ones have you not loved?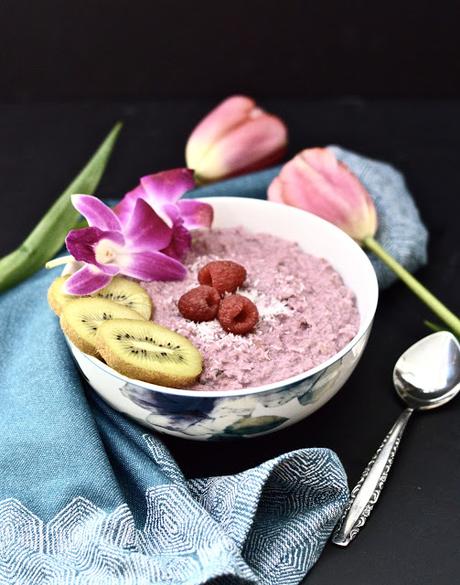 This week's recipe is being pulled out of the archives. I honestly don't even remember when I made and photographed this one. Probably last winter. When I was freezing and craving warm comfort foods like oatmeal. I wish I hadn't forgotten about this recipe because it is really tasty! So for all my friends back home who are starting to suffer through those winter temperatures, this week's recipe is for you. 
I remember when I first switched to a grain free diet, almost six years ago (wow time flies), oatmeal was one of the foods I missed the most. I used to have oatmeal for breakfast everyday. Literally everyday. I was brilliant at coming up with delicious oatmeal combinations. Peanut butter and cacao nibs, cashew butter with mixed berries, bananas and coconut butter... the possibilities were endless. Sometimes I would even have oatmeal again for dinner. It's no wonder my gut was suffering so much. I cringe to think of the damage that all those grains were doing to my body. Because remember, grains are not healthy! I have written an entire post dedicated to this topic before. And in case you missed it you can
read it here
. 
So while I totally avoid grains these days, that doesn't mean that I still don't love oatmeal. And since my whole goal is to help you (and me) eat better, while not having to miss out on the foods you love  I came up with this Raspberry Coconut Oatmeal recipe. This one is safe for the paleo, AIP, GAPS, Whole 30, SCD, low FODMAP and vegan diets. So basically everyone can eat it! And it's packed with one of my favorite superfoods, grassfed gelatin.
Grassfed gelatin
is one of the best ways to help your gut heal (and it's also great for skin and nails). I have written an entire post on the health benefits of grassfed gelatin before, which you can
read here
. 
As always I would be thrilled if you visited 
my social media pages on 
Pinterest
, 
Instagram
 and 
Facebook
!
Until next time everyone, happy eating!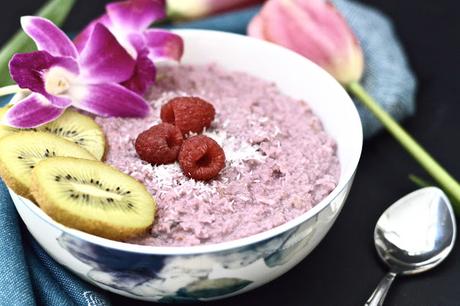 Paleo Raspberry Coconut Oatmeal Recipe
Ingredients
1 ripe banana12 oz fresh raspberries2 cups full fat coconut milk (I use
this brand
) 1/3 cup coconut butter or manna (
buy here
)pinch sea salt 
2 TBSP grassfed gelatin (This brand is my favourite) (omit for vegan) 
2 1/2-3 cups finely shredded coconut (depending on how thick you like your oatmeal) (
I use this kind
)
Directions
1. Place a medium pot on the stove on medium heat2. Add all the ingredients, except the shredded coconut to the pot3. Bring to a boil and stir well, breaking apart the banana and raspberries until you have a smooth consistency4. Add the grassfed gelatin, one tablespoon at a time, stirring well until it dissolves5. Turn off the heat and add the shredded coconut6. Stir well to combine and place the lid on the pot (still on the warm burner)7. Let the oatmeal sit for 10-15 minutes to allow the shredded coconut to soften8. Serve and enjoy!
Print Recipe
You Might Also Like: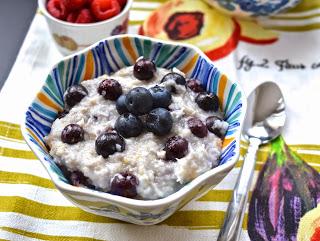 Paleo Coconut Blueberry Oatmeal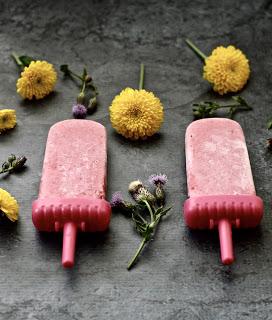 Raspberry Coconut Popsicles
Pin This Recipe For Later: