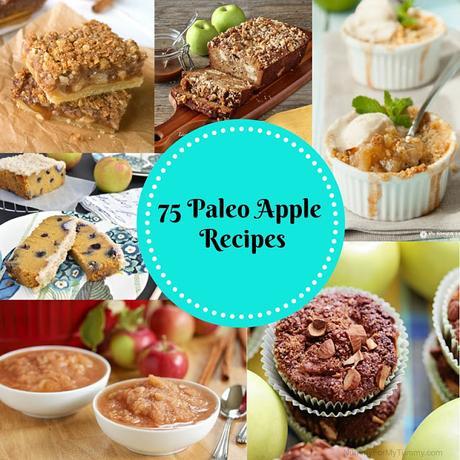 Apples, apples, apples. That is what today is all about. Since it is officially apple season I have put together the ultimate Paleo Apple Recipe Wrap-up for you guys. There are over 75 recipes here for you to choose from. Because I mean, who doesn't love apples? Right? Raw, cooked, in desserts, in salads, as part of main dishes, you just can't go wrong with this magical fruit. There are breakfasts, main dishes, side dishes, sauces, drinks, and of course desserts included in this collection. Something for everyone I guarantee it.
I am writing this post from my temporary home in Boston, MA. No I haven't moved. I am only here for 5 days for a rheumatology course. And before you get too jealous I should let you know that I am spending 9 hours a day in a lecture theater learning, learning, learning. Yep we residents sure know how to have fun don't we? It's all good though. It's all the things I need to learn before I write my rheumatology exams next fall (still in total denial about them I must admit).
One nice thing about Boston though, is it's nice and warm. I am a summer girl through and through and there is no sign of fall here my friends. It is delightful. If only I could bring this weather back to Calgary with me. Yes a girl can dream.
So what have I been up to in Boston besides learning? Not a ton. But we did have a bit of time on our first day to do some exploring. And shopping. Now nothing crazy because the Canadian dollar is sucking big time right now (cue the tears) but I did find a pair of cowboy boots for an amazing deal (Stampede 2016 here I come!) and a pair of pretty workout crops. Because you can never have too many workout clothes right? I also need to get to a real grocery store at some point so I can stock up on grassfed butter. It's just so hard to find that stuff at home! Darn food regulations. You Americans don't know how lucky you are to have it everywhere. We are staying right in the middle of
China
Town so I also got to enjoy my first Chinese Food Market shopping experience. That was interesting. There are so many bizarre looking food items in those stores! Although since I can't decipher the ingredient lists I don't know if you can really call them food items... but I will leave my rant about real food for another time. You have better things to get to. Like 75 Paleo Apple Recipes!
I really hope you guys like this collection. Please let me know which ones turn out to be your favourites! 
And as always I would love it if you f
ollowed me on my social media pages on 
Instagram
,
Facebook
, 
Pinterest
 and 
Twitter.
Until next time, happy eating everyone!
Breads, Muffins and Cupcakes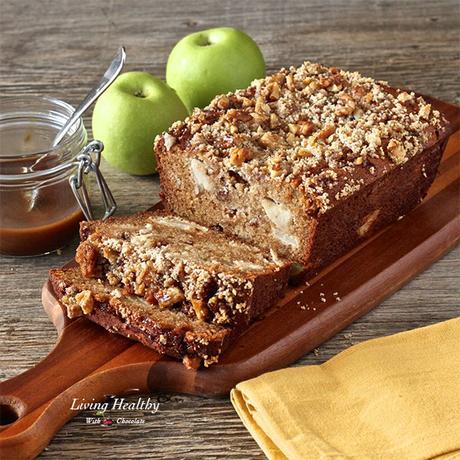 Warm Caramel Apple Pie Bread from Living Healthy with Chocolate 
Apple Cinnamon Banana Bread
from Flabs to Fitness 
Apple Streusel Muffins with Pumpkin Frosting from Savory Lotus
French Apple Pie Bread
from  Beauty and the Foodie
Apple Cinnamon Grain Free Bread from Healy Eats Real
Apple Cardamon Cupcakes from Gutsy by Nature
Grain Free Apple Cinnamon Muffins from Delicious Obsessions
Apple Cinnamon Muffins from Nummy for my Tummy
Harvest Bread with Apple Coconut Icing
from Pure and Simple Nourishment
Squares and Bars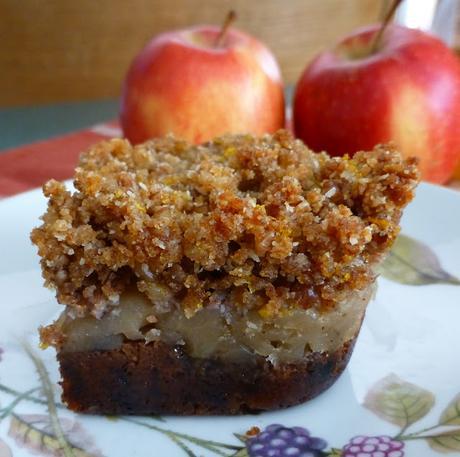 Cinnamon Apple Bars
from Pure and Simple Nourishment
Apple Pie Bars from Merit and Fork
Grain Free Apple Turnovers from Life Made Full
Apple Mint Coconut Butter Bars from Nourishing Time
Crisps, Cobblers and Granola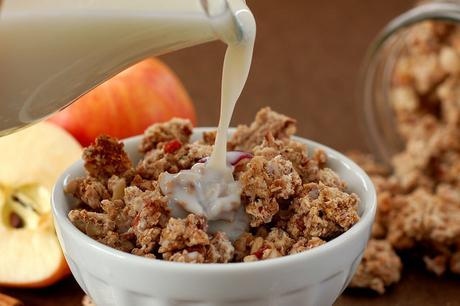 Grain Free Apple Cinnamon Granola from Raising Generation Nourished
Apple Pecan Cobbler from Real Food Outlaws 
Apple Crisp
from Meghan Birt
Autoimmune Paleo Apple Crisp
from The Curious Coconut 
Paleo Apple Crisp
from My Natural Family 
Skillet Apple Crumble
from Real Food RN
Paleo Grain Free Apple Crisp from The Curious Coconut 
Apple Muesli from Delicious Obsessions
Grain Free Apple Crisp with a Twist from GI365
Cakes and Pies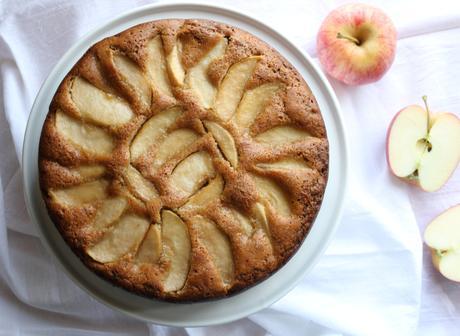 Paleo Apple Cake from Zen Belly
Rustic Apple Custard Cake
from Plaid and Paleo
Paleo Apple Galette
from A Girl Worth Saving
Paleo Apple Cinnamon Breakfast Cake
from Primally Inspired
Pumpkin Apple Pie
From A Girl Worth Saving
Grain Free Apple Cake from Grok Grub
Paleo Apple Cinnamon Poke Cake
from Beauty and the Foodie
Apple Funnel Cake from Nummy for my Tummy
Paleo Rustic Apple Tartlets from A Girl Worth Saving
Paleo Apple Pie from Zen Belly
Raw Fruit Tart from Healy Eats Real
Paleo Apple Pie From Paleo Magazine
Caramelized Apple Dutch Baby from And Here We Are
Green Apple Bundt Cake with Caramel Frosting
from Meghan Birt
Apple Pie Skillet Cake
from GI365
Vegetables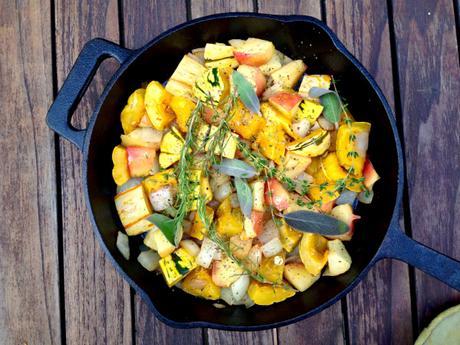 Apples and Bacon Loaded Sweet Potato from A Squirrel in the Kitchen
Kale, Apples and Pancetta Salad from Merit and Fork
Caramelized Cabbage with Bacon and Apples
from On Diet and Health
Baked Sweet Potato with Caramelized Apples and Honey from Comfort Bites
Waldorf Salad
from Virginia is for Hunter Gatherers
Plantain and Apple Fritters from A Girl Worth Saving
Harvest Time Soup from Pure and Simple Nourishment
Paleo Green Beens and Apple Stir Fry from Paleo Magazine
Roasted Sweet Potatoes, Apples and Carrots from A Girl Worth Saving
Squash Soup with Apples from Paleo Gone Sassy
Roasted Delicata Squash, Apple and Fig Stuffing
from Real Food with Dana
Apple Dill Coleslaw from Meghan Birt
Pomegranate, Bacon Arugula Salad
 from Virginia is for Hunter Gatherers
Butternut Squash and Apple Puree from Pure and Simple Nourishment
Sauces, Dips and Drinks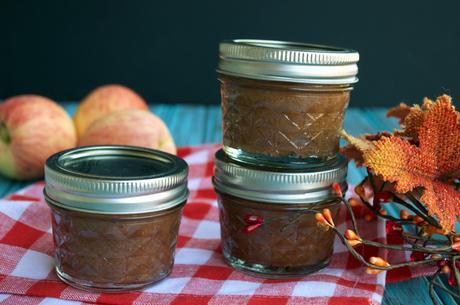 Crockpot Apple Butter
 from Plaid and Paleo
Apple Cider Applesauce from Merit and Fork
Apple Peel Cider
from And Here We Are
Simple Baked Applesauce
from Raising Generation Nourished
Slow Cooker Apple Pie Applesauce from A Girl Worth Saving
Hard Apple Cider Without A Press
from And Here We Are
Raw Kombucha Applesauce from Real Food With Kids
Apple Clove Kombucha from Real Food RN
Simple Cinnamon Applesauce from Virginia is for Hunter Gatherers
Crockpot Apple Sauce
from GI365
Ice Cream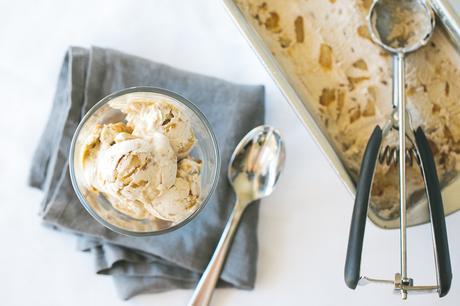 Salted Caramel Apple Pie Ice Cream from Downshiftology 
Paleo Apple Pie Ice Cream from A Girl Worth Saving
Meat, Eggs and Fish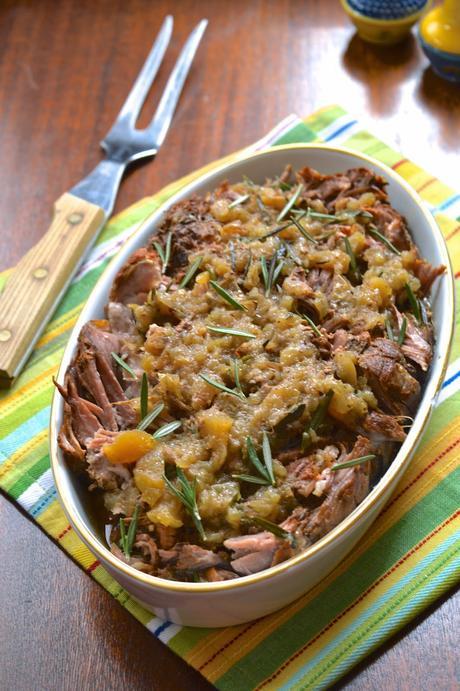 Slow Cooker Apple Rosemary Pork Roast from Pure and Simple Nourishment
Apple Chicken Salad
from Downshiftology
Maple Apple Breakfast Sausage from Savory Lotus
Apple Bacon and Swiss Chard Frittata from Merit and Fork 
Roast Chicken with Cabbage and Apples
from Gutsy by Nature
Pan Roasted Chicken with Bacon and Apples from Zen Belly
Sweet Potato, Apple and Pancetta Hash
from Gutsy by Nature
Apple Curry Tuna Salad from Paleo Magazine
Pan Fried Pork Chops with Apples from Paleo Gone Sassy
Smothered Apple and Onion Pork Chops
from Bravo for Paleo
Bacon Wrapped Pecan Apples from Pure and Simple Nourishment
Miscellaneous
Apple Pie Pancakes from Paleo Gone Sassy
Gourmet Chocolate Caramel Apples
from Whole New Mom
*** Pin This Post For Later ***