I think there is no need for introduction to this very famous North Indian gravy/side dish.Chunky paneer pieces floating atop luscious and creamy gravy made of spinach,onion and tomatoes along with few other spices forms this lip smacking dish.I recently bought a bunch of very fresh looking spinach and I decided on palak paneer the moment I bought it :)The procedure for making this gravy is quite simple and takes less time,but the taste is something totally exotic and rich.Last Sunday I made a lavish North Indian lunch fare -Chapathi,palak paneer,roasted baby potatoes and jeers rice.It was indeed a very satisfying meal-both cooking and eating :). I have already blogged about roasted baby potatoes and the recipes for other dishes I will blog soon :)For today here you go with the delicious palak paneer.Try n let me know :)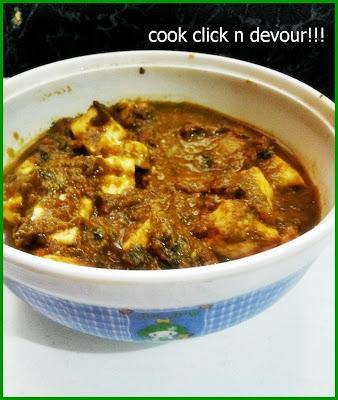 Palak paneer
Star ingredients:Spinach(palak) and Indian cottage cheese(paneer)
Time:30 minutes
Serves 3
Ingredients:
1 cup paneer cubes
1/2 teaspon chilli powder
1/2 teaspoon kitchen king masala (optional)
Salt
Butter/ghee to temper
To grind
Set 1
3 cups packed fresh spinach leaves
2 cloves garlic
1 green chilli
Set 2
2 large tomatoes
1 large onion
Set 3
2 green chillies
2 table spoon cilantro
2 cloves garlic
A small piece of ginger
 2 cloves
2 cardamom
1 teaspoon cumin seeds
1/4 teaspoon fenugreek
6-8 black peppercorns
(though the list of ingredients may appear long,it is very simple and quick to make)
Method:
1.Heat a kadai,ad little butter and saute the paneer pieces till golden brown.Keep a bowl of boiling water ready and dump the fried paneer pieces immediately after removing from flame.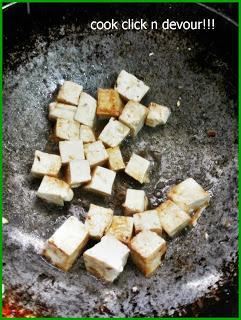 2.Wash and rinse the spinach thoroughly.Blanch the leaves for 3-5 minutes,drain and puree along with the other ingredients mentioned in set 1.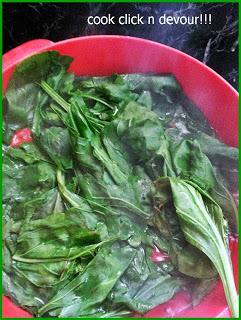 3.Puree the set 2 ingredients,
4.Grind the set 3 ingredients coarsely without adding water.
5.Heat a kadai,add little butte or ghee and saute the set 3 ingredients till the raw smell goes off.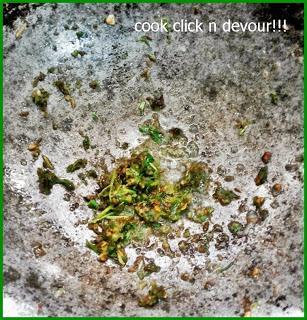 6.Add the onion tomato puree and mix well.Let it boil for 5-7 minutes,till it begins to thicken.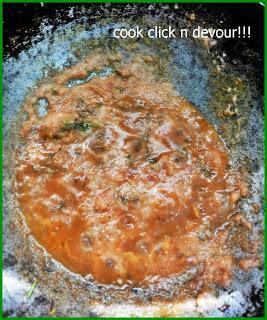 7.Now add the palak puree and cook for 5 minutes.Add salt,chilli powder and boil for 5 more minutes.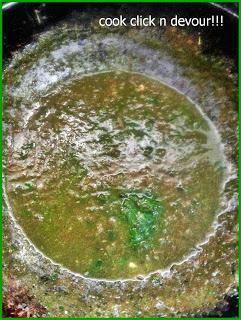 8.Now drain the water from paneer cubes and add to the boiling gravy.Let it sit for 7-10 minutes.Give a gentle stir and remove from flame.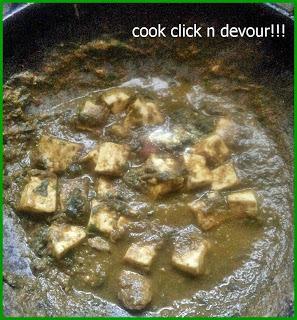 9.Serve with rotis/naan/fired rice.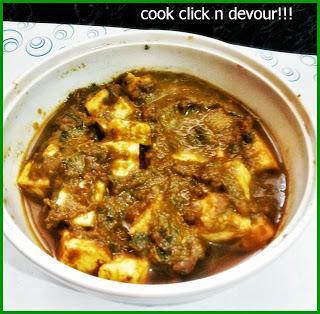 Notes:
1.Keep the sauteed paneer cubes in boiling water ensures the softness of paneer and avoids it from turning rubbery.
2.Addition of fenugreek gives very deep flavor to the gravy.If you want you can aviod fenugreek and add 1 teaspoon kasuri methi before removing from flame.
3.Add some fresh cream on top before serving to make it even more rich.
Check out other paneer recipes
Paneer butter masala
Palak methi paneer rice