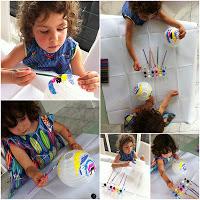 It's no secret that birthday parties bring with them much joy, and many, many presents.  All of the presents which Mimi received for her recent
5th birthday
were fantastic.  Some were arty others crafty, and some were designed simply for pure-plastic-y good times.
One of my personal favourites was the "paint a lantern kit."
Of course you don't have to buy a kit to do this,
here's what you'll need
:
Small paper lanterns (look in your local discount-dollar-store).
Paint that is not too watery and kid-friendly.
Several small brushes (one per color ensures the colours stay un-mixed).
Protective sheeting for the work surface.
Optional - protective aprons for the children.
How to paint your paper lantern
:
Assemble the paper lantern (they usually come with instructions and are simple to pop-up).
Hand each child a paper lantern.
Tell them to paint away - remind them to turn the lantern carefully to ensure that as much of the lantern is covered in patterns, but not to roll the painted lantern over as they may smudge their artwork.
Leave it to one side to dry overnight.
Hang in a prominent place.
This activity is perfect for all ages, would be a great party-craft if you have enough space (do it early in the party so that the lanterns will be semi-dry at home time), and the results are so classy you'll be happy to hang them up for everyone to admire!
I'm so inspired, that I think I may just paint all my old lanterns... the ones I haven't turned into
jack'o'lanterns
that is... or then again...
Take care, and stay crafty!
Linda.