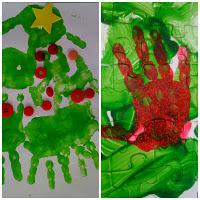 It's no secret that the mention of "paint" makes many mums moan.  Paint is certainly the enemy to carpet, clothes, and clean houses in general.  I don't care what the labels say about "easy wash" and "no stain"
paint is problematic
, especially in the laundry.  Add "help me" nagging and random acts of paint flick-fights to process and it's easy to see why plenty of parents stay well clear of paint at home.
However.
Paint is fun.  
It is.  It really is.  You do need to put a little effort into making a 'safe place' however, and outside if possible.  Put down an old sheet or some newspaper on the floor/grass.  Get the kids to sit straight on the drop-sheet or add a table, and some more protection on top.  Be sure that everyone is wearing protective gear, or do as we do and play "dress up" in your "mess-making-clothes" (which are all the pants that are green at the knees and have holes in them, or the shirts that already have an enormous paint stain splattered on the tummy.)
Is paint perfect for parties?  
I see no reason why not.  But if you do intend to let kids paint at your party, be sure to tell parents before hand so they can leave the pretty pink ball gowns and favorite t-shirts at home.
Both Mimi and Lotti bought home hand-painted treasures from their day care classes last week.  Four year old Mimi made the cutest green hand-print Christmas tree with a foam star and red button bling.  It's done on nice thick paper, so it has stayed flat and is perfect for hanging.  Two year old Lotti made a splodgy mess with green paint onto a cardboard puzzle, and then her teachers helped her make a red-sparkle-paint hand print on top.  Two very different make and take craft projects using paint and itty bitty hands; and both perfect for parental presents.
Painting with kids is scary.  But be brave.  Art activities for kids are valuable, and if you can't think of an orchestrated project to paint (or don't want to try the 2 ideas photographed above), forget the 'how to paint' dilemma and simply let them at it.  So go on, at your next arty party or "what do we do today" day, have a go; the results are worth the effort.