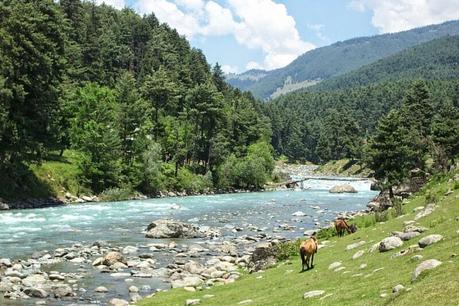 Popularly known as 'The Valley of Shepherds', Pahalgam is one of the most picturesque
mountain resorts of Kashmir. 
This small hamlet is located at an altitude of 2130 meters, about 95 km from Srinagar. Mother Nature has generously blessed this place with alluring attractions and wonderful trekking trails which draws the attention of vacationers, newlywed couples and adventure-enthusiast. 
This beautiful town is majestically situated at the confluence of the Aru and Sheshnag Rivers, which offers breathtaking views of the majestic snow-caped mountains which will defiantly envelope with your heart with fun and ecstasy. 
During visit to Pahalgam you can explore some beautiful places like as Aru, Baisaran, Tulian, Mamaleshwara Temple, Hajan, and Sheshnag Lake etc. 
It's not only a mare hill station but also a recreational center that offer wonderful opportunity for tourists and family vacationers to stay with the nature and experience the splendor at its pristine beauty. 

Pahalgam tour is made much easier and comfortable by the well organised conveyance but the only way to reach this paradise is by roadways. 
There is no conveyance of airways or railways so roadways are the suitable options. 
Apart from these the world class hotels and resorts offering excellent accommodation facilities add beauty of Pahalgam and drew the attention of tourists from across the globe. 
So visit this beautiful place and enjoy the mind blowing beauty and get close contact with the natural attractions.