I'm generally not one for perfumes, though I absolutely adore scented body lotions, shower gels, scrubs, what have you. I suppose that's fortunate for me since it can be pretty hard to find a cruelty-free perfume! But fear not my fragrance loving fellow cruelty-free (and even Vegan!) friends – there's always Pacifica Perfume! I don't really know why, but the mood stuck me to buy a fragrance recently (in fact I grabbed…well, ordered…2). My choices included the Hawaiian Ruby Guava Perfume, which is a bit of an old standby from Pacifica I believe. I had a mini set in this scent that included a lotion, a rollerball and a lip balm. I decided the scent was perfect for Spring and Summer and set about snagging a full size spray perfume. So, here it is in my silly little hands!

J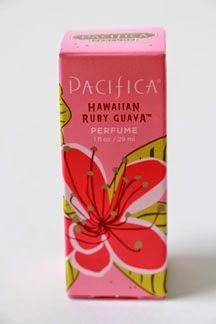 For starters, if you're not familiar with Pacifica, they are a fantastic brand for those seeking not only cruelty-free, but Vegan options as the entire range is Vegan!!! I believe most, if not all, of the products are also paraben-free, phalate-free and glycol-free (this perfume is at least). They began with scented products and have amassed an insane amount of perfume and candle scents that sound so intriguing! They have branched out into body care products and, most recently, into makeup! Basically, there's something for everyone.

J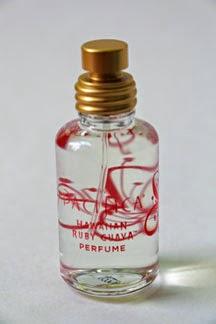 Now back to the Perfume. The Pacifica spray perfumes are a rather standard 1-ounce size that is contained in a nice glass bottle. They have a print in a design and color that coordinates with the scent in the bottle, so if you have 100s of them, it might be a tiny bit easier to find what you're after.

J

The spray top is pretty basic and simple – there's no cap, so if you're planning to travel with the scent, you may want to save the box to keep it safe during transport. It sprays out a fine mist, just like any other perfume. The ingredients (at least in the Hawaiian Ruby Guava) are quite simple, which is nice as well. The ingredients are: Alcohol Denat. (natural grain), Parfum (Pacifica's own fragrance blend with natural and essential oils) and Aqua (water). In addition, the perfume is made in the USA and, again the Hawaiian Ruby Guava version, allocates a portion of the proceeds to support clean water. Pretty cool, no?!

J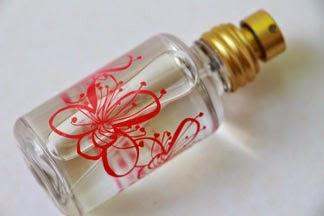 So let's get into the scent itself, right? I'm horrid at describing scents so I will give you the website description. "Inspired by a surfing trip to Hawaii, this sexy and sultry tropical blend combines sweet, berry-like notes of Guava with a bright, citrusy top note of Pomelo and a warm and subtle Coconut base." It smells delicious! It is bright and vibrant, and just makes me think of warm breezes and sandy beaches. To me, it smells like a tropically sweet and fruity subtle floral. I don't quite know where I get a hint of flowers, but for some reason the combination gives me a very subtle tropical floral note. It is definitely a predominantly fruity scent with a tropically surprising bend. I think the coconut may be making me think faint floral for some reason, because it doesn't have an overtly coconut scent. Anyway! If you like tropical fruity scents with a touch of something unexpected, this is a great scent for you!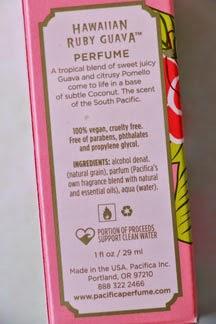 Though the scent is fantastic, I'm not going to like it as much if I have to spray if hundreds of times a day to notice it. Well, the Hawaiian Ruby Guava literally lasts all day on me! Seriously, I spray it on in the morning and it's still noticeably there pretty much until bedtime! Not overpoweringly so, but it's still almost as detectable as after the initial dry down. The other thing I am really impressed by with this scent is that it doesn't seem to change much, if at all, on my skin. The smell in the bottle is what I get, which is fantastic! Nothing more frustrating than loving a scent, but having it smell like raw sewage once you wear it!

J

I have nothing bad to say about this perfume! I am seriously in love with it!


Bottom line? I really love the Pacifica Hawaiian Ruby Guava Perfume. It is a tropically delicious and sweet, yet unexpected and unusual fruity fragrance that lasts and lasts without changing on my skin. It is becoming a new addiction!!!

J

And there are so many intriguing scent blends on their website that I'm already itching to try more. I wish they had a little sample size so you could just see what it smells like – or even just sprayed cards that they could mail to you. That would be fantastic!

J

There are a few stores, like Whole Foods and Ulta carries a limited selection of products (not the spray perfumes), where I have seen the actual perfumes available, but the selection always seems rather limited. If you're looking for a new perfume that's cruelty-free and vegan, check out Pacifica – they're also quite affordable as well ($22 each)!!! Love, love, love the Hawaiian Ruby Guava Perfume!

J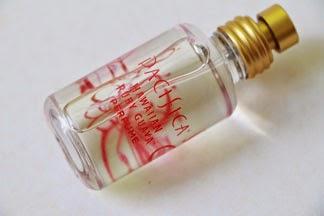 Check out the amazing scents available on Pacifica's website (referral link), as well as their ever expanding range of products. The Hawaiian Ruby Guava Perfume (and all their full-size perfumes) retail for $22 per 1-ounce bottle.