A once fine season hangs in the balance. The Indiana Pacers are one game away from getting beaten by the eighth seeded Atlanta Hawks, and one thing is surely to follow: Media crucifixion.
The Pacers have looked off in almost all of the five games that have featured the two teams this last week and a half. What most Pacers fans figured to be a breeze, has turned into an absolute nightmare. Apparently, the Hawks don't suck have as much as they were made out to be. Atlanta entered the postseason without their best player, Al Horford, as well as the worst record in the playoffs at 38-44. Things have changed. Jeff Teague looks like a top five point guard. Paul Millsap has matured into a fantastic, athletic stretch four. Mike Scott, Shelvin Mack and Kyle Korver have all caught fire from behind the arc, and the likes of Pero Antic and Demarre Carroll have been solid sixth and seventh scoring options.
Meanwhile, more of the same problems that plagued the Pacers in the final month of the regular season have recurred in the first round. Words can't describe how useless and abysmal Roy Hibbert has been in the series, averaging less than five points and three rebounds per contest. This is the same guy who still has two years left on the massive 4 year/58 million dollar deal he signed at the conclusion of the 2012 season. While Hibbert has still made an impact on defense, he's been soft on the offensive glass, and can't quite seem to remember how to short any sort of hook-shot, layup or jumper. The Roy Hibbert that dominated New York and Miami in the playoffs last season is gone, and there's no telling when or if he'll ever return.
Evan Turner has been another disaster. Sure, he doesn't get any minutes, but it's not like he deserves them in the first place. Dumb turnovers, bad shots and horrid defense have been the water marks on his time in Indy. No way does he come back next season. Does the blame fall on Larry Bird for trading our beloved Danny Granger for the hack that is Evan Turner? At the time, the move seemed golden. I along with my father were skeptical of the move, and it hasn't paid off.
George Hill and Lance Stephenson have been hit and miss. Hill's future is uncertain; he's tied to Indy for 3 years/24 million. Fact is that Hill's been outplayed by his teammate this season, meaning it's time to go. Stephenson is a tough call. He'll make a hefty pay day, whether it'll be in Indy remains to be seen.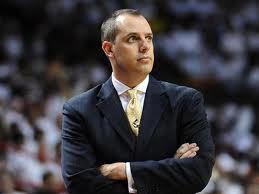 Time is ticking away on Frank Vogel and the Pacers
Paul George, David West and CJ Watson have been the saviors of this team over the last week. The trio always seem to make a big shot when it's needed, and they will be relied upon even more for the elimination game on Thursday night.
Bottom line, Hibbert needs to go. In fact, the whole Pacers starting line-up needs a few changes. Enter Chris Copeland. Copeland has barely gotten a minute all season, but the 6'10 sharpshooters time has come. Copeland spaces the floor with his three-point shooting ability like no other Pacer. This was ever present when Cope stepped on the floor Monday night, with the Pacers facing a 27 point deficit, which quickly turned into a nine point after the big man helped spread the floor and create easy offense for the team. Copeland, along with CJ Watson should both be in the starting lineup come Thursday.
The Hawks are good, but they aren't that good. Frankly, I wouldn't be surprised if the Pacers won and extended the series, and I wouldn't be surprised if they played yet another horrible game and became the fifth one seed in NBA Playoff history to lose to an eight seed. One thing is for certain. If the Pacers lose, Frank Vogel has got to go.