Hey guys! Today I have another product from Green People, but a product from their Organic Young range. Oy! Cleanser, Make Up Remover and Moisturiser is a 3 in 1 product; that has "no gunk" and is all natural goodness.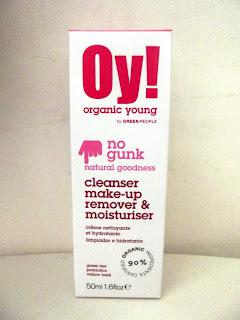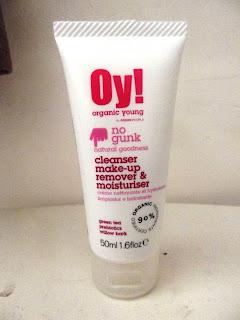 I love the cute, simple packaging from the Oy! range. They are all white, with bright, bold writing.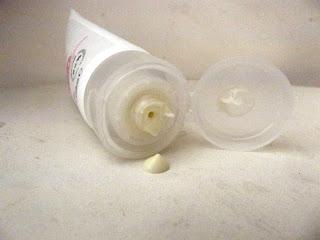 The Oy! Cleanser, Make-Up Remover and Moisturiser contains
Organic Rosehip, Willow Bark, Prebiotics, Green Tea & Mandarin; it is 90% certified organic.
The product has a really strong smell, it's really pleasant; although I can't point my finger on which ingredient is the stronger scent. It has an Anti-Acne formula (although this doesn't apply to me, I'm sure it'll be great for many people).
The product promotes:
A blemish-free complexion
Gently cleanses to rid skin of pollutants and make-up
Contains Willow Bark & Green Tea to reduce inflammation and kill bacteria
Prebiotics work to kill the evil bacteria on your skin and support the good bacteria
Suitable for all skin types, even acne-prone skin.
How did I find it?
For a cleanser it worked really well for me. It cleaned my skin up so well, and left it feeling so cleaner and nourished. As a Make-Up Remover I think it is sooo good. It works so good for an overall remover of my make-up, but it definitely surprised me with removing my eye make-up. I usually use separate remover for my eyes, but this actually removed my stubborn mascara so well. I haven't really noticed a different for the moisturiser part, as my skin at the minute is really soft on my face. I know that my skin dries during the changing of seasons, but it hasn't this Autumn - this could be due to using this but I can't say 100% if it definitely has.
Where to get it from?
You can view all of the Oy! product range on the Green People website, by clicking
here
. The Oy! Cleanser, Make-Up Remover & Moisturiser retails at £9.95
*
for 50ml and you can get it from the Green People website, by clicking
here
.
Have you tried any of the Oy! products? Are products being organic important to you?
Thank you for reading!