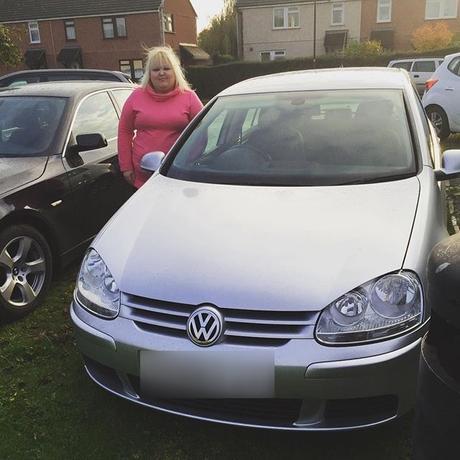 Way back in November 2015 my step dad had come into some money after he had been working so hard and very long hours to try and raise enough cash for himself to buy himself the car that he ever wanted. As my mums car was in need of some TLC and needed so much work done to it she decided to get rid of it and my mom used to drive my step dads old car before it was destroyed in a car accident. As my mom didn't have a car to get anywhere, she had enough money from the insurance to go and get one for the time being until she had enough to save for one and something she wanted.
She only had a small Mercedes and it was kinda old and she only paid over £1000 and i believe that the car was around 10 years old as there was a cassette radio in there and no clock or any proper support when it went over humps and bumps and it was dreadful. My mom disliked the car and wanted to get rid of it when she had found something that she liked, At the time my step dad had a little clio and it was a lime green color and it was also a limited edition one and my step dad bought that car for a Bargain price. Somewhere in April last year my step dad wanted to get his savings out so he could go and buy his dream car that he had wanted for a very long time and get other things for himself. The process it took was a very long time so buy November 2015 the day came when my step dad bought his dream BMW 520 of course my step dad wants the X5 but at the time there wasn't any X5's available and it was so clean and tidy inside and out and it was lovely car when i first went in it.
My mom was also in need of a new car and my step dad said that he would buy her one for her christmas present the next day when we went to get my step dads car and my mom  had a look at some cars  and to see what she would like , She used to own a lot Pugs and i really dislike those cars so much as the power in them are rubbish. We tested one car and it just didn't sound right and it felt like a old banger and the seats was so uncomfortable and even my mom said that to me as well! As there wasn't any options left i said to her try this car out this Volkswagen and plus it was a lot cheaper is well and my mom took the plunge and tested out. The second we got in this car we knew that it would be so much better for my mom and of course me as a passenger, The ride was a lot smoother and also the seats was comfy and easy adjustable too, There was full cd and radio and also a computer in the dashboard and there was plenty of space for my mom.
I was so over the moon when my step dad agreed to get this car for my mom and the second my mom drove it home i just fell in love with it. The car in question is aVolkswagen Golf MK5 1.6 FSI, And this car does shift very quick and the power is just crazy, I have told my mom to get a golf a very long time ago because they are good cars and also has a lot more features then most cars on todays market. The ride is so good and the seats well they are the best for me i have sat in loads of cars in my lifetime and this car has been the best so far and it is also helping my back and my mums too.my step dad drove it and said that this car does also shift very quickly and i think he likes his car better though. I have always told my mom to get a golf but has always said that they are way to low down and she would find it very hard to get in and out but that hasn't affected us in any way, As i am disabled myself i sometimes do find it kinda hard to get in and out of the passenger seat now and again but not always as i suffer with back and leg pain but this car also does have some seat adjustments that you lower and higher the seat to your requirements, The sound system in the car is very good and plays CD's without any problems and i was a bit gutted when the car didn't have any sat nav in there as this would be kinda good for my mom to have as she does get lost half of the time.
The boot is very good and it can hold plenty and i love the layout of the back of the car and how you have to open the boot with the VK logo witch is a really good idea and i absolutely love,
I have also decided that i was gonna own the car outright once i have passed my driving test but as i am unable to drive a manual this is not gonna happen as yet, As we have had the car for over a year now we have found the ride to be very good and keeping the car clean and tidy and making sure that everything works is kinda hard, There has been some issues with the heating and the air con and the areal has been ripped off so we need to get this car back into good condition asp with a new satellite navigation system witch i am gonna buy for my mom in a few weeks time as this would help her out so much as she does get lost quite easily They aren't that expensive to buy you just need to know what you are looking for when it comes to these things. And then it needs to go and have a good service to see what other faults are apart from that the car is something that i wouldn't want my mom to get rid of any day soon as all of her other cars has been rubbish and this one has to been one of the best cars that my mom has ever owned. When i asked her about her other cars she said that this one is more powerful and has more options inside and out and it is also a much better ride by loads.The max she has gotten out of the car has been over 80mph on a public road and over 89mph on the motorway this car can achieve more then that but as we have speed limits she has to be very careful not to break the speed limit on the roads, My step dads car does shift very quickly too but not as powerful as my mums because it is only a 1.6 not a 2.0. If my mom had a 2.0 TDI she would be able to go over 100mph on the autobahn in Germany no problem but it is one of the most amazing cars that i have ever been in and the power it gives for a small car like this well its incredible.
At one time this year my mom decided that she was gonna get rid of the car because she couldn't afford the car insurance and tax on it and i said to her no you have to keep it because if you get rid of it you will never ever be able to get another because my step dad bought this car for a really good price last year, As my step dad bought the car for my mom to use he said that the was gonna sell it to my uncle and i told him over my dead body because he cannot look after anything these days and he would end up smashing it up and getting other people to drive it and using fabric spray to clean it ? so in the end my mom sorted out the tax and the insurance and ended up keeping it. I also said if you get rid of this car you will be making a huge mistake i tell you now you will not get another car like this for what my step dad paid for it and she said ok i will keep it.
I wouldn't fault Volkswagen there cars they are one of the best and very powerful too, I am gonna be getting one myself once i have passed my driving test and with me i like something more speedy and powerful and thats why i have asked for a MK5 GOLF GTI DSG 3 Door and i couldn't believe how much it would be for me to insure it at my age and i haven't even passed my test yet and it was only £143 a month witch is fantastic, The reason why i want a Golf GTI MK5 is because it has a lot more features inside and out of the car and also has leather heated seats and full sat nav with steering wheel controls and it shifts very fast with a DSG transmission, My idol Natalie from Cascada has the black version with 169kw 230ps and has parking pilot air con with xenon headlights and more
My dream one day is to drive one of these GTI's to see what they are really like to handle but i have to wait until i have passed my test to go and test drive one but until then i have to look at videos and photos until then. I have also deiced that i would like a white candy one with 3 door version like Natalie has with all the functions and i haven't seen that many for sale And Plus Natalie has had her 
 car customised to a lovely green color witch i didn't find very appealing but it was a great theme with black stripes down the middle and with new customised wheels.
Nat's Volkswagen Golf MK5 GTI 169KW 230PS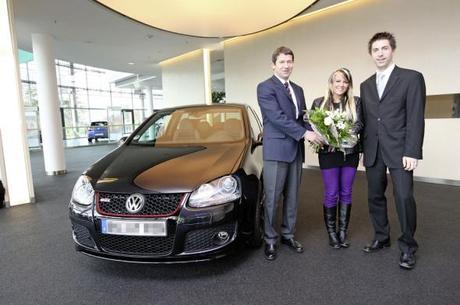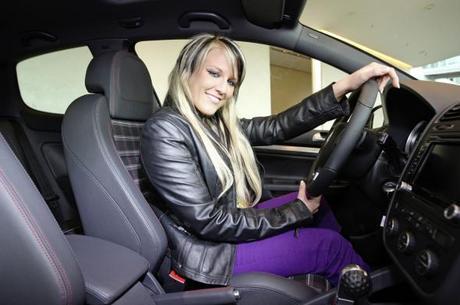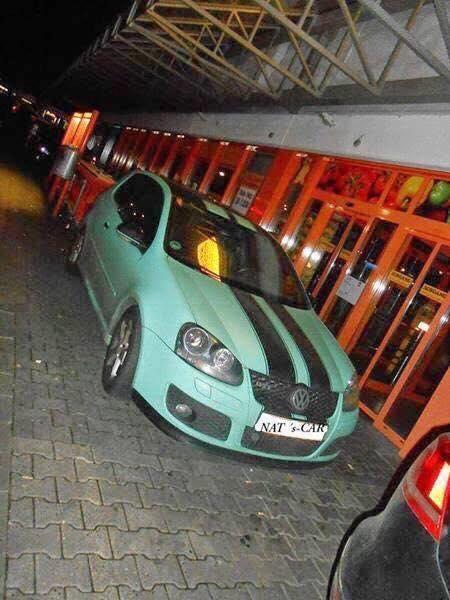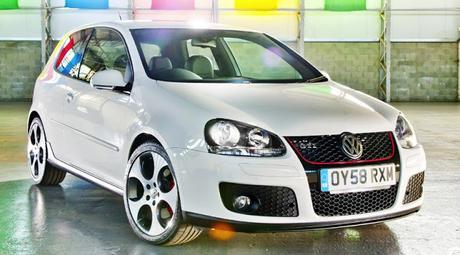 My Dream Car To Own
You can visit Volkswagen UK 
Here:
Love Rianna X