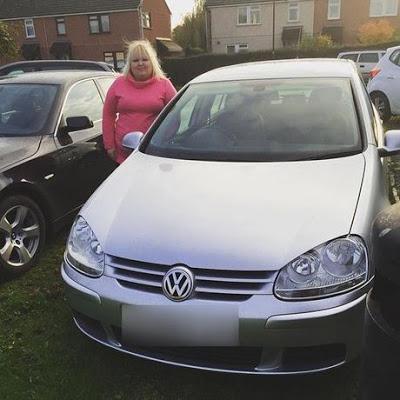 Way back in November 2015 my step dad had come into some money after he had been working so hard and very long hours to try and raise enough cash for himself to buy himself the car that he ever wanted. As my mums car was in need of some TLC and needed so much work done to it she decided to get rid of it as it wasn't worth the money and hassle to fix it as it would cost more then what my mum originally paid for the car in 2005, So while my mom was on the look about for a new car my mum was driving my step dad's car while he wasn't at work to get out and about before the car was in a car accident. As my mom couldn't carry on using my step dad's car as he would need it for work so when my step dad was at work me and my mom would be stuck indoors, The insurance company offered a small settlement fee so my mom could go and get herself a little run about until she found something that was more suitable. My mom managed to find a small Mercedes that was from 1999 witch she found on her way to Dursley one afternoon. The car only cost £10000 and it was only a run about until my mom found something more reliable, The car didn't even have a CD player and only a cassette radio and no clock (until we found it in the dashboard) the seats were really uncountable and when you drive over a bump in it you can feel the full impact and it was something unbelievable when i was in the car with my mom going all over these bumps you could feel everything! As my mom had the car for a while i was experiencing some back pain and i wanted to know what was causing the pain as some days it would be really bad and i have never ever suffered in back pain before, Anyways i had to go out and get some food shopping one day and i also had bad back that day that i had to go anyway and when my mom went over this speed bump i Hurd a massive crack in my back! and i knew that i did some damage and i ended up pulling my muscles in my back because of the seats inside this Mercedes were so bad and ruff  and also the ramps and bumps that my mom kept driving over that i couldn't sit in those seats no more as it was causing my back pain so much that my mom decided it was time to go out and find another car that was more reliable and had better features. 




When my mom bought that car she said at the time that she really didn't like it but that was the only car that was available in her price range at the time and she said that she wouldn't buy a Mercedes ever again not that model anyway! At time my step dad had bought himself a limited edition Clio that was a lime green color and it only cost my step dad £500, and it got him from A To B and he was thinking about getting a new car as the car that he had was kinda small and it only had two doors so getting people in and out of the back was kinda hard and my mom hates 3 door cars. Sometime in November 2015 my step dad wanted to get his savings out that he had been saving for years so he could go and by his dream car a BMW X5! The process to get his savings was a nightmare as my mom had to fill out a lot of forms and do everything for my step dad to get his money paid in his back and it took months, As the process was going on for the funds to be released my step dad spotted a second hand car market called Mill House Motors, My step dad had gone in there perviously to see what cars were available and to see if they had any BMW's X5's of course they didn't and my step dad done a deal on a BMW 520 series and my step dad also put a small deposit down to make sure that everything was ok with the sale when it was available to be picked up as they needed to check the car out before giving it to the customer just incase anything needs fixing on it. When my step dad told me that he had bought a BMW i didn't believe him at first and thought that he was telling me lies as i knew that he didn't have that much money to go and buy a brand new BMW as he didn't have that sort of cash in the bank, When he i saw the information about what he had bought then i believed him and asked when do you pick it up and he said on November 15th 2015 and i asked could i come and see the new car and he said yes!




When we drove up to the place my step dad said theres my car and i saw What!!! Thats my car over there and i said what that black BMW? and he said yes and i went OMG! it was so clean and shiny that i couldn't believe that we would be sitting in this car in a few minutes and it looked so comfy inside and it was so clean and professional cleaned. As step dad was sorting out the paperwork and doing the deal my mom and I started to look at some cars as my mom needed a new car kinda bad due to the issues that she was having with the Mercedes and my step dad said i will buy you one for your Christmas present and my mom said no i am fine i will get one when i can and my step dad said i will get it for you and go and pick a car out for yourself, As me and mom was looking around she liked the look of this horrible Peugeot (and i really hate these cars as they have no power to them at all) and i can remember sitting in it and it was so small and cramped and i didn't like it at all, The owner gave us the keys and my mom had a test drive in it and when my mom started it it sounded like the pistons were falling and it was like Chitty Chitty Bang Bang car makes and it was a horrible car to sit in and drive and my mom said i don't like this at all. As my step dad came out to see what car my mom wanted she said that i don't want this little Peugeot and it is to much and i want something that was more reliable then a shit old 

Peugeot!




As time was running out and my mom and i was looking there wasn't car that my mom liked until i spotted this Volkswagen Golf in the corner and i said what about this car Mum? And she said well i really don't like Golf's as they are way to low down for me and i really don't like it, I said that they are brilliant cars and they have much more power in them then the 

Peugeot's and also it is a lot cheaper then that red 

Peugeot that we looked at, My mum just took the chance and tested it out and i said what do you think of it now then? My mum applied it has better seats more power and it has plenty of room in the front and back, And i said what did i say to you in the first place mum they are better cars and they will be always fetch a lot of money and they also hold there value also. My step dad said OK i will leave the deposit and pick it up in 2 days time and i was so happy that i posted the news viva my Facebook that my mom had got a VK golf as they are amazing cars i was so happy!




The day came when we had to go and pick the car up and the owner of the place gave my mom the keys and paperwork while i had a test out in the driver's seat as the plan was for me to pass my test in this car and drive it but sadly this would be impossible due to me not able to drive a Manual due to my learning disability witch is a shame as it is a really easy car to drive, The second my mom drove it home she knew that this car would be so much better for my mom to drive on a regular basics and of course carrying passengers and me. The ride is a lot more smoother in this car and the seats are so comfy and fully adjustable too so if i did wanna drive the car myself i could also lower the seat and the steering wheel if needed witch was a good feature to have. There was also a lot of extra features on the car including a full CD MP3 Radio where you could plug in a iPod from 2005 and also a computer in the dashboard with buttons on the steering wheel for adjusting the volume on the radio and controls for the dashboard computer, I was so happy and my mom finally gave in and said this is one of the best cars that i have driven and it is also a lot faster too and i asked my mom would she ever have a 

Peugeot ever again and she said well i do like my 

Peugeot's but this car is much more fun and has tonnes of power in it and she said that she wouldn't like to own or drive another car.


The car is a 2004 / 2005 Volkswagen Golf MK5 1.6 FSI (Don't ask me what this stands for) i believe it has a fuel injection engine as when the car stars i can here the injections kicking in so i could be right but i am not to sure, I am so shocked that this car has so much power in them as they are incredibly fast and when i said to my mom take it down on the motorway to see how fast it really goes she managed to get it to over 85mph and the top speed was over 100mph but as we have speed limits on our roads we don't know how fast it will go! But when my mom puts her foot to the floor it does shift very fast indeed.
I had told my mom for a long time to get a Golf as they are really good cars and they have tonnes of extras in them and you can easily buy stuff for them too at a reasonable price, The ride in the car is excellent and the seats are just outta this world and it supports my back and my mums too and since having the car and using the seats every day i haven't had any back pain at all, I have sat in so many seats in cars in my lifetime and nothing compares to a seat in a Volkswagen they are one of the bests in the market, My step dad drove the car as my mom thought there was something wrong with the gearbox as it was crunching when she placed into 2nd but when my step dad drove it up the road it was OK (i really don't like my step dad driving my mum's car as he is very easily able to cause damage to the car due to his driving habits) Even my step dad BMW does shift even faster he still liked his BMW at the end of the [email protected]!, I was so happy when she had the car and then she was showing it off to my uncle and he asked my mom if i could drive it and i said no mom because my uncles driving is dreadful and i went mad, Lucky i escaped without being hurt and even the car too.

The car hasn't even affected us in any way at all and me and my mom are disabled we sometimes find it hard to get in and out of the passenger seat and my mom is also the same when she gets in her side but she has figured this out buy using a pillow for extra support and now she doesn't have the issues. The sound system in the car is excellent and it does go very loud and and plays CD's without any problems! I was a bit gutted when the car didn't have any sat nav in there as this would be really good for my mom to have as she does get lost half of the time when she needs to go to places that she hasn't been to before,




 The boot is one of my favorite features of the car as you open it with the VK logo and i think it is a genius idea! The plan was originally that i was gonna own this car outright one i had passed my driving test but as i am unable to drive a manual it isn't never gonna happen at all.




As we have had the car for over 3 years now we have found nothing seriously wrong with the car and we are trying to keep it clean and tidy but with my mom she does find it kinda hard to keep it clean!




There has been some massive issues over the Christmas period in the same year we had the car and i believe the repair bill was over £10,000 as there was so much work involved and then areal was broken off or ripped by someone and now in 2017 that the cd player will not work and we believe it is the laser inside the cd player has stoped working. 




We decided that we will rip out the old cd radio player and get a full Sat nav and entertainment system put in the car as it would be so much cheaper to do then replacing it so we are looking into it now as we can only listen to the radio at the moment and its kinda boring. It was all down to my step dad who helped my mom to get the heating fixed in 2015 as the car was unfit to drive and also it could of been very serious as well with no heating to 

defrost the car and windows it 

was very scary when we went out in it,  Christmas 2015 was a very hard time for all of us as the car was in for repair and we were all low on funds and i just didn't know if i was gonna have anything because money was so low! My auntie who has a lot more funds then us refused to help us to get the cars heating fixed but she wants to be picked up in it all the time and i think it was very 

shellfish and very rude that she couldn't help us. My mom said don't worry we will get the car fixed and have money for Christmas 2015 and it was so hard and even my money was tight and i offered £200 towards the bill so i could stave myself to help out but my mom said no keep it for your self witch i did. If my step dad wasn't in full time employment and taking home a good wedge we wouldn't been able to have the car fixed and have a good Christmas in 2015!
It was a hard 2 months but we done it and we are happy more then ever with our Volkswagen!A Massive thank you to my step dad for everything and buying my mom the car!