Over 200 Free Crochet Snowflake Patterns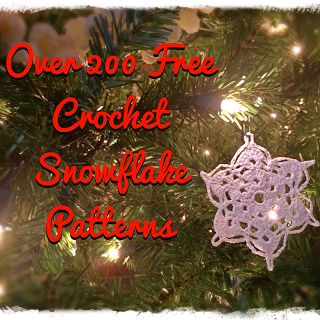 The holiday season is upon us.  One of the most iconic holiday crochet projects is the snowflake.  Over the years hundreds if not thousands of crochet snowflake patterns have been created. 
 There are nearly as many uses for these classic crochet flakes as there are patterns.  A few of my favorite ways I have seen crochet snowflakes used around the holidays are as ornaments on trees and wreaths, tied to the outside of a holiday gift, dangling from a rear view mirror, as garland around the house or office and as seasonal jewelry.
Recently, I found an amazing site dedicated to the crochet snowflake.  The site is called Snowcatcher and they have over 200 unique, and FREE, crochet snowflake patterns available.  I crocheted the snowflake in the photograph above using one of the snowflake patterns found on the site.
The designs found on Snowcatcher are absolutely unique and gorgeous.  There are even instructions on how to properly block your snowflakes after they have been crocheted.  This year, I used several of the free snowflake patterns found on Snowcatcher to crochet ornaments for family and friends.  I hope that you enjoy this site as much as I have.  Click here to visit the Snowcatcher Snowflake Pattern Directory.