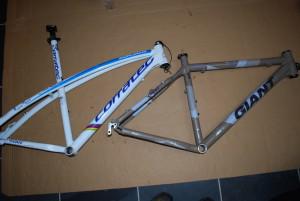 The Corratec Bow and the Giant have been replaced!
Essentially I was not riding the Giant at all as I loved the Bow too much. In the end I have been wrecking the Bow and not keeping it as a race bike as originally intended. So I now have a Kinesis Maxlight Pro 3 frame from Cycle Shack ( Thanks to them both for the support) and the intention is to get a second frame next month to build up as an identical training / hack bike (only blue).
I will choose the best bits from both the old bikes to build up the new race bike but have a few new shiny bits too and plan some more in the spring, but more about that in a later post….