Reviews of the Lanzur Sauvignon Blanc 2013 and The Macallan 18 year old (1996 vintage) Single Malt Scotch Whisky.
By Joshua E. London and Lou Marmon
July 15, 2014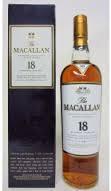 Chile is the source of some of the world's best wine values. The country boasts over a dozen distinctive wine producing regions that extend hundreds of miles from the northern Copiapo valley to the Austral region, the southernmost location where grapes can grow.  
Chile has a long history of winemaking that began soon after Spanish explorers landed over 400 years ago, and the predominant grapes were understandably Spanish as well. The mid-19th century saw a shift toward varietals more associated with France including Merlot, Cabernet Sauvignon, Malbec, Sauvignon Blanc and Semillon.
 
Chile's wine industry faltered, like so many others, during the years between WWI and WWII, and Chile's ensuing isolationism and political struggles further decimated the industry. Indeed, wine quality was an issue until the mid 1980s when, after Chile's policy of isolationism was reversed and its commitment to state ownership of property was reformed by Chilean dictator Augusto Pinochet, the suddenly favorable political and economic conditions lead to a revitalization of the region's wine industry. Chilean wines are now considered among the world's best values for both price and quality and the country is the fourth leading exporter of wines to the U.S.
 
As Chilean winemakers gain more experience with their country's terroir, their wines are becoming more distinctive. And yet many have remained very affordable, especially their Sauvignon Blanc. These are largely clean and refreshing and not overly grassy wines with moderate alcohol levels. Of the kosher Chilean Sauvignon Blanc wines, one of our favorites is the Lanzur Sauvignon Blanc 2013 ($9). The wine exhibits mostly peach and floral aromas with hints of straw. It is a medium-bodied, well balanced wine that is ideal for warm weather enjoyment; it has grapefruit, peach, and gooseberry flavors and a lengthy, mineral accented and refreshing finish.
 
Spirits-wise, we thought we'd head back to comfortable, familiar ground and consider the whiskies of the Macallan Distillery.
 
Widely considered one of the very best single malt scotch whiskies, and very heavily promoted as such by its owners ("a leading luxury single malt" is how they like to put it), we've tended to have a love-hate relationship with Macallan – or, rather, "The Macallan" (the brand name).
 
But we are getting ahead of ourselves. The distillery stands just west of the village of Craigellachie in Moray, just off the B9102 towards Archiestown. To most everyone, this area is considered Speyside, but after the 2009 "Scotch Whisky Regulations" were enacted the designation "Speyside" can only be used by distilleries in certain wards and Craigellachie is NOT one of them. That said, it is a lovely distillery to visit, with a fab visitors tour (booze tourists take note).
 
The distillery was licensed by Alexander Reid in 1824 on the grounds of the Easter Elchies estate. Reid named the distillery Elchies Distillery, after the estate, though the whisky produced there was widely known as Macallan, after the ancient church which stands in ruins nearby.
 
Macallan comes from two Gaelic words, "Magh" meaning a fertile piece of ground and "Fhaolain", meaning "of St. Fillan," a legendary eighth century Irish monk who traveled widely through Scotland spreading Christianity.
 
In 1892 the distillery, by then officially known as Macallan, was sold to Roderick Kemp from Elgin. Kemp invested in some distillery expansion and refurbishment, and renamed it "Macallan-Glenlivet." This renaming was fairly typical of the period, as Glenlivet was then the most marketable name in the Highlands.
 
Kemp passed away in 1909, and the company was put into the Roderick Kemp Trust for his descendants (of the Harbinson and Shiach families). The Trust made two key decisions in 1968. First, they introduced the company on the London Stock Exchange and issued an IPO for 37.5% of the company to fund a massive reinvestment and updating of the distillery. Second, they initiated a single malt program and began to lay down stocks (heretofore the market and already great reputation for Macallan whisky was amongst producers of Scotch whisky blends, it was otherwise only occasionally available locally as single malt and only from the 1960s). Their first officially bottled single malt whisky product was released in 1977, and launched worldwide in 1980 (the brand became "The Macallan"), with a massive UK campaign. In 1984 the first 18 year old expression was released, and The Macallan became the third best selling single malt in Scotland, and the fifth bestselling globally. For simplicity sake, we'll skip along the timeline — today The Macallan is owned by Edrington.
 
A fine company, to be sure, but around 2000, Edrington decided to shake things up with The Macallan and chase down the big bucks.
The whisky used to be known as an 100% sherry cask aged whisky (meaning that only casks that previously stored sherry wine — or really that had been seasoned with sherry wine — were used for whisky destined to be sold officially as The Macallan; the distillery routinely used other casks for whisky being produced for other drinks companies, principally for blending or the occasional independent-label bottling of single malt). The Macallan's entire reputation and, really, brand persona was as the only 100% sherry cask matured whisky.
 
Then, one day, Edrington decided that exclusive sherry cask maturation was simply too limiting, even though it would mean releasing very different whisky. So in an instant, decades of marketing about the superiority and centrality of sherry cask maturation to The Macallan was revealed as little more than so much marketing claptrap. The company determined that a "brand expansion" was required if they were to really make the most of the growing global demand, hence the introduction of the "Fine Oak" range in 2004 (which allows for the official use of non-sherry casks in the maturation process). It wasn't and isn't bad whisky, but it certainly wasn't The Macallan to legions of fans…except that it was.
 
Even still, The Macallan accounts for something like 65% of all the sherry casks imported into Scotland for maturing scotch whisky, and the Edrington Group accounts for over 90% of all sherry casks entering the system (for other brands in the portfolio, like Highland Park). The regular, or sherry cask, range is still 100% matured in sherry seasoned Spanish oak casks; and sherry casks still make-up about 50% of all the whisky that goes towards the Fine Oak range…but the magic and mystique was spent. These days The Macallan is also slowly air-brushing its (vaguely more affordable) age statement whiskies out of the portfolio to make way for non-age statement whiskies that can be more readily (and cheaply, and speedily) produced (more on this another time).
 
So while The Macallan has become one of the greatest "luxury" brand success stories of Scotland, it is also a mixed bag for many whisky purists. At its best, Macallan is sublime whisky, at its worst it is still generally very drinkable if uninteresting, at all times, however, it is thought by purists to be overpriced, overhyped, and way over-marketed whisky that seems to have long since sold its soul…and yet, it is delicious whisky. As we contemplate all this, we do so over a dram of the way too expensive—but oh, so lovely and drinkable:
 
The Macallan 18 year old (1996 vintage) Single Malt Scotch Whisky (43 percent ABV; $200): a superbly balanced, velvety whisky with a rich and heavily fruited nose of fruit cake, raisins, moist gingerbread, cinnamon, vanilla, and maple syrup, followed on the opulent yet balanced palate with plump dried fruits, toffee, clove and citrus peel, a smooth oily mouthfeel, and integrated oak tannins. The overall effect is sweet, balanced and complex—with a lingering finish that includes a touch of burnt oak. Simply mesmerizing, but, oy, so expensive… L'Chaim!