Happy Friday my friends, today I have a long post for you, so grab a drink and sit back and relax!
So, last week I posted about a little getaway we took. A few months ago there was a Groupon for a deal we couldn't pass up. It was for a night at the Hotel de Glace (which means hotel of ice) in Quebec. It was designed in similar fashion to the original ice hotel in Sweden, which we saw a documentary about many years ago.
Robyn and I have talked about wanted to go to an ice hotel ever since seeing that documentary.  The Hotel de Glace is the the only of it's kind in North America, so it was much more convenient for us than hopping over to Sweden. However, it is also pretty pricey (usually $350+ per night), which always dissuaded us from going. However, this deal made it super affordable. I texted Robyn about the deal, asking if he wanted to go, fully expecting him to say no, mainly because we have never left Ashton before, but surprisingly he said yes. I immediately called my Mom to see if she would be free to travel to us and watch Ashton overnight. We knew that leaving him for the first time was going to be hard (for us) and we thought it would be easier for him to be in our house. My Mom of course agreed and we started planning our trip.
On Monday morning after Ashton had his breakfast, we headed out. We knew it was going to take us around 7 hours so we got comfy! The drive was pretty uneventful, the roads were fine and most of the time we were the only car on the road, I don't think we saw more than a dozen or so cars for the first five or so hours of the trip. We made a stop for gas and lunch on Vermont before we crossed the border. I drove the first 5 ½ hours and then turned it over to Robyn to take us the last 1 ½ hours and I took a quick cat nap.
We arrived just before 5 p.m., checked in and made it just in time to get in on the last English tour of the night. Our tour guide Pierre was AWESOME and he talked about the history of the hotel, which was created in 2000, and each year the hotel changes its theme. In 2015, in celebration of the 15th anniversary, the theme was traveling through space and time. You could see this theme pulled through in every aspect of the hotel from the lobbies to the themed suites.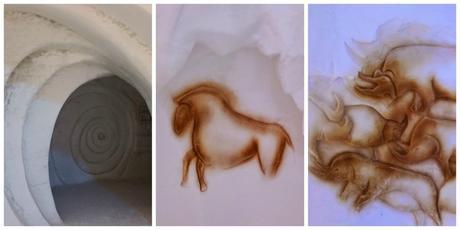 Pierre then went on to tell us how the hotel is constructed every year. First, they have to wait until temps are in the 20's for two days in a row, which happened on Nov 15th this year. Then, the teams assemble metal forms for the walls that act as molds for the rooms that are filled with snow. Eventually the snow is packed tight and form walls that are 4 ft thick. They make the ceilings and various archways out of snow bricks. Each of the rooms, which include the bar, a two story ice slide, chapel (lots of marriages happen here each year–see below,) ice sculptures and the sleeping rooms are the created by artists and ice carvers.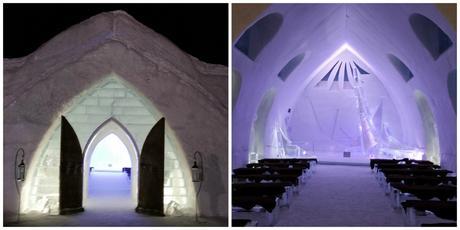 He then went on to tell us about all the lighting in the hotel, which is mainly done via LED lights that don't emit heat but provide great mood lighting.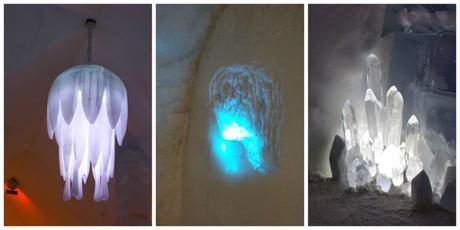 The whole process of building the hotel occurs 24 hours a day for about 6-8 weeks and is a huge undertaking by everyone involved–but it is sure worth the effort as it was spectacular to see the details.
Inside the hotel, the temp is around 20 degrees. As we were walking around, everyone is bundled up. I have to say, it was warmer inside the hotel than it was outside. Let me tell you, we may have WAY more snow in MA than Quebec, but the temps in Quebec were in the negatives and it literally took your breath away. Now, I will admit that I am not the best judge of temperature because once the temps drop below 70 you can bet that the phrase "I'm so cold" comes out of my mouth at least twice a day, but in the 10 years I have been with Robyn, I have heard him say he was cold twice, yes only TWICE-and one of those times was during this trip. He is that guy that doesn't wear a jacket in the Winter because he is never cold, so for him to say it was freezing, you know it was no joke! Thank goodness I had all winter running tops, hat and gloves on so I stayed pretty warm (see–all that money we spend on running gear can be used at other times!!)
After our tour, we were able to walk around all the grounds, which are left open to the public all day (including the sleeping rooms) until 8 p.m. when the staff prepare the sleeping rooms for the overnight guests. We took advantage of this and went into all the rooms taking over 100 pictures.  Don't worry I won't share them all, just a few so you get the gist.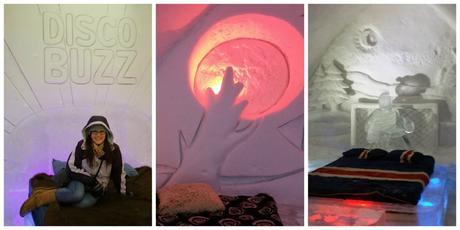 After that we had to attend a mandatory training on how to prepare for the night in the ice hotel. They went over all of our gear, how to prep our sleeping bag, how to get in and out of it, things we should do prior to going to bed, like soaking in the hot tubs to get really warm and then completely drying off in the saunas and using the heated indoors facilities to get our clothes ready for the evening.
After our training was complete, Robyn and I decided to head into Quebec for dinner before coming back to the hotel for the evening festivities. We landed at a cool brew pub that makes their own beers and we both had a good meal (and Robyn ordered an awesome Maple dessert) before we headed back to the Ice Hotel.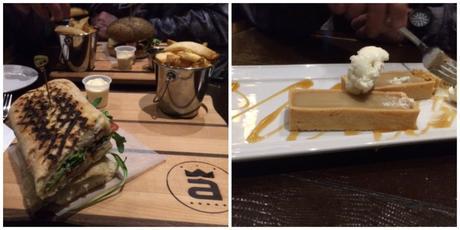 Once we got back to the hotel, there was an ice carver outside preforming his magic!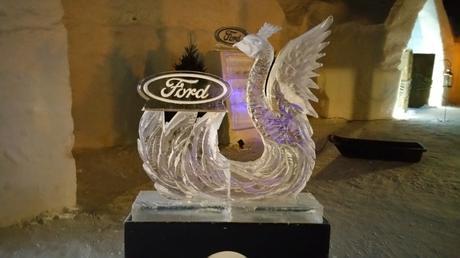 As part of our package, we got a complementary drink in an ice glass in the Quartz bar. You better believe we took them up on this! I got some fruity drink (mine was great) and Robyn ordered some special of the day (it was terrible) but it was really fun to drink from an ice glass–a first for both of us! Warning: the drinks we REALLY pricey, especially since you only get 2-4 sips.  Mine was normally $9 and Robyn's was $12–those are expensive even by Boston standards!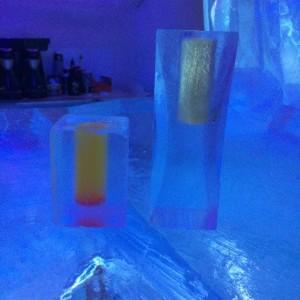 This bar was such a cool spot with little nooks all over the place for people to sit and enjoy their drinks. They even have a DJ playing music and people can dance on the dance floor.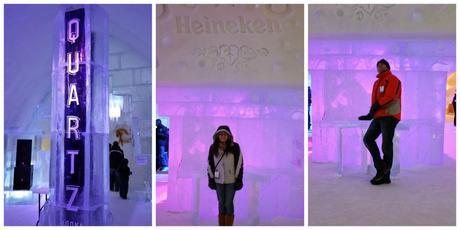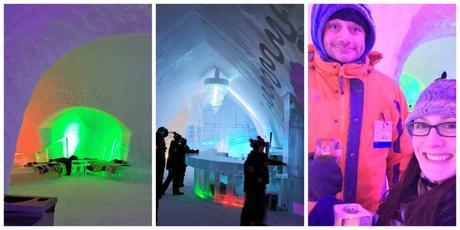 If you were to stay more than one night, you could also go snowshoeing, sign up for an ice workshop; have fresh maple syrup candy from their Sugar shack or go dog sledding among other things. Since we were only there for a short period of time, we didn't partake in any of those activities.
If you don't want to hang out in the hotel, wander the grounds or have a drink in the bar, you can head into the heated Celsius Pavilion where they have fires, board games and free Wi-Fi, along with popcorn, warm drinks and snacks.
After we had our drinks, we headed back inside to start preparing to go to sleep. We made sure we were completely dry, got all of our necessities and headed to our room where our sleeping packs were delivered and waiting for us. It was quite comical to get into the sleeping bags, Robyn made sure to document my attempts.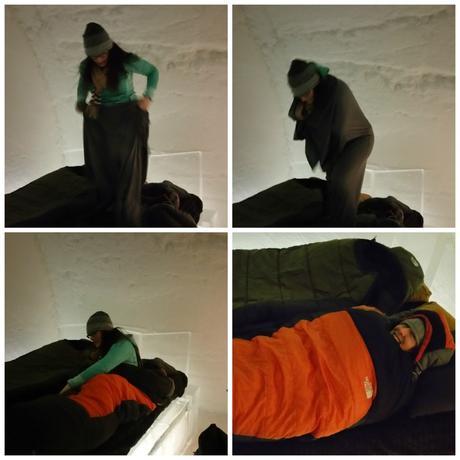 I have to say, I was a bit skeptical about being able to stay warm in the sleeping bag since I am always so cold, but I was toasty warm. I followed all the directions the hotel gave us on what to pack, what layers to use, etc and it all worked perfectly. Sadly, I did not sleep well though, but that is of no fault of the hotel, I just cannot sleep well unless I am on my stomach with my hands over my head and clearly in the currently sleeping set up, that wasn't happening! Robyn however slept like a baby!
We both ended up waking up just before 6 am and decided to quickly make a run for the Pavilion to get washed up (they have showers, hair dryers, etc) and then we had breakfast and checked out, anxious to get started on the long trek back home to see our little monster! We hit some traffic and had to stop for food because we both were getting HANGRY around 2 p.m., so it took us close to 9 hours to get home, but we both agreed this was an incredible experience that we would highly recommend to others who like adventure and off the beaten path kind of experiences!!
—————————————————————
Question of the day
Have you ever been to the ice hotel? Would you want to go? What is the coolest/most unique hotel experience you have ever had?