As many wives know it is really hard to have your husband gone for any amount of time.
I recently got my husband back from a month-long absence.
We were all so happy to have him back!
Now you would think that the last thing that he would want to do after being gone would be to go away again.
Well, that is not true for my husband.
Once he got home all we wanted to do was spend some quality time together as a family.
Oddly enough that can be difficult when you're at home sometimes.
When we are home we have many obligations.
Home duties, school, errands, ect…ect.
So we both thought it would be really fun to get away somewhere that would be quiet and obligation free.
We instantly thought of my folk's cabin near Jackson, Wy.
So I called up my folks and asked if we could go and they were happy to oblige.
So we packed up in a matter of a few hours and we were headed down the road.
Once we got there we went straight to bed and woke up the next day to a beautiful snowy environment.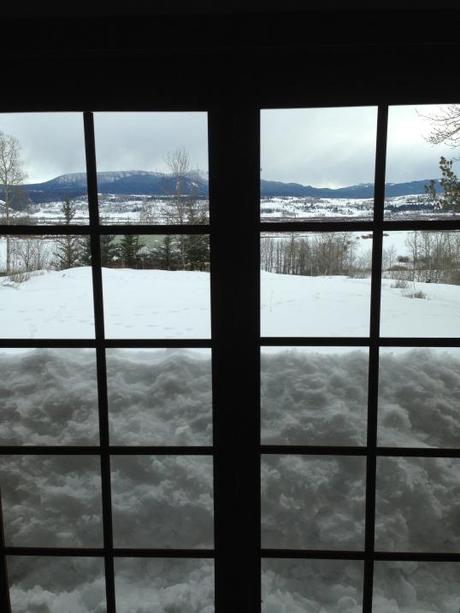 This was the view out the back door.
Yeah, it was waist deep for my boys.
They LOVED it!!
The boys could not wait to get outside and play in the snow.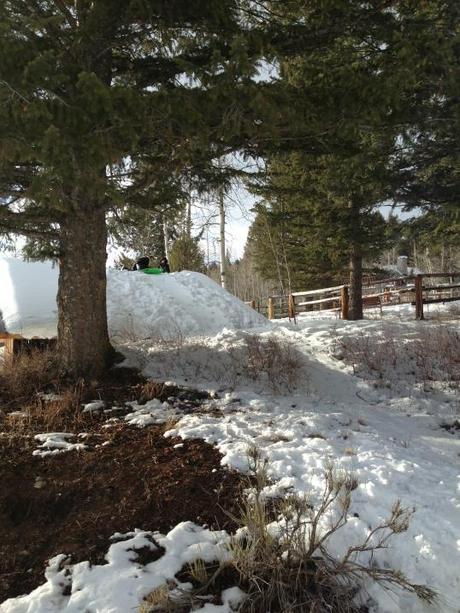 I went outside to fetch them to come and eat some breakfast and this is what they had been up to.
They had made a sledding hill.
Starting at the top of the garage then down the embankment into the driveway.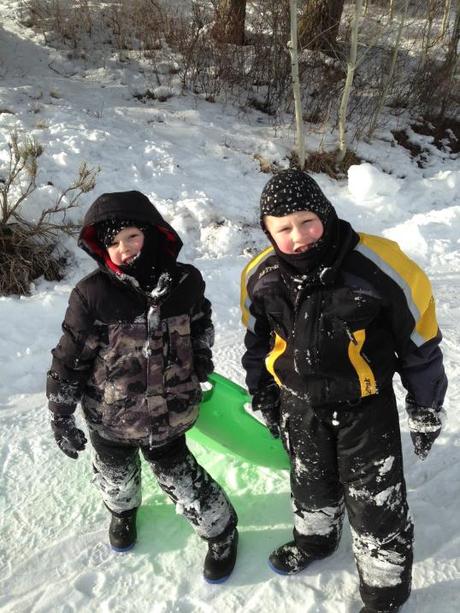 My happy little snow birds.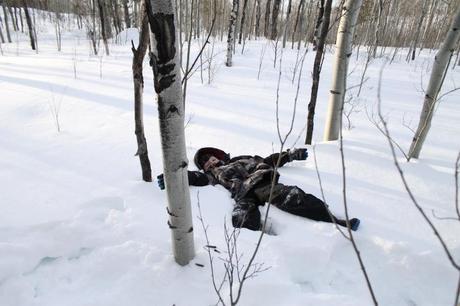 After breakfast we decided to go into Jackson since the kids had never been there.
Here are some scenery pictures from the drive: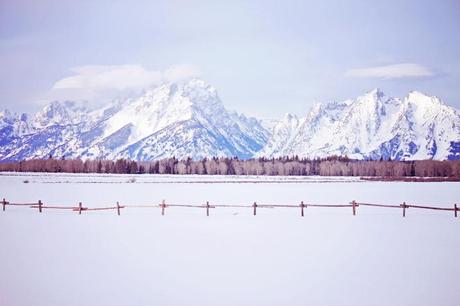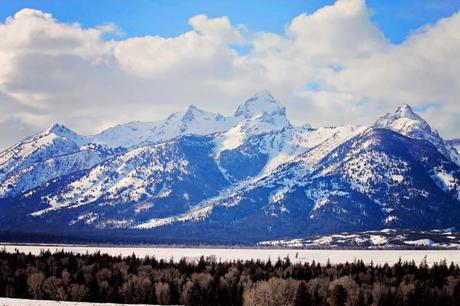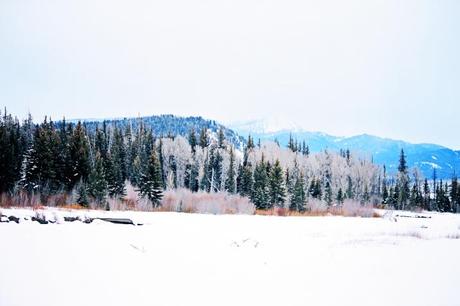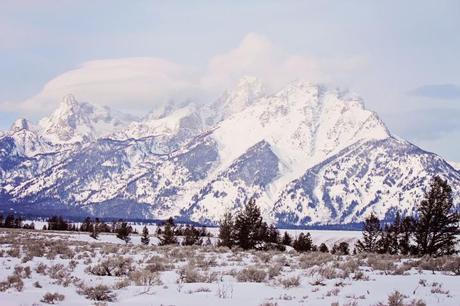 Not a bad view at all right?
Once we got to Jackson we did a little shopping and then we drove to Teton Village.
We were thinking about going on the tram but decided we wanted to do the elk refuge sleigh ride instead and we would do the tram the next time we came.
As we were leaving Teton Village we saw some paragliders flying down the mountain side.
We stopped and let the kids watch them float down.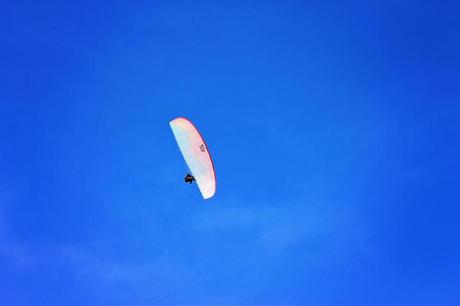 The kids thought it was so amazing and they all thought that they should do that.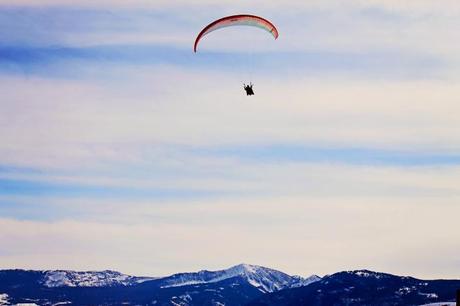 I told them maybe when they are older.
Maybe…
After that we headed to go on our sleigh ride through the elk refuge.
If you have not done this it is definitely something you need to do.
It was awesome!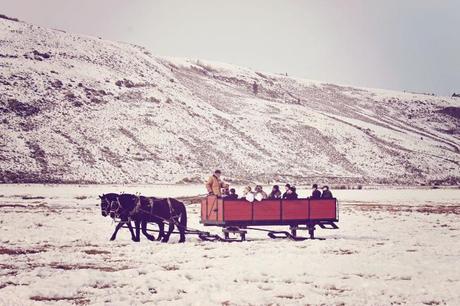 This is what the sleighs look like.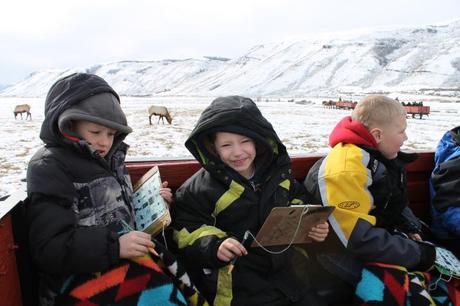 These were my adorable sleigh companions.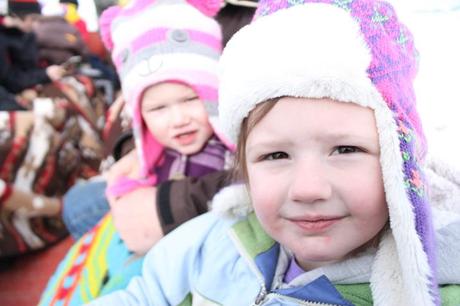 My sleigh had the cutest riders.
Just saying.
Oh and there was also some elk.
In the elk refuge…..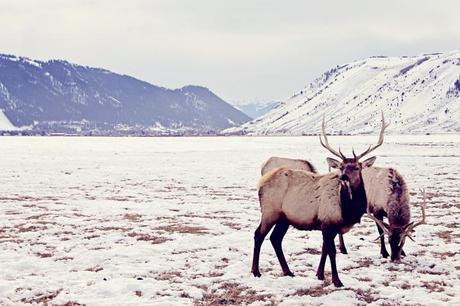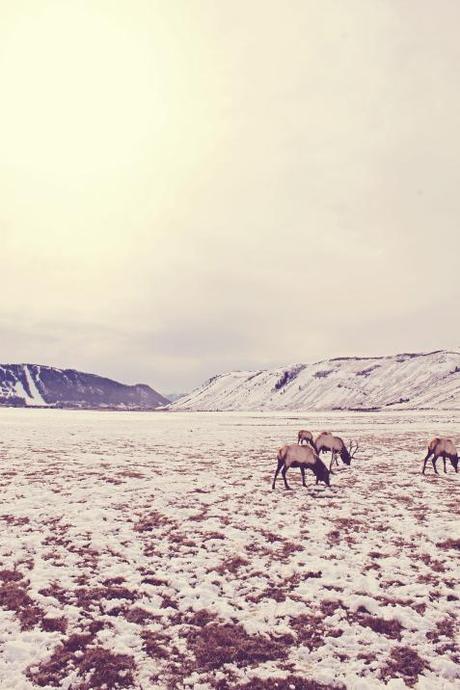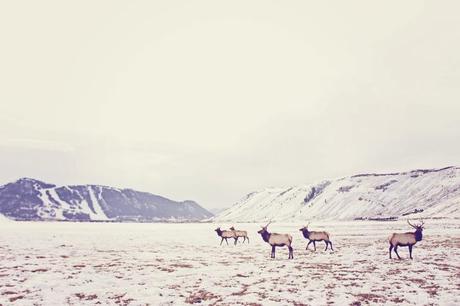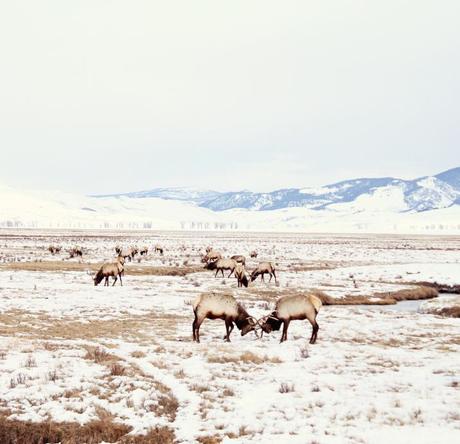 These two were giving us a wonderful sparing show!
They did this for about 15 minutes.
It was very gentle at first like they were practicing then they got serious and the one on the left bested the other.
It was a great show!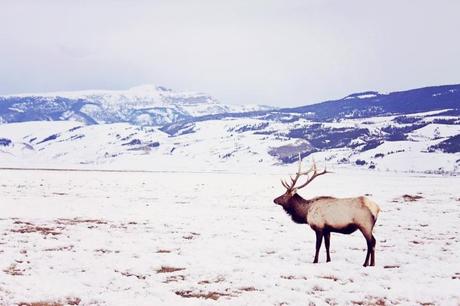 They are such huge and beautiful animals.
It was unreal being so close to them.
Awesome experience!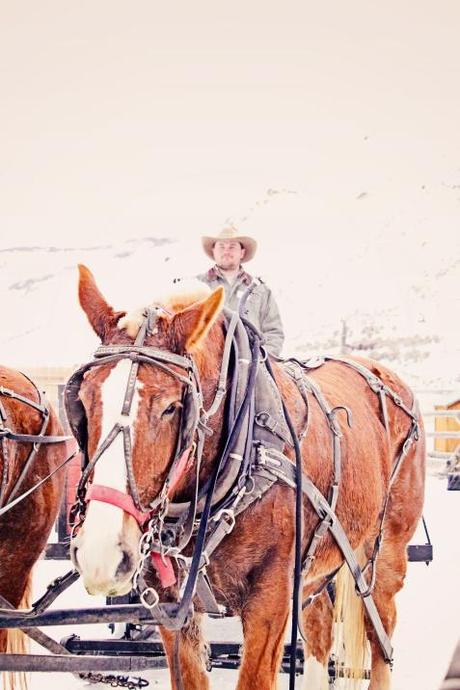 Here are the amazing horses that pulled our sleigh.
Huge and powerful horses.
Oh and our guide, he was awesome too!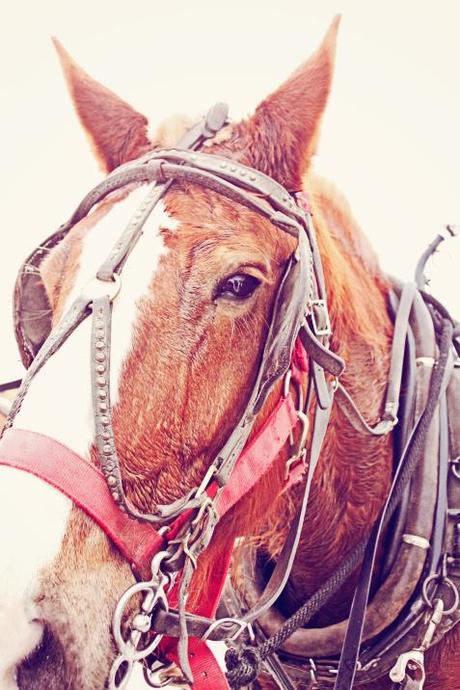 After our sleigh ride we headed back to the cabin to relax and hang out.
So here are a few more scenery shots I took on the way back.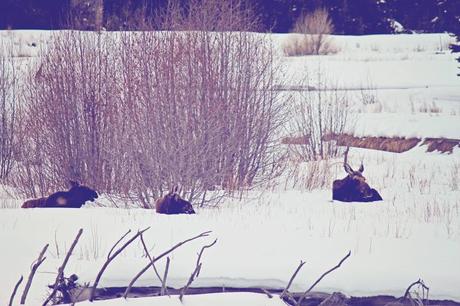 We saw some moose!
They were pretty far off so this is the best my camera could do.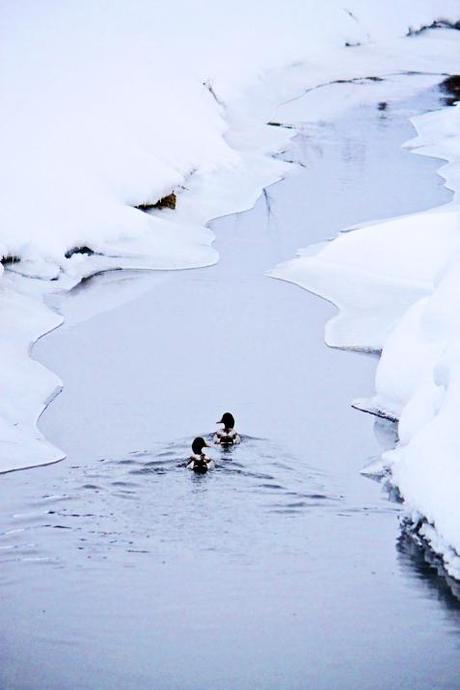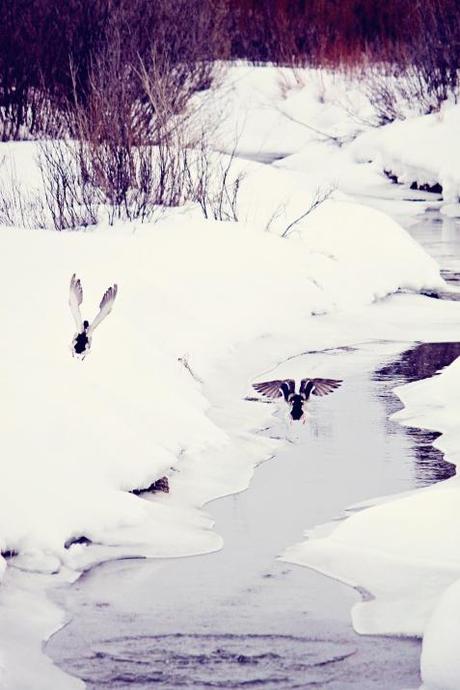 These ducks were camera-shy.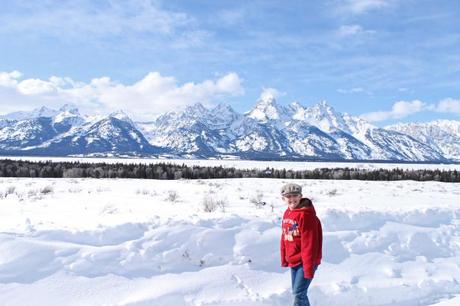 Jacob hopped out for a photo.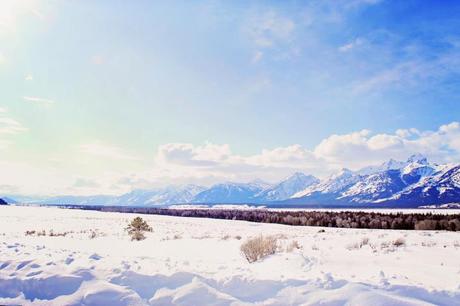 I love this shot.
God's splendor is all I can think about when I have a view like this in front of my eyes.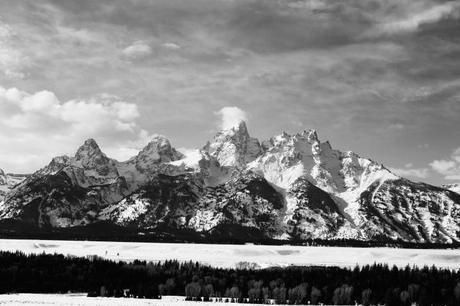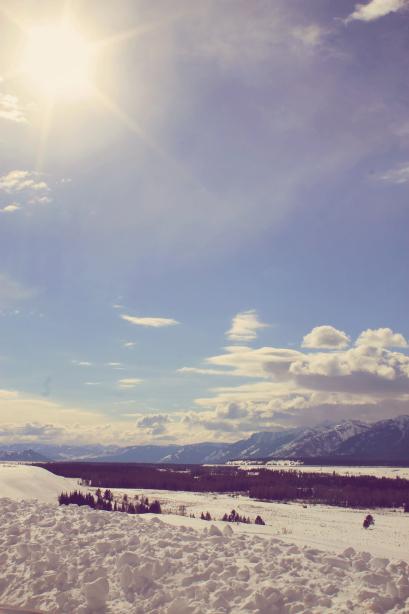 So pretty.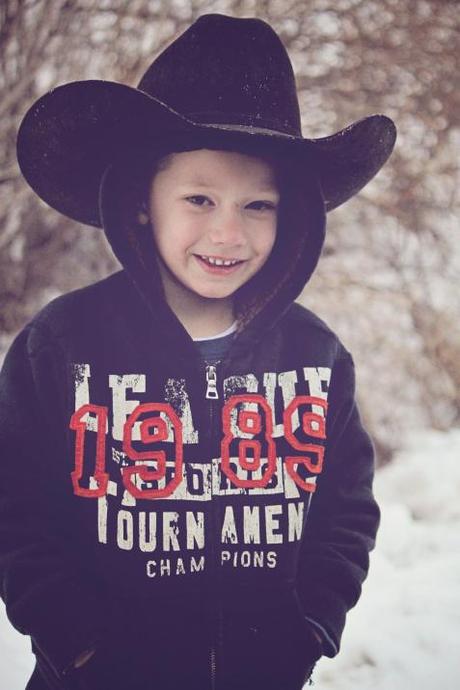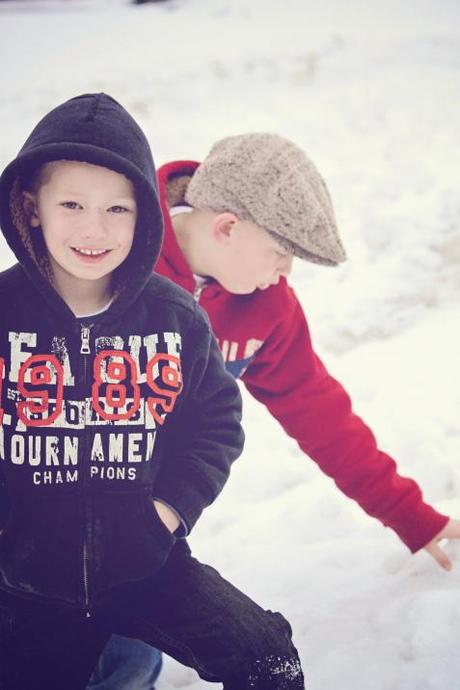 Once we got back to the cabin I snapped of few pictures of my boys.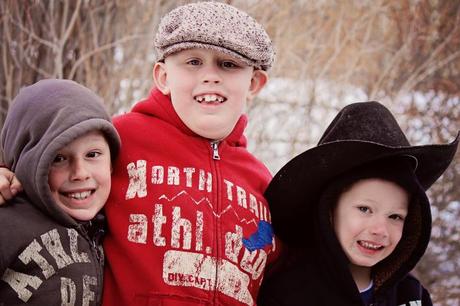 That night we cooked a yummy dinner and played board games.
It was a relaxing and fantastic time.
I love spending time with my family.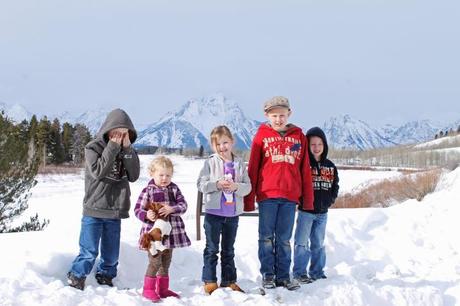 The next day we drove into the park area.
Yellowstone is closed this time of year but you can still drive in some areas outside of it.
Another shot of the kids staring into the sun.
They love it when mom asks them to do that.
Ok, maybe not!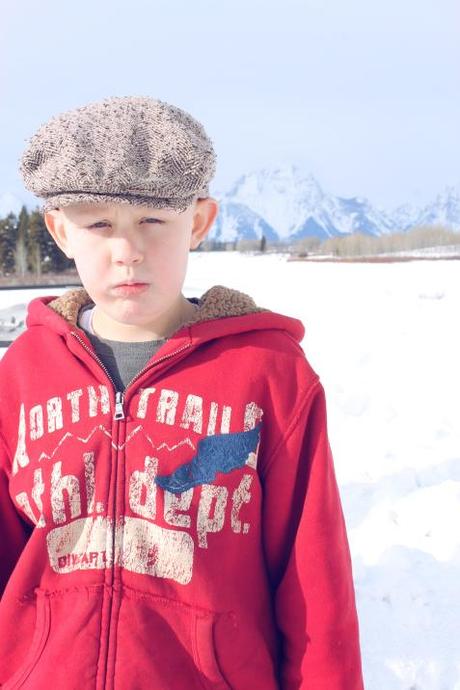 Jacob wanted me to take his picture by himself and he wanted to not smile so "it looks like an old-time photo."
He ended up looking mad.
So we tried another one.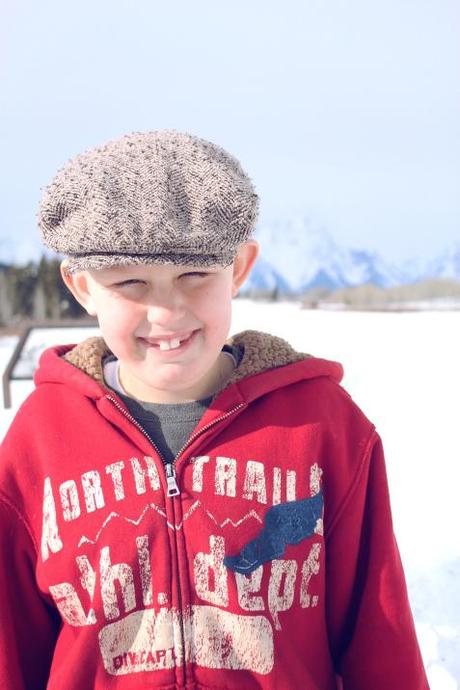 Much better.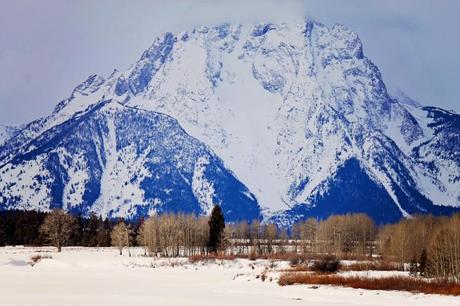 And now for more scenery…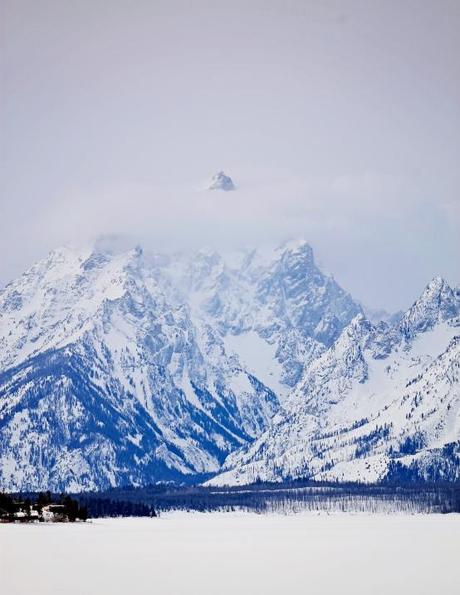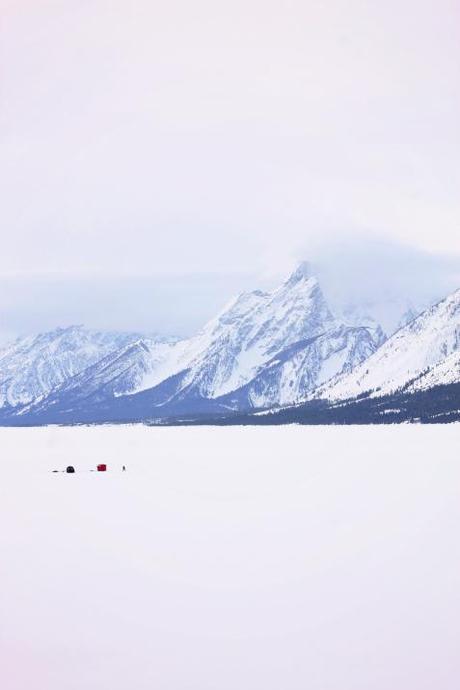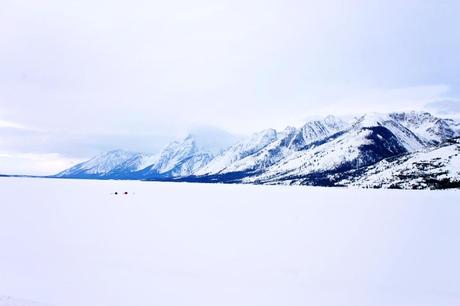 Brrrrr!
So that was really the extent of this day too.
We spent most of our time just hanging out at the cabin and enjoying having nothing to do.
The next day we packed up and headed back home.
And of course I took a few more shots on the way home.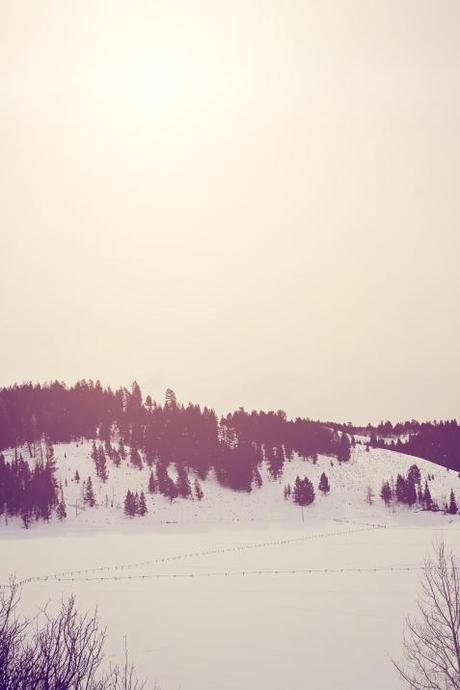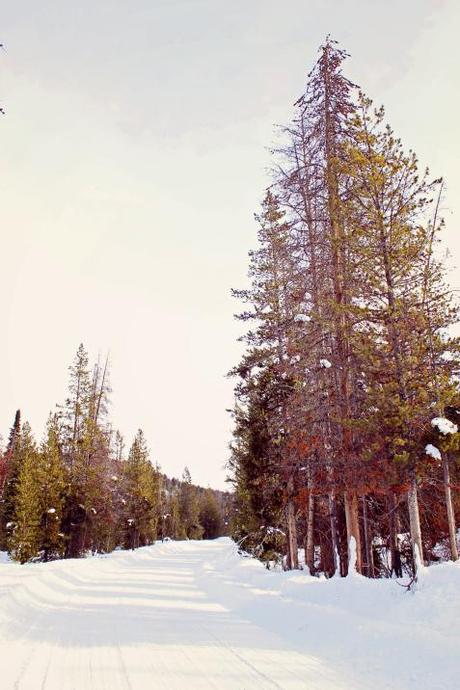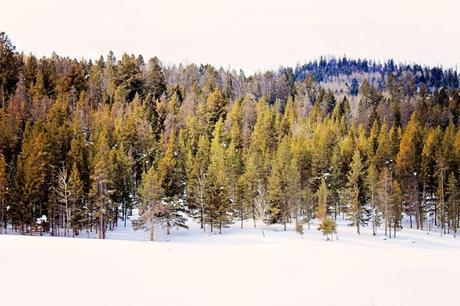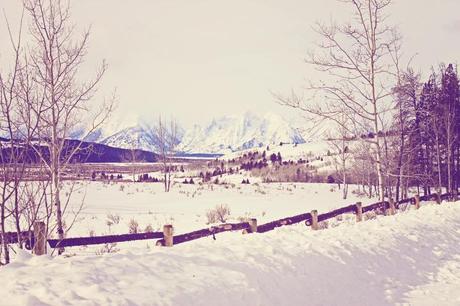 Bye bye for now Tetons!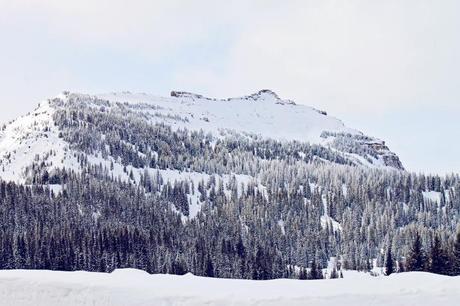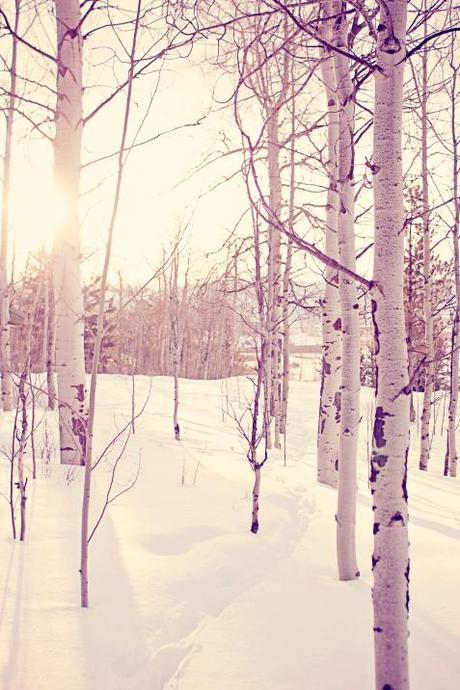 This was one of my favorite shots of my trip.
The beautiful morning sun coming up at the cabin.
The cabin was everything that this picture is,
warm, inviting, peaceful and beautiful.
Just what we needed.
"Because of the Lord's great love we are not consumed,
for His compassions never fail.
They are new every morning;
great is thy faithfulness."
Lam 3:23