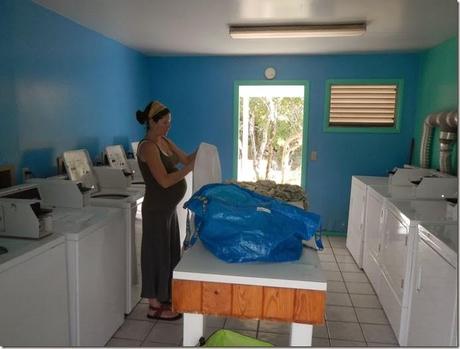 Ok so no we really don't have a day job. We've sold everything and going to do this until we're broke and then work a little and do it some more. But it's not what you think, we don't sit around drinking beer all day, exfoliating our feet on any given beach. It's hard work living on a boat, especially a 65' boat with 2 kids. The girls wake us up every morning at sunrise and Carl gets up with them after we try our hardest to get them to play in the salon. He's such a trooper, my pelvis is giving me hell and I don't sleep well at nights. I peel myself out of bed at 7:30. We make the girls breakfast and if we have no bread I spend the morning baking up a fresh batch, then there's laundry in a bucket. Carl always has odds and ends to fix around the boat, his to do list is still a mile long. If we find time we head out the the beach before lunch for a run around. Then back to the boat for lunch and "quiet time/ nap time" which means it's time to clean the bomb while the girls can't tear it apart anymore. The afternoon is either spent on projects or more island time then before you know it, it's dinner time. Girls in bed around 7pm and then it's time for our down time. Either a book or a movie. Sweet days but super busy. I crash out around 9pm for my usual restless nights.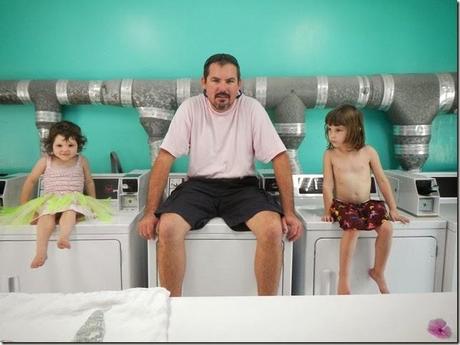 Laundry day in Green Turtle. $4.50 a load is a bit steep but we got all the towels and sheets done. Another $4.50 a load to dry but there's nothing like that bone dry feeling of towels that have been in a commercial dryer. Washing on the boat is fine and all but with the salt air nothing seems to get bone dry.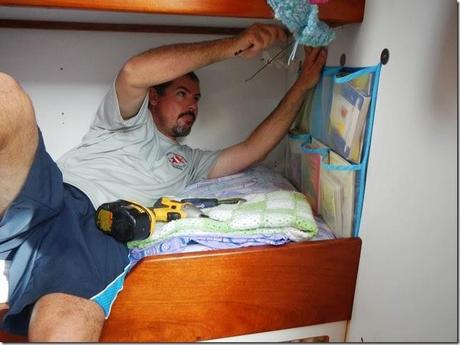 Every day gets a little warmer here so it was time to put some fans in the girls room. 2 less fans stored behind the sofa! I just laugh every time they stick their fingers in them, great entertainment. Doesn't hurt them at all but they sure let out a scream, followed by a nervous laugh.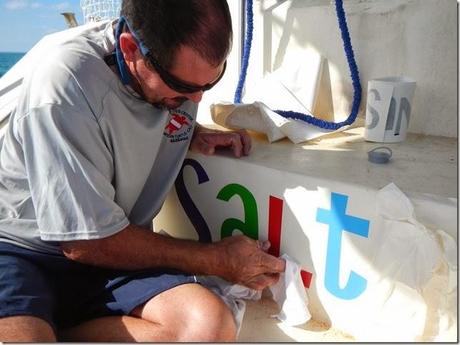 We finally got the name put on the boat yesterday. We were going to sand it down and paint and do it proper but screw it, either we put it on now or the stickers get destroyed laying around in the boat. Looks fantastic and now people know who we are and not just the heli pad or battle ship.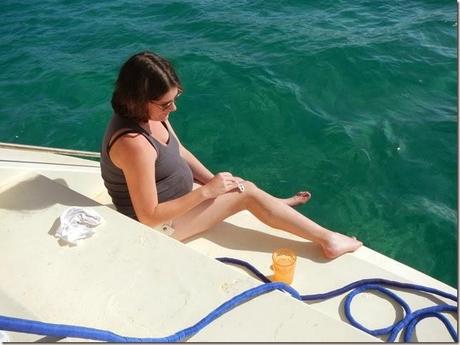 This is pretty much what goes down in "quiet time", finally time to shave my legs. It's been over a month since I last did it and thought it was about time, maybe now the sun will reach my legs and I'll get a tan!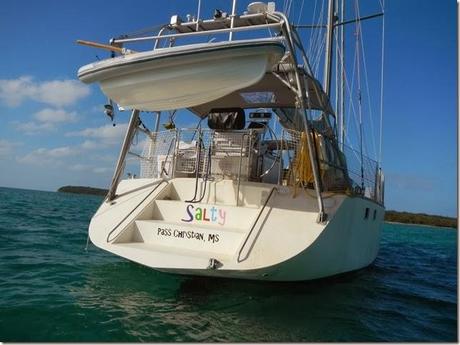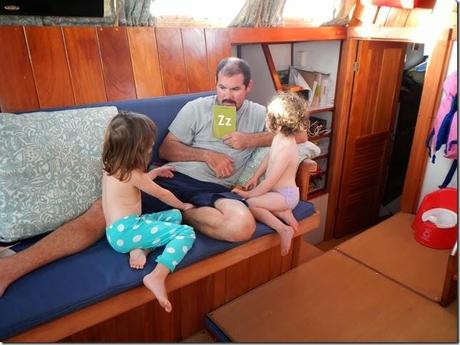 It's tough trying to fit it in with everything else, just not enough hours in the day but we trying to homeschool the girls. They're still too young to truly break out the text books so we try and make everyday a learning experience either it be in the dingy spotting fish, counting chickens on the islands or doing worksheets on the boat. We love to read plenty of books and have a great kids library on board. But how do you really teach a kid to read? I have no clue!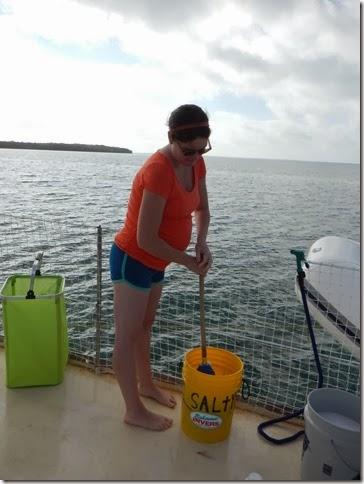 I find that if I do a bucket of laundry everyday we stay on top of it all. Give it an hour or so to soak and then plunge the crap out of it all.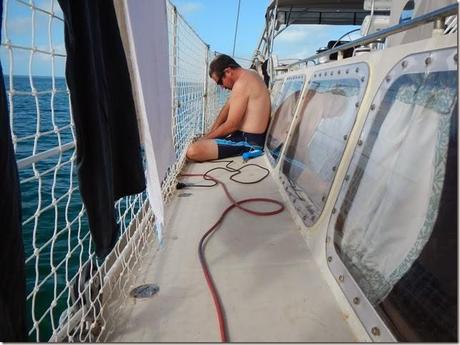 We are always improving our netting. Docking is a hassle due the nets covering our cleats. We had bars made around a few of them back in NC but the others are still covered. Temporarily Carl is stringing a hole around the cleats to make it easier.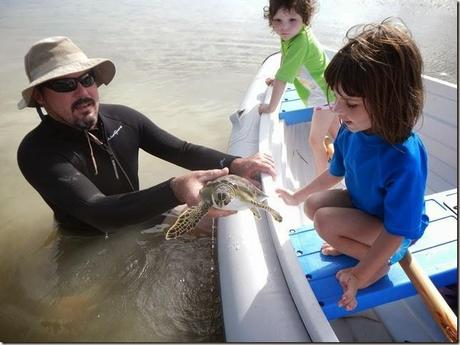 Today Carl caught a turtle (no we didn't eat it) we checked it out and let it go again. Super cute little bugger and the girls wanted to take it home. I believe it's illegal to catch and eat turtles in the Bahamas, not that we'd want to anyways.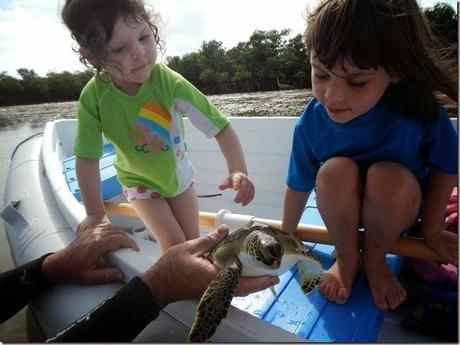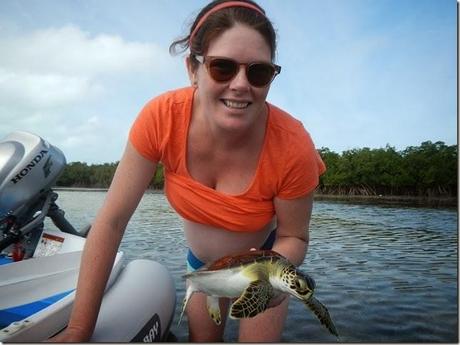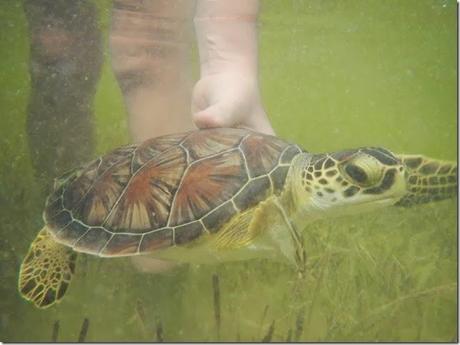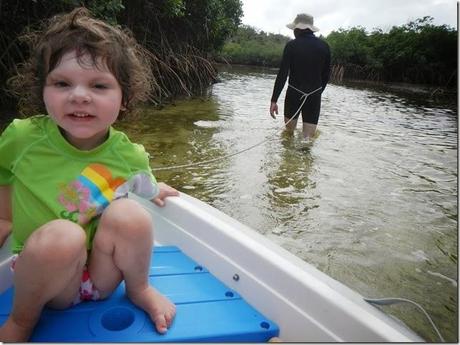 We got stuck in shallow waters in the mangroves again and had to pull out the mule.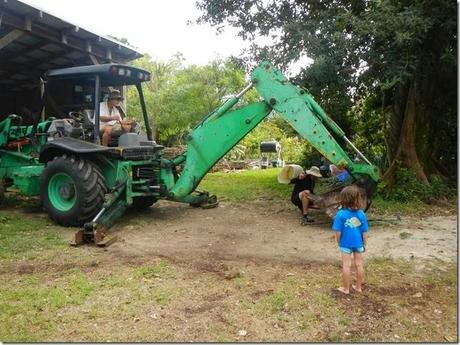 The people who live on the island here (only about 6 of them) are extremely friendly and giving towards the sailors and we are more than happy to return the favors. Carl is helping Bill out to straighten his mooring rod (I have not idea what they're called). Later Lesley (his wife) gifted us with some delicious star fruit and they set up their slide for the girls to use.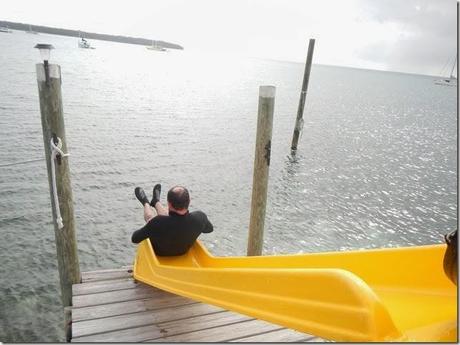 People here are so friendly and have made us feel like a part of the family. We found 3 conchs and gave them to some French people on a Cat and we visited another couple on a Cat that made the girls' day with chocolate. All in all we are crazy busy everyday and are totally exhausted come sun down. Carl has lost 10lbs since arriving here and I've only put on 1lb in over a month (the baby is growing and large for it's age so no worries there). It's nice to know that there's an ob/gyn who lives part time on Manjack and the chocolate cat has a retired ob nurse. Both more than happy to give me advice and help if I need it. What a great crowd.
I think it's time for some of my crazy expensive icecream we bought on Green Turtle.