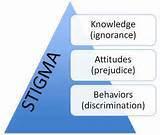 Isn't it strange that although mental illness is so prevalent, it has such a stigm?. Mental health statistics and facts reveal that over 46 million Americans suffer from some sort of mental illness, yet our culture has developed a pervasive habit of intolerance toward these fellow citizens.
Wouldn't our lives be different if we stopped making negative judgmental assumptions about people we encounter? Maybe, from today on, we should look for the good in everyone we meet and show them respect.
Please join me in trying to stop the stigma, the hate and the culture of intolerance.