When dining at Grünerløkka a late evening in March earlier this year my mission was to find an awesome burger to eat. Ended up at Cafe Fontés @ Grünerløkka. Mission accomplished.
The menu
There is a little bit of something for every meat-lover on the menu, yet it does not feel like it's sacrificing of that reason. Choose between burgers, salads, filet's, steaks, and also a good-sized selection of tapas dishes. No traditional meals such as Greek salads to be found here, but maybe you prefer something that is actually prepared by the restaurant itself? At least I appreciate it when a restaurant has come up with their own signature dishes.
The dish
Fontés Bacon Burger was every bit as as delicious as it sounds. Perfectly seasoned, filled with flavored, but not too spicy. My friend had the Cajun Burger and she liked the taste of it, but it was a bit too hot for her (and definitely too hot for me).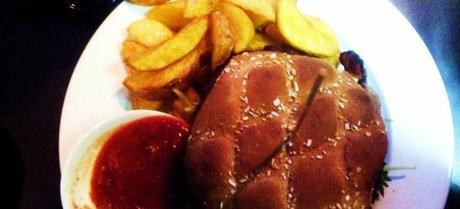 My rating:
♥♥♥♥
Atmosphere
Relaxed atmosphere. Set in a trendy area of Grünerløkka, next to the restaurant Villa Paradiso and also close to shopping.