Last night was the most highly anticipated nights for film and fashion - the 85th Annual Oscars and in case you weren't aware, I am as big a fan of film as I am of fashion...my love affair with film started from when I was pretty much a baby and I look forward to the Oscars every year - this year being one of the best Oscars for years, as there were so many fabulous films and performances over the last 12 months.
With the red carpet starting at 11:30pm UK time and the actual ceremony not starting until 1am, I was very proud of myself for being able to stay up until about 3:30am. I woke myself up early this morning to watch the last hour before I could see who won the awards for best actor/actress, director and of course best film. I was so happy that Christoph Waltz won best supporting actress for Django and Anne Hathaway bagged best supporting actress for her portrayal of Fantaine in Les Miserables.
Highlights definitely included the fabulous cast of Les Mis performing One Day More live, Jennifer Hudson singing her iconic song from Dreamgirls and Adele belting out Skyfall. Not to mention the hilarious Seth Mcfarlene as host and Daniel Radcliffe doing a very snazzy song and dance number.
But anyway, let's get to what you're probably most interested in...the dresses!
With so many beautiful ladies (and gents) in attendance, this had to be one of the most glam Oscar red carpet ever! We definitely saw a return to old school Hollywood glamour and trends emerged such as sparkling metallics, sequins, fishtail cuts, nude shades, side swept hair and bold jewelry and lips. With Darren sitting with me on the couch trying to stay awake, he helped me dissect the dresses and choose my favourites...definitely one of my highlights of the night.
So, onto my favourites...
My best dressed of the night has to go to the following leading ladies: The divine Jennifer Lawrence (such a worthy Best Actress winner). Looking utterly stunning in a Dior Couture gown and a backwards necklace, Jennifer absolutely sizzled on the red carpet. Elegant, classic, chic and basically looking like a dream in tulle, she carried the dress off so perfectly and she definitely scored a 10 out of 10 for me.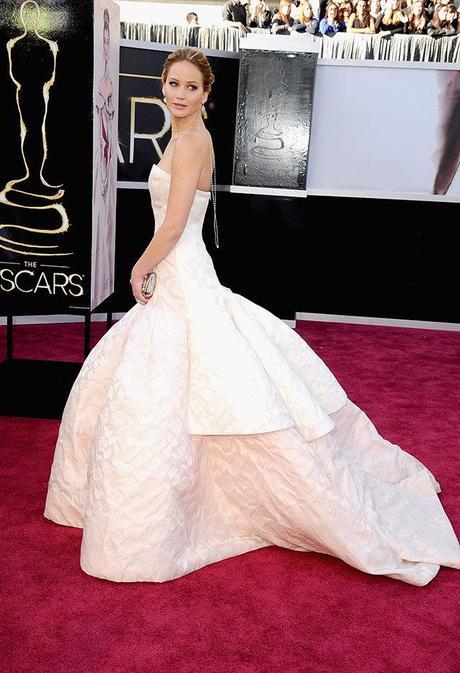 Jennifer Lawrence
I loved Jennifer Garner's sumptuous purple Gucci gown, with the stunning ruffle detail going all the way down the back. Her statement jewels (seriously, how much must that necklace have cost?!) her smoky eyes and her simple up-do set the dress off beautifully.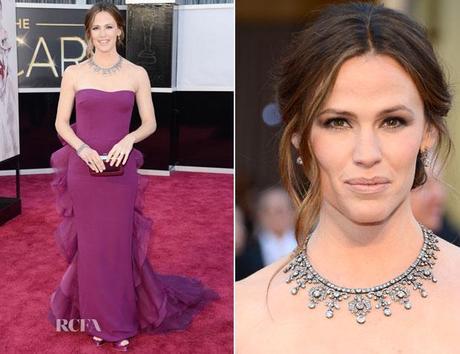 Jennifer Garner
Charlize Theron looked every inch a Greek goddess in a simple yet ravishing white gown, with a stylish cut-out detail at the bust and a peplum waist. I loved her pixie crop and to be honest, she is so beautiful, she could wear a sack and look fierce!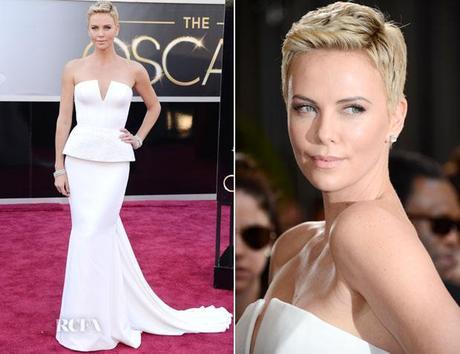 Charlize Theron
Amanda Seyfried looked incredible with her swept up hair, flawless make-up and stunning shimmering metallic gown. The classic shape, the fishtail cut, the corseted waist, the fact that it is Alexander McQueen...love it!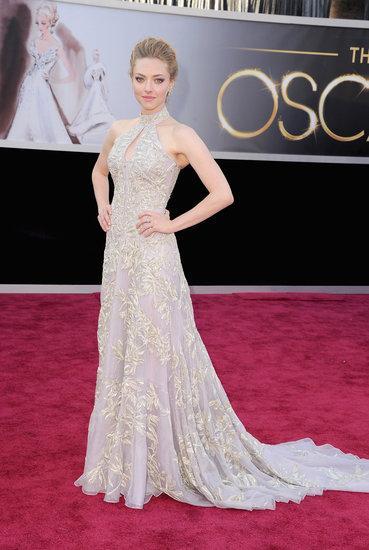 Amanda Seyfried
Jessica Chastain was a 1920's Hollywood starlet reborn. A deep red lip, side-swept wavy hair and a captivating light bronze, skin tight gown by Armani.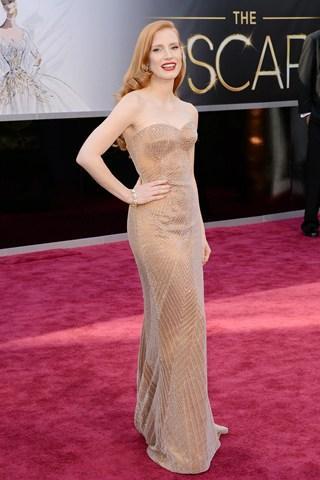 Jessica Chastain
Anne Hathaway...please keep your hair short! You look so stunning with that cropped do and your Prada dress looked perfect with it. A high-neck, simple front in a gentle oyster shade and a lot of drama on the back. A beautiful and eye-catching necklace from Tiffany and all in all a stunning look worthy of a Best Supporting Actress Oscar.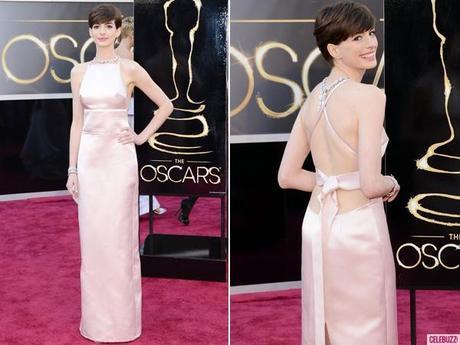 Anne Hathaway
Finally, Kerry Washington...loved you in Django Unchained, love you even more in that fabulous Miu Miu frock...amazing!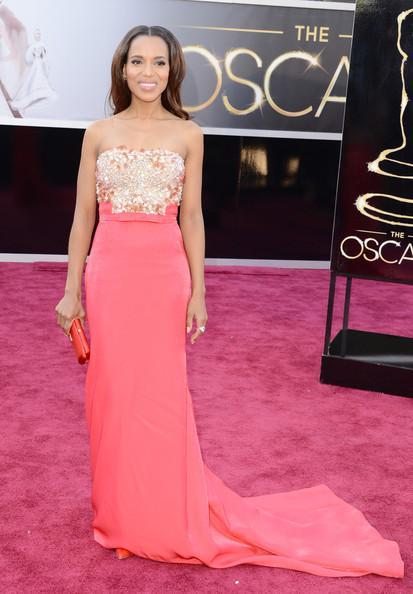 Kerry Washington
Those that got the thumbs down from me (and fellow critic Darren!) were Catherine Zeta Jones...I really didn't get her sparkly gold number...Beyonce could work this out but on Catherine, it seemed to age her and was just too busy. Also in this category for me was Zoe Saldana - so utterly beautiful but her Alexis Mabille Couture dress was so boring and plain - a pretty shade of gray but I didn't get the belt and black border detail at the bottom...just a bit yawn really. I was also disappointed with Jennifer Aniston's red Valentino number...a pretty dress but just a bit boring really - more like an elaborate prom dress than anything and there were no details or statement jewelry to set it off. Halle Berry I'm on the fence with - her sparkling, monochrome Versace number was certainly eye-catching and looked fabulous on her, but I'm not sure if it was just a bit too '80's and perhaps not 100% Oscar red carpet appropriate...but she did look beautiful...so I don't know! Finally, Reece Witherspoon - yes it was a Louis Vuitton pretty dress in a pleasing shade of blue...but it was just so boring and with a silly train...I've seen her looking so stunning so many times before, but this year...blah!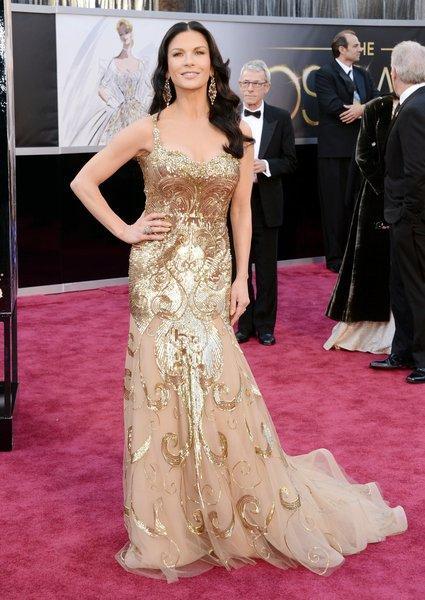 Catherine Zeta Jones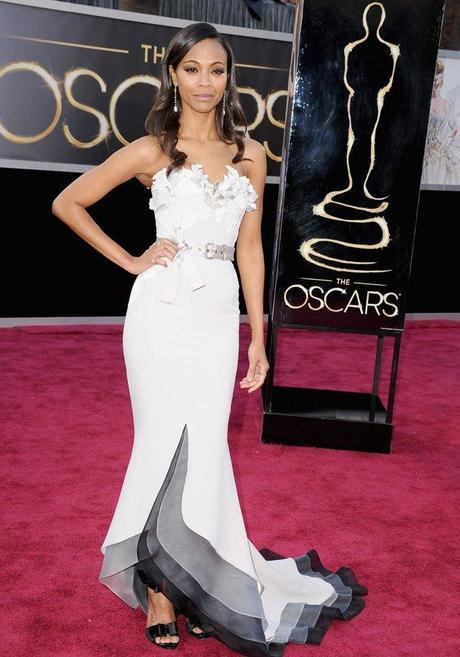 Zoe Saldana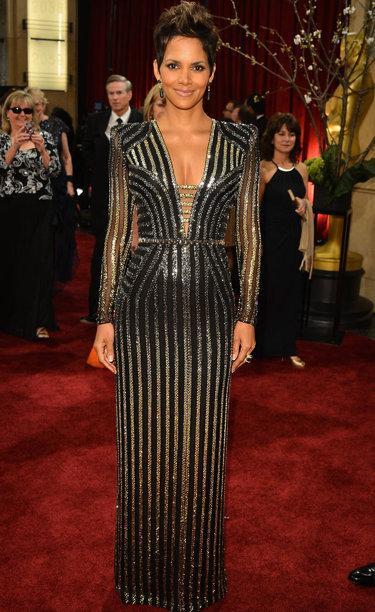 Halle Berry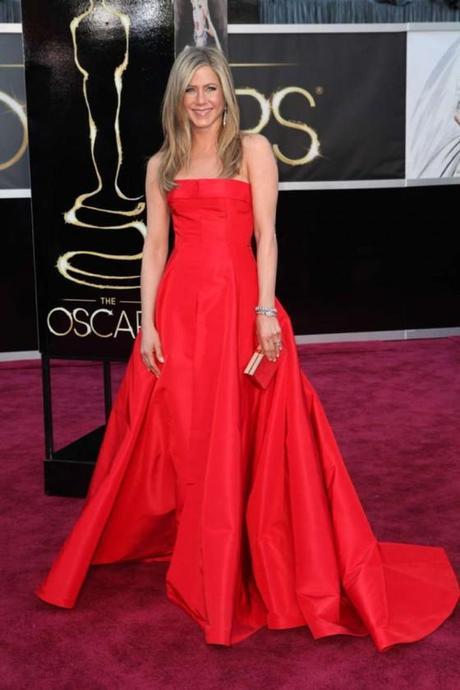 Jennifer Aniston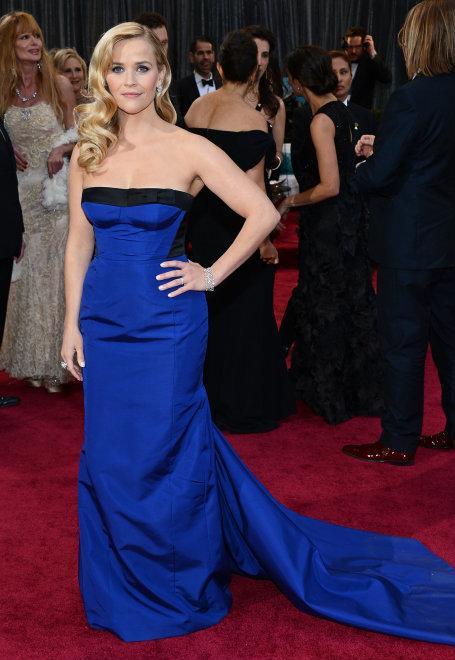 Reece Witherspoon
There are so many more dresses to discuss, but I could really go on all day and I've just realised how long this post is!
What did you think of the Oscars and all the dresses? Who was your stand-out? Enjoy x