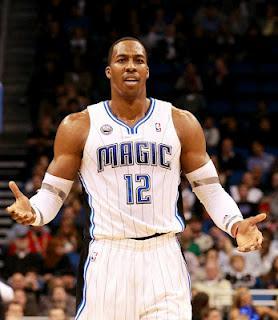 Photo: Getty Images - Sam Greenwood
- Troy Ballard 


Dwight Howard might as well change his name to LeBron James.
The Orlando Magic have announced that both head coach Stan Van Gundy and general manager Otis Smith have been dismissed from the team.
Somewhere, Howard is grinning like a mad man and calling all his buddies bragging about how much clout he has in Orlando.
No, Dwight, that's not clout. Not one bit.
What Howard has managed to do to the Magic organization is something only the most desperate ownership would allow to happen -- giving complete control to a player.
There were plenty of rumors during the regular season about how Howard wanted Van Gundy to be fired, and how frustrated he was at Smith for not acquiring more talent and on and on. This was water under the bridge for Orlando, as for most of the year, there was no promise that #12 was even going to re-sign with the team.
And then, the moment that Howard put pen to paper on his one-year extension, the entire atmosphere in Orlando was flipped upside down. Not flipped in a good way, either, as the relationship between D-Money and Van Gundy was crashing and burning like never before.
It was becoming obvious that the two had almost no chance of co-existing moving forward, and luckily for both Howard and Van Gundy, the talented center was forced into back surgery and missed the remainder of the season.
Had Howard been forced into playing out the remainder of this past year with Van Gundy, who knows what kind of media blow-ups would have been in store. Funny, sure. But also incredibly damaging to a locker room, especially one of a playoff team.
So, Van Gundy finishes out the postseason against the Indiana Pacers, almost gets swept, and proves once again that the team really is nothing without Howard on the floor. Count it as another one-and-done for a team stuck in a rut, and Van Gundy is in perfect position to get fired.
The team could play it off as the struggles in the playoffs and no correlation to the Howard situation -- the perfect crime. Van Gundy is dismissed on lack of progress, despite having a great overall tenure in Orlando, and Howard will be happy as ever.
As for Smith, there's no reason to defend him -- and I am certainly not going to be the one to do it. He was able to establish that '09 Finals team, but beyond that, the guy just isn't that smart. Here are two names that essentially sum up why he deserved to be released into the wild: Rashard Lewis and Gilbert Areans.
Really, Smith totally dropped the ball. There was no talent surrounding Howard the entire time he has been with the team -- and trust me -- there have been chances to acquire players. He played too close to the vest, and then randomly would make a sporadic move for overpriced players like Lewis and Arenas -- both of which ended as busts.
Although the organization will continue to feed reasons of varying logic for the sudden moves, the truth comes down to one thing -- making Dwight happy. Ownership was willing to sell-out and fire a coach (who had been statistically very good, but perhaps not emotionally sound) and also the team's GM (who should have been fired years ago), just to make a single player happy.
Orlando is putting all the chips on the Howard table -- and for the sake of the franchise -- ownership better hope he signs that long-term deal that's been floating around. If not, then Orlando will see that putting everything on the line for a superstar with no guarantees is a sure-fire way to ruin an organization.
Be sure to follow Beard and Stache on Twitter @BeardAndStache, and also Troy @TroyBallards, Like our Facebook page HERE!