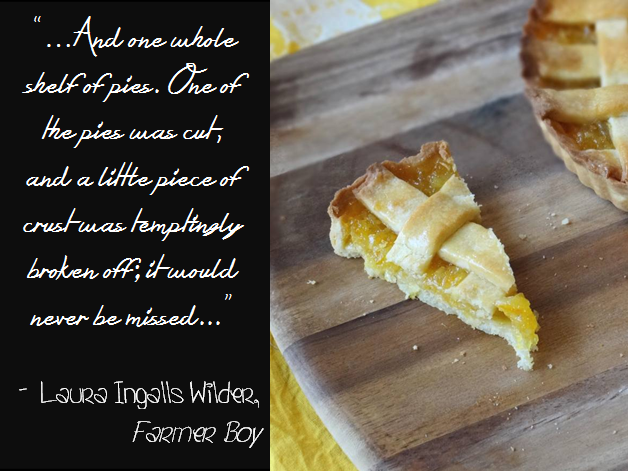 There's been this little monster of guilt gnawing away at that all-things-baking-related part of my mind telling me that I've been failing miserably at completing my role as part of the Daring Bakers. It wasn't until I looked back on my posts that I realized I'd missed the last three challenges. Uh, whoops. So I went and gathered butter, flour, sugar and some big waxy oranges, and got to work.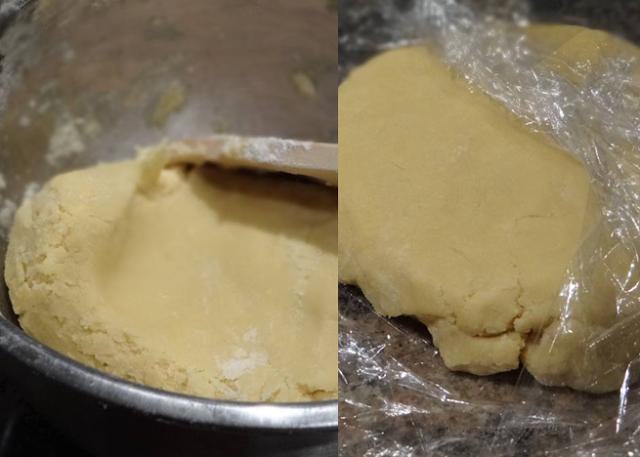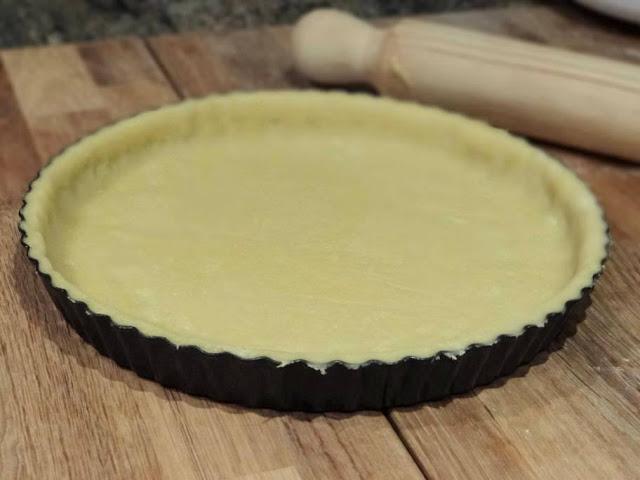 This month's DB challenge is all about pies. There were four choices to choose from: Momofuku's crack pie,  chocolate and caramel tart, crostata and double crust apple pie. I forewent all my usual hemming and hawing and decided straight on the crostata because I had all the ingredients on hand and I didn't have time to go shopping.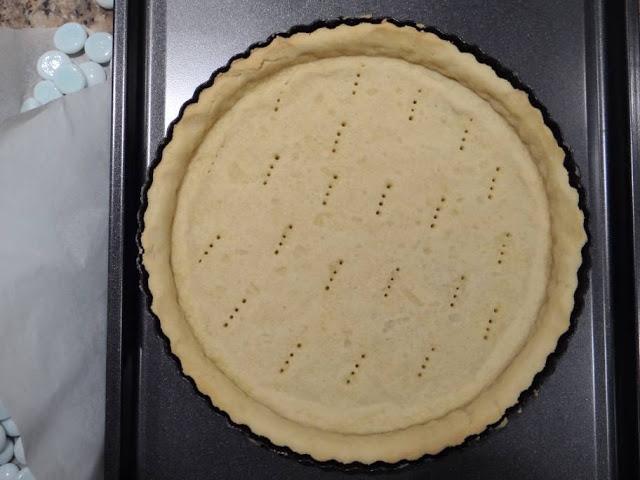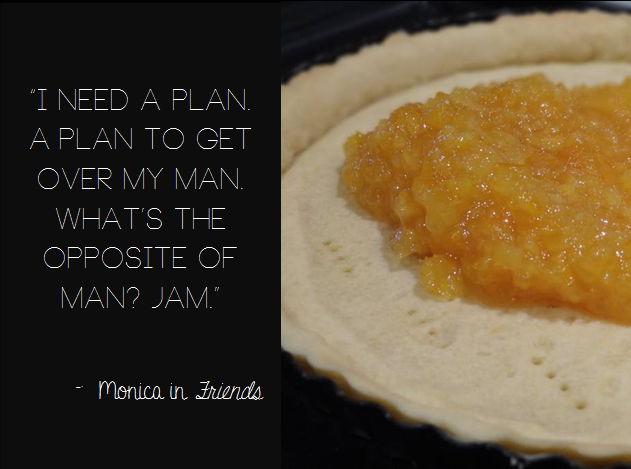 But this pie definitely should not be considered a last resort kind of dessert. I am infinitely glad that I chose it because it turned out wonderfully, like a big round disc of yellow sunshine. This is partly due to the pastry, which is not your traditional pie pastry but more like a cookie than pie dough, and is amazingly buttery and crumbly. But mostly it's due to the filling, for which I chose to make a homemade orange ginger marmalade. Rachael has informed us that a crostata is a traditional Italian dessert, most often filled with jam, fresh fruit, nut-based filling or even pastry cream. I've only ever seen crostata made with jam so I wanted to stick to the traditional first, and the pile of oranges were just asking to be turned into marmalade.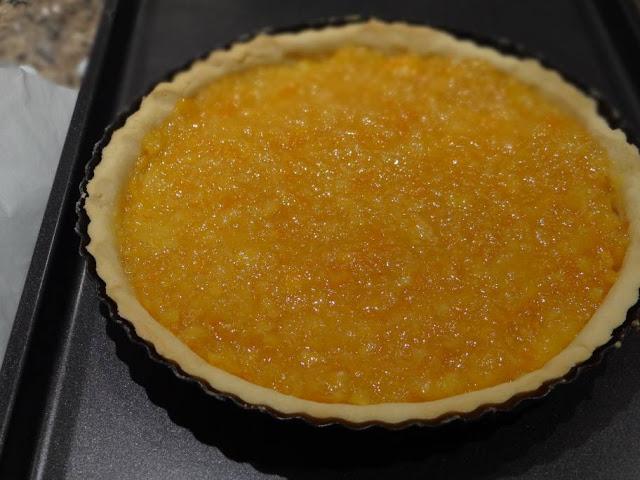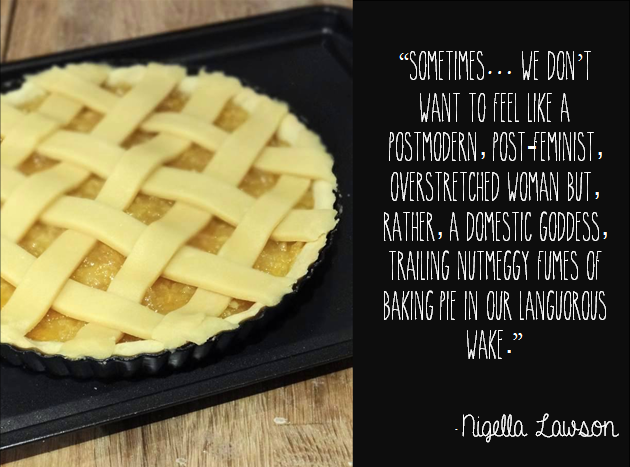 This pie is not flawless, and what needs work is definitely the filling, which I attempted to improvise. My past attempts at baking "improvisation" has not really worked in my favor and it wasn't any different here; I was lazy so I decided to ditch finely slicing anything and instead roughly cut up 4 oranges and let the food processor do the work. It does the job okay, but if you want marmalade with pretty peels it's better to cut by hand. I somehow remembered the ratio of 1:1 fruit to sugar for making jam, and so I thought to try it out here - it sort of worked. It got to a jam-like texture, but was a bit more lumpy than I would have liked because of the processor-chopped orange peel. I also would have liked it to have come out a little thicker and a little glossier, which I'll have to keep working on.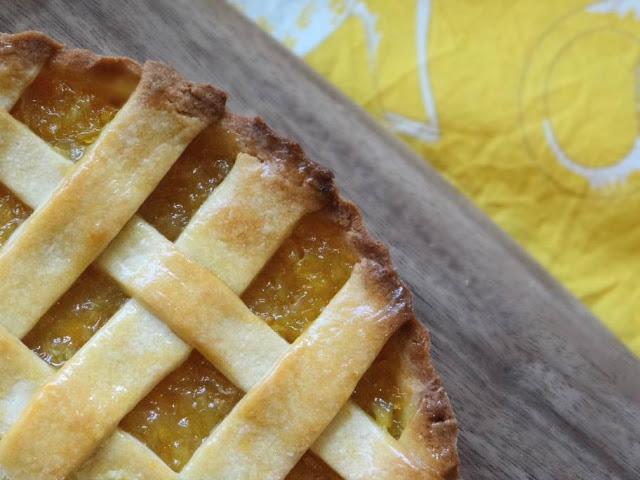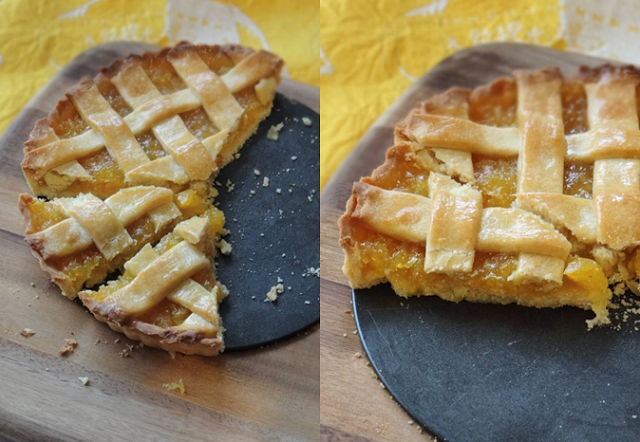 However taste-wise, it was spot on. The ginger lends a gentle heat underneath the bitter sweetness of the citrus and emphasizes the sweetness of the jam. The combination of ginger and oranges also meant this jam could have turned out a whole lot sweeter but didn't, which in my view is a good thing. Paired with the buttery cookie-like crust, it makes for a very satisfying treat with a cup of good coffee.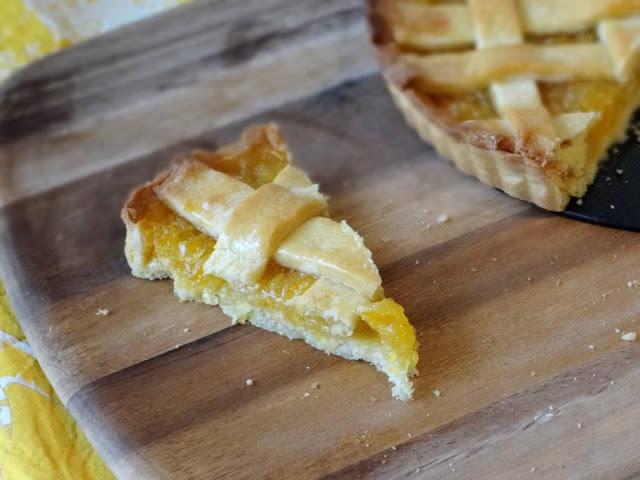 [Rachael from pizzarossa was our lovely June 2013 Daring Bakers' host and she had us whipping up delicious pies in our kitchen! Cream pies, fruit pies, chocolate pies, even crack pies! There's nothing like pie.]
Crostata di marmellata Adapted from Carol Field's The Italian Baker Makes 1 9-inch pie/tart
Note: I've included the recipe I've used for the jam filling below, but as I said I'm not completely happy with it so use it as a basis for improvement or just as inspiration. 
Jam Filling 4 oranges Equal amount of sugar to processed oranges 1/2 inch slice of fresh ginger, peeled
Pasta Frolla [Italian pie pastry] 2/3 cup (150g) unsalted butter, softened 1/3 cup (75g) caster sugar 1 large egg 1 tsp pure vanilla extract (or 1 scraped vanilla bean) 1 tsp lemon zest 1 2/3 cups (225g) plain flour 1/4 tsp salt
Glaze 1/4 cup apricot jam 2 tsp lemon juice
To make the jam: Roughly cut up your oranges into quarters and put them into the bowl of your food processor. Pulverize until it's mostly liquid. Mince the ginger into the food processor and pulse until combined, then scrape out the mixture into a measuring cup and see how much you have (it'll vary depending on the size of the fruit you use). Measure out the same amount of sugar and put both fruit mixture and sugar into a large pot. Bring to a boil, then cook over medium-low heat for 30 minutes, stirring occasionally. To test when it's ready, use a small stainless steel teaspoon and scoop up some jam, then tilt your spoon to drop it onto a plate. If it sheets across the surface of the spoon it's ready. Pour the hot jam into jar(s) and leave to cool. (You will make more than you need here, so feel free to use less fruit.)
To make the pastry: Cream butter and sugar until pale and fluffy, about 2-5 minutes (the longer you cream, the softer and more crumbly your dough will be, but also harder to work with). Add egg, vanilla and lemon zest and cream until well combined. Using a wooden spoon, stir in flour and salt until the dough comes together. Wrap in cling film and refrigerate for a least 30 minutes.
To make the crostata: Preheat your oven to 180C/350F. Take about 2/3 of your pie dough (just eyeball it) and roll it out so that it fits your pie/tart pan. This is easiest to do on a sheet of parchment paper because the dough gets soft quickly and the paper makes for easy transferal. Once you've lined your pie pan, prick holes over the bottom with a fork and put it back in the fridge for 20-30 minutes to chill (or do as I did and put in the freezer for 10 minutes).
Once the pastry has chilled, blind bake it for 15 minutes. While that's baking, roll out the remaining pastry to a disc large enough to fit your tart pan and using a pizza cutter or sharp knife cut out strips for a lattice top (I cut 10 strips). Put back in fridge to chill. Remove the set pastry from the oven and leave it to cool for 5-10 minutes (doesn't have to be completely cool). 
Turn the oven temperature up to 200C/400F. Fill the tart with your filling of choice - I haven't put a specific amount here because it's up to you; if you're using a sweeter jam you might like to use less and vice versa. Probably about 1/2-inch thick is a good measure. Spread it over the par-baked crust, smooth the top, then using the strips you've already cut make the lattice top. Bake for about 20 minutes, or until the top crust is golden and filling bubbly.
To make the glaze: heat jam and lemon juice in a small saucepan over low heat until it simmers. Brush over the top of the lattice crust while pie is still warm. Let cool before serving.