With the time of using computers, some partitions will be full especially the system partition. Solve the problem; you have to resize partition, extend partition or merge partitions. The partition will encounter other questions too.
For example, sometimes we need to convert FAT to NTFS, convert dynamic to basic, convert MBR to GPT or vice versa. Windows has some built-in operations to do some simple partition tasks, but it can't realize everything, such as expanding system partition.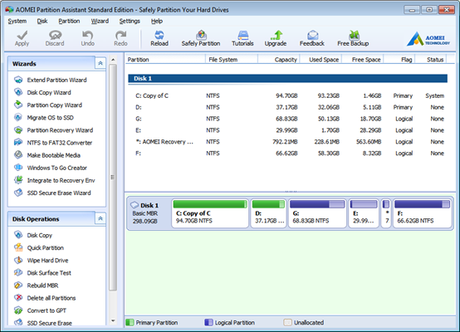 Partition is so crucial that we need a professional tool to manage it. Windows disk management is not enough. Third-party partition software makes up Windows disk management program's limitations. Partition can't leave out with disk and system; a tool works on partition also works on disk and system is better. Here, we recommend you the full-scale Windows partition software - AOMEI Partition Assistant.
AOMEI Partition Assistant provides dozens of functions related to partition, disk and system for PC and Server. From following main interface screenshot of AOMEI Partition Assistant Standard Edition, you can see there are many wizards and operations on the left panel. The right big screen is information disk and partition, including capacity, used space, free space, flag and status, etc.
We have tested the latest 6.6 version of AOMEI Partition Assistant. The installation process is smooth and quick. AOMEI Partition Assistant supports multiple languages: English, French, German, Chinese, Japanese, Spanish, Italian, Hungarian, Polish, Russian, Dutch, Turkish, Catalan, Vietnam, Portuguese.
Migrate OS to SSD: fast transfer operating system to a new hard disk and auto-align partition on SSD during system migration.
Windows to Go Creator: create your customized Windows 10, 8.1/8 or 7 on removable USB flash drives or external hard drives to boot it from any computer on which you want to. You don't have to buy Windows 10/8.1/8 Enterprise Edition to enjoy Windows to Go feature anymore.
Make Bootable CD Wizard: make a bootable rescue disk based on Windows PE to boot your computer when the native system failed to boot.
SSD Secure Erase Wizard: secure erase to reset SSD to factory state.
Integrate to Recovery Environment: integrate AOMEI Partition Assistant and AOMEI Backupper into Windows built-in recovery environment. Thus, you could partition, backup and restore your computer to the system RE.
Quick partition, rebuild MBR, copy partition, bad sector check, hide/unhide partition, wipe the disk, initialize the disk, change drive letter and so on. You can touch options from AOMEI Partition Assistant's top menu, context menu, or left panel.
In this article, we take an example with AOMEI Partition Assistant Standard is the most used edition. It is also a freeware for PC. Free AOMEI Partition Assistant Lite is for Server. There are also advanced editions like AOMEI Partition Assistant Professional, Server, Unlimited and Technician. You can choose versions according to personal use or business use.