Attempting to use up some of my makeup collection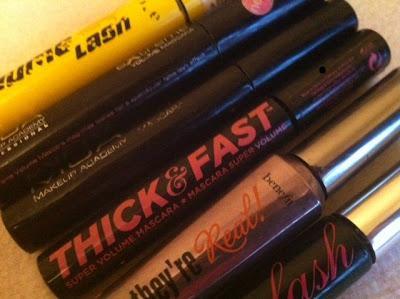 My mascara collection
As a beauty blogger I tend to have quite a few cosmetics items knocking about, not as many as some bloggers mind, but still enough to justify not buying anymore. I am also mid way through my £10 budget challenge where I have limited myself to just £10 to spend on cosmetics for the month. Therefore, in an attempted to preserve my £10 note I am on a quest to use up all the products that I have hauled since starting this blog.
Now let's face it, cosmetics are possible one of the worst things to collect because they come with a use by, which is usually somewhere between 6 months and 2 years depending on the product. I've decided to begin Operation Use Up by targeting my mascara collection because mascaras generally should be used within 3 months of opening.
My mascara collection only consists of 6 mascaras. These are George's Volume Lash mascara, MUA's Extreme Volume mascara, MUA mascara, Soap and Glory's Thick and Fast Mascara, Benefit's They're Real and Benefit's Bad Gal Lash Mascara.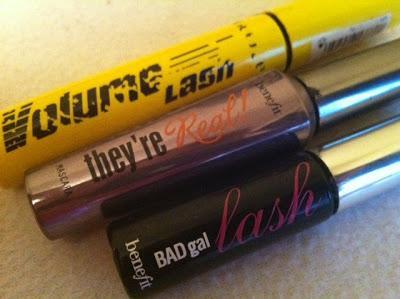 My current favorite mascarsa
My favorite mascaras out of this collection are:
1. Benefit Bad Gal Lash Mascara  £16.50I've been using this a lot recently and found that it lengthens and adds volume to my lashes. I received this as a sample in a magazine and considering my £10 budget I probably won't be repurchasing it but it is a great mascara.
2. George Volume Lash Mascara £2.50Possibly my all time favorite mascara, it lengthens, gives volume and is super affordable. 
3. Benefit's They're Real £18.50 *again, a great mascara from Benefit but it is far too out of my price range when I'm trying to spend just £10 a month on cosmetics.  
4. Soap and Glory Thick and Fast mascara £10I actually gave this Soap and Glory mascara a pretty crummy review and therefore didn't include on my picture of favorite mascaras, as I was pretty convinced I didn't like it. However, I've found that I'm actually really enjoying using this mascara. It gives my lashes length and volume and is much better than I gave it credit for in my review.
So which is the most budget friendly mascara? It is definitely George's Volume Lash mascara, I rave about this because it is such a good product and such great value for money! This will definitely be the mascara I use whilst I'm on my £10 challenge!
*All mascaras were purchased by me with the exception of Beneift's They're Real, which I received as a PR sample. 
Follow me on: Twitter - Hello Cotton - Blog Lovin'