Clear Intentions is a business that helps people within a half hour radius of Portland, Maine, live a life that they love. Their mission is to help clients find clarity about what their dreams are and how they can take real world steps to reach them.
Owner, Anna Maria Tocci, is a Therapeutic Breathwork Practitioner. She trained at the Power of Breath Institute in Spoffard, New Hampshire, and is internationally certified by the International Breathwork Training Alliance.
Her services include:
Therapeutic breathwork – Uses the technique of connected, conscious, diaphragmatic breathing to promote relaxation and the release of stress.
Clarity coaching – Designed to support you in learning how to reach heart-based decisions and confidently follow through with those decisions.
Clutter clearing – Work with you at your home or office to make tough decisions about what to keep and what to get rid of, and physically support you in clearing and organizing your space.
Our house:
Anna Maria came to our home for a two hour clutter clearing session. Before she came I did all sorts of cleaning and organizing. She assured me that I'm not the only client to do that. Just knowing that she was coming to our house was good motivation for me.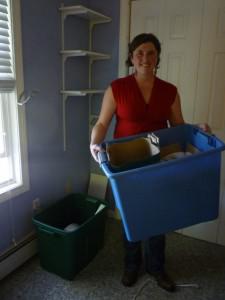 Her sessions normally start with a half hour consultation so she can find out what your priorities are. During a two hour session she will often work on one room and then leave her clients with assignments to continue doing on their own. While she is there she keeps you focused and helps you make decisions about the more emotionally charged items. She brings supplies with her such as a tote and boxes. Any small items for Goodwill she takes with her when she leaves and drops them off for you.
We spent the majority of our time working on our master bedroom. We spoke about how the ideal for bedrooms is to have only your bed and clothes in them, but that most of us have limited space so we might need to use the room for other things as well. I shared with her how I would like to turn one corner of the room into a work space for me.
As we were going through items, Anna Maria would encourage me to be more aware of if they were being used enough or not. If things aren't being used, she explained how they have stagnant energy around them. It can make it hard for you to live in the present when you have so many things surrounding you that are tied to your past.
One of the things we worked on together were picture frames. She encouraged me to keep out only a few that I really love. Also, I have bins with four different sizes of clothing in my closet. She strongly suggested I only keep the size I am in now because we don't really need as many clothes as we all have anyways. We also worked on cleaning out my jewelry so I can sell what I don't like or wear and use that money for something more important to me. When Anna Maria left, she gave me my assignments which are cleaning out the books on the bookcases and the things being stored under the bed.
If you are interested in Anna Maria's services, you may contact her by email at [email protected] or by phone at 207-807-0006. Clear Intentions is physically located at The Awake Collective, 509 Forest Avenue, Portland, Maine.