Operatoonity.com review: Carmen presented by Opera Philadelphia
Live performance: Sunday, May 6, 2:30 p.m.
The Academy of Music, Philadelphia
Music: Georges Bizet
Libretto: Libretto by Ludovic Halévy & Henri Meilhac
4.0 out of 5.0 stars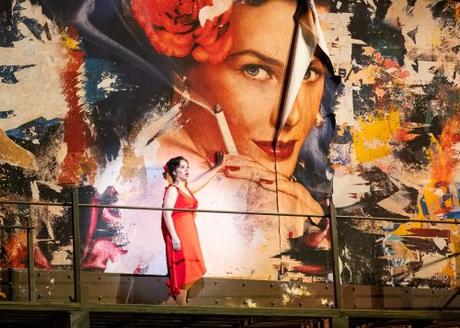 Mezzo-soprano Daniela Mack as Carmen
Opera Philadelphia closed the 2017–18 season with a humdinger of a Carmen. Stunning sets and lighting. Splendid opera chorus. And, of course, that classic score. Whether or not you bristle at some of the show's themes (objectification of women, violence against women), none can dispute Carmen boasts some of opera's most beloved arias.
However, that doesn't mean audience members have license to hum them along with the performers. At the production I attended on May 6, a woman seated behind me with her teenage daughter insisted on *badly* humming along with the tunes we all know and love at their every occurrence during every act. Perhaps the curtain speech should now include provisos against humming along. This reviewer couldn't figure out how to ask her to stop humming without embarrassing her in front of her daughter. But if you really want to get under other operagoers' skins, just start humming along with professionally trained artists, whom everyone in the house is there to here. That should do it.  Because the tunes are so memorable when delivered by first-rate singers, I couldn't help feeling cheated. I wanted to drink in every note of those signature tunes, of which I never tire. Praise all things holy, the hummer did not know Don José's "La fleur que tu m'avais jetée" (beautifully delivered by Evan LeRoy Johnson) or there might have been two murders that afternoon at the Academy of Music.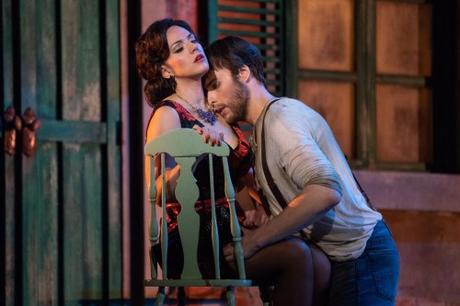 Mezzo-soprano Daniela Mack as Carmen and tenor Evan LeRoy Johnson as Don José in Carmen at Opera Philadelphia
Another regret also not of Opera Philadelphia's doing is that one can't watch an inspired production of a Bizet opera without lamenting that we have so few of his works to see and admire. Can you imagine how the opera firmament might glitter today had Bizet lived longer? Because Opera Phila's production was so well performed, that sentiment lay on my heart throughout the production.
Enough of my particular disappointments. On to the accolades. This Carmen was beautifully conceived and the production values were exquisite. One expects the design palette to be vibrant and it certainly delivered.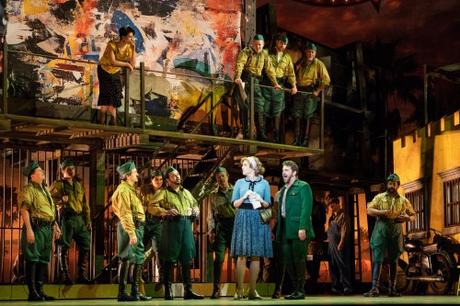 The set and costume design by Gary McCann and lighting design by Paul Hackenmueller were exquisite.
Director Paul Curran chose to set the show in the 50s, evoking Seville or Havana. For the most part, that directorial choice worked. I appreciate when producing an old chestnut that fresh conceptual choices are introduced. The only limitations for this reviewer were that Carmen's costumes seemed trapped in the provincial decade of Mrs. Cleaver and not nearly earthy enough to let Daniela Mack tap into that essential part of Carmen's nature. And instead of wearing a showy matador's costume for his first appearance on stage, Escamillo rode in on a motorcycle wearing a leather jacket. Yes, directors, you can take liberties with a show's conventions, but not without some inevitable audience disappointment. (Note to Mr. Curran: consider the failure of Luc Bondy's Tosca.)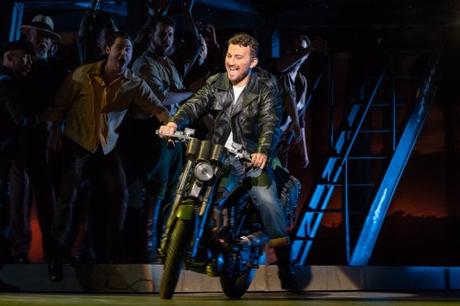 Escamillo (baritone Adrian Timpau) rides on stage on a motorcycle.
The leads in Carmen, mezzo Daniela Mack and tenor Evan LeRoy Johnson, were sturdy and serviceable with shining moments, certainly, but ultimately unremarkable. Yes, the libretto has Old World sensibilities sounding, at times, dated and wooden, with a tendency toward melodrama. I don't remember the audience tittering as much at the libretto as they did at this production, which might have been the fault of the director for not evoking more believability from his performers. Or the lead performers lacked the requisite depth of experience to play those roles.
Mezzo-soprano Daniela Mack looked the role but was a bit out of her depth to play and sing Carmen. And the frilly rather than earthy costume choices didn't ground her to the character. Earthy requires much more than an alluring, low-cut dress.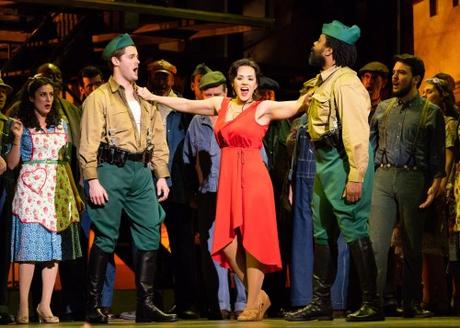 "If you don't love me, I love you; if I love you, look out for yourself," Carmen (mezzo soprano Daniela Mack) sings to the soldiers.
As I alluded to earlier, tenor Evan LeRoy Johnson's signature aria as the besotted Don José was exquisite and worth the price of admission. Once he allowed himself to make the transition to a totally controlling lover obsessed with Carmen he was more believable. The earlier scenes where he feigned not to notice her, not so much.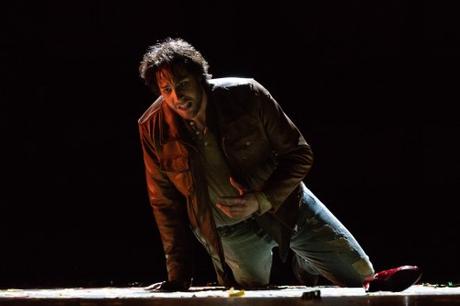 Don José (tenor Evan LeRoy Johnson) falls to the ground after killing Carmen.
As the lovelorn Micaëla, soprano Kirsten MacKinnon was perfection. Every inch of her interpretation was infused with wistful innocence, and she sang the role, which is more than a little thankless, as if it were written for her. The propriety of the 1950s suited Micaëla to a tee in this production.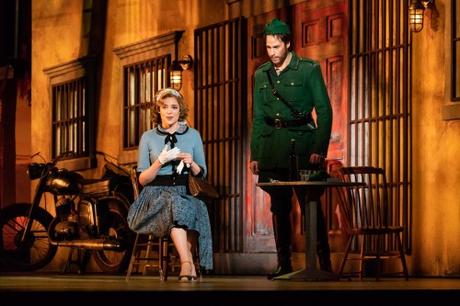 Micaëla (soprano Kirsten MacKinnon) returns to find Don José (tenor Evan LeRoy Johnson) and gives him a letter from his mother.
As Carmen's "backup singers" and fellow smugglers, soprano Ashley Milanese as Frasquita and mezzo-soprano Anastasiia Sidorova as Mercèdés were scene stealers. Carmen cannot be relentingly sad in every moment or we'd all take to the knife at its conclusion, and these talented emerging artists delivered a few moments of lighthearted reprieve, expertly sung.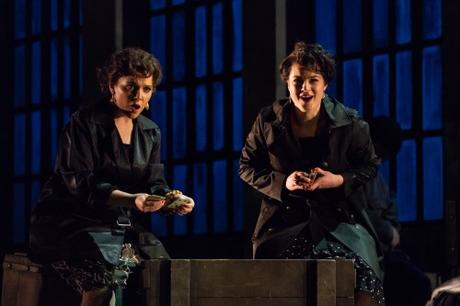 Frasquita (soprano Ashley Milanese) and Mercèdés (mezzo-soprano Anastasiia
Sidorova) read their fortunes.
For this reviewer the success of this production rested with the Opera Philadelphia Chorus and Children's Chorus. The adults are an all-professional ensemble made up of singers from the greater Philadelphia region. Under the direction of Chorus Master Elizabeth Braden, both groups were sublime. Bravi, all.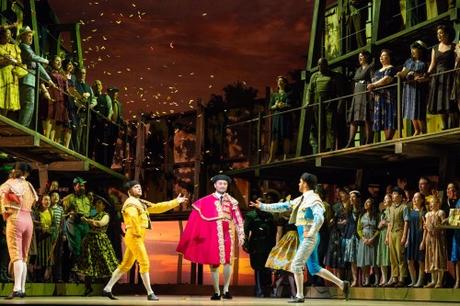 The superb Opera Philadelphia chorus surrounds the showy toreador with sublime sound.
The orchestra under Conductor  Yves Abel's baton was very lively, thankfully, since the show can drag under the weight of its own length. They also didn't overpower the singers, but unfortunately for me could not drown out the humming theatergoer.
The cast received a standing ovation at curtain call, deservedly so for all the pleasure the audience derived from it. That is, except for those whose live opera experience was tainted by a humming audience member. Hummers, beware. Next show, you are getting a stern rebuke from me if you engage in such self-serving behavior. Mark my words.
* * *