One of the things that can make opera winning is a children's chorus. Puccini included children in several of his operas. Glimmerglass Festival produced La bohème this summer, and the voices of the children's chorus added so much beauty and lightness to the Christmas Eve scene in the Latin Quarter.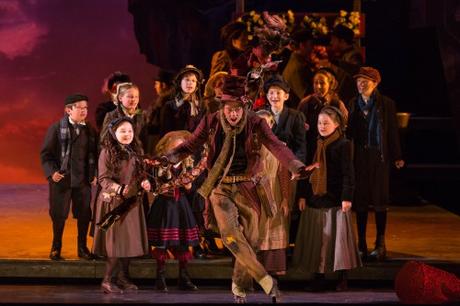 David Walton as Parpignol in The Glimmerglass Festival production of Puccini's "La bohème." Photo: Karli Cadel/The Glimmerglass Festival
The scene and the show were just magical. You can read my review here.
So when a colleague told me last week that an unnamed opera star was allegedly tearing up rehearsals for an unnamed upcoming show, hollering and dropping the "f" bomb around children, I became angry. My colleague was aghast at this star's unprofessional, outlandish behavior.
I had encouraged my young friend to have her child be considered in the show. The child could not have been more excited to have been selected. That was before said opera star behaved badly.
Who is the performer being paid because they are a professional? Right. The opera star.
A word to opera stars. You are not curing cancer. You are not creating world peace. You have not been dropped into a war zone with your platoon to defend someone's freedom.
You sing. You act. While I am personally very appreciative of what I have seen onstage, when you take yourself so seriously that you almost ruin a theatrical experience for impressionable young children, you are way out of bounds. You are behaving more childishly than the children you are frightening.