Here's a one-question quiz for classically trained singers: Who is the product, the company, and the person who *really* manages your business?
(Here's a hint: it's someone you've known all your life, no matter how old you are.)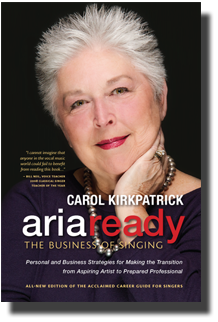 Artist and author Carol Kirkpatrick believes it's you, opera singer extraordinaire. And she knows of what she speaks. She's thrilled audiences and critics alike throughout Europe and North America during her professional career as a dramatic soprano. You can read more about Carol's background here.
And she has stopped by Operatoonity.com to do a little Q&A,  to tell you that it's your responsibility to build your career while learning how make prudent use of your time, energy, and money in the second edition of her handbook for opera singers:
ARIA READY by Carol Kirkpatrick
The Business of Singing
All-New Second Edition of the Acclaimed Career Guide for Singers
ISBN 978-0-97705-240-0, paperback, 304 pages, including index
Welcome to Operatoonity.com, Carol. Aria ready for my questions? All righty then.
Q. Who is most likely to benefit from this book?
A. Anyone interested in pursuing a career as a singer or musician from high school through to professional singers.  It is also important for teachers, coaches, apprentice programs, summer music programs, opera guilds, etc., who are interested in giving their students the best foundation they can for building a career in singing. My book not only tells you what needs to be done to prepare for and enter the professional world of Opera, but you are given step by step instructions on how to get there. First you have to know the name of the game you are playing, then you need to know the rules, but most importantly, you need to know how the game is played.
Q. What resources were available to you when you were launching your singing career?
A. At University sad to say, there just wasn't much available especially where I grew up and where I went to school. And I think that was pretty much the case unless you were involved in a more metropolitan city where they had Schools of Music like Juilliard, Curtis, Indiana School of Music, etc. I really didn't know what I was getting into which was an interesting experience. The first opera I ever saw, I was singing in, with the likes of Corelli, Tebaldi, etc., with the San Francisco Opera!
Q. What are some things you wished you would have known when you embarked on your career?
A. I had no idea of how a career was built, or what I needed to be thinking about to prepare myself for a career. My career just sort of rolled me along which was OK, but if I had been more conscious of what needed tending to, I would have spent more time on creating and maintaining relationships and networked on purpose.
Q. This is the second edition. What prompted the update? Technology or something else?
A. All of the above. The 1st edition helped me put together my Aria Ready Bootcamps, and I called them that because they were grueling and demanding in ways that always surprised those who signed up for them. Everyone expected the same ole, same ole when they came but what they got was not only what to do, but how exactly how to do it. The singers also went through a process that gave each participant the opportunity to create a Personal Mission Statement that got rid of a lot of the old behaviors that were not creative or useful. This new way of thinking and representing themselves gave them a foundation on which to build their careers and live their lives going forward. It allowed them to become more of who they were each and every day and express that through example. Working through that process and as I got better and better at honing it down to its essence, I realized that much of this new, updated and expanded material needed a place to be; thus the 2nd edition of my book.
Q. Isn't developing one's Personal Brand a lifelong journey? It may be critical, but how is it possible for someone launching a career in classical performance to become that self-aware at such a young age?
A. Of course developing one's Personal Brand is a lifelong journey. Rarely do others spend enough time on helping those wanting to launch a career in classical performance, to dig deep into and really get to know that person inside the singer. To me this is of paramount importance and should start from an early age. Yes, growth and change is always happening, but when you understand how you are wired internally, what your inner systems, patterns and traits are and how that colors and influences your choices, it illuminates the "why" to many of the questions, doubts, anxieties and insecurities we have about ourselves. And once we can accept that, it gives us permission to allow others to be their unique and authentic selves as well.
Q. Is there a shortage of practical advice for singers? Are training programs long on artistry but short on industry?
A. Yes is the answer to both questions.  I have found that most training programs tell you only what to do. The singer gets motivated and excited about what is talked about, goes home and tries to take some kind of action on that information, but because no one ever gives these singers the "how to" part of the equation, they feel like they must be stupid, because they can't make it happen so they stop trying. They are so hungry for real, honest, and practical information that answers the question how you do it and why.
Q. Who is likely to be more successful? A singer with loads of talent who isn't grounded or a singer with less talent but with more self-awareness (stronger personal brand?)
A. In the long run it will be the singer with less talent (they still need to have a solid vocal technique) but with more self-awareness, a stronger personal brand if it is authentic and genuine. Having a singing career takes so much more than having a beautiful voice. If you watch "The Voice" or "American Idol" you always hear the judges and coaches talking about making it real, about getting into the emotion of the song and lyrics and letting the audience feel that. That is always a big part of getting your foot in the door, which means you have to have much more self-awareness, that inner mind-body connection to one's self. That also requires a strong sense of self worth, feeling comfortable with who you are thus being free to express emotionally and musically the story, because we are after all, story tellers. And you also have to understand the business aspects needed in getting you to where you want to go.
Q. Don't the spoils always go to the most talented, the virtuosos?
A. No, they don't! Most people want to be transported to a different place, a different time, and have a front row seat into someone else's period of time and life. I have been to performances where the singing has been absolutely spot on technically, but boring because it was all about making beautiful sounds only. I have also been to performances where every cast member transported me to that other time and place, and I felt a bit guilty because I was so up close and personal watching others' struggles, joys, anger, pity, love, etc. It swept me away. Of course, the best would be to have amazing voices with great vocal technique and the ability to take the audience on a journey like this. And that is why we continue to go to performances, because we want to find more of that!
Q. What about reviews, particularly critical reviews and reviews that are not constructive? Any macro advice about handling reviews in the long-term?
A. When I was just starting out in this industry, I was told by several amazing singers that the best way to handle reviews was to either not read any of them or to collect them without reading them, put them away for 6 months to a year, then take them out, read them and only look at those specific things that were mentioned by more than one reviewer. You could either do something about it if you felt it had merit or not. Then put them in the trash. It is, after all, just one person's opinion and if you continue to get work, you must be doing something right.
Q. What are some key takeaways about a professional career in opera performance that your book offers?
A. This is an excerpt from the forward to my book by Matthew Epstein: "The vocal study, artistic decisions, self-discipline, teaching, marketing, and audition process are all carefully analyzed, and detailed advice is given on a wide range of crucial matters, in the complex and often confusing progressions needed to arrive at a professional career in classical singing. Our field is very old-fashioned, in its personal requirements, not, surely, a path of instant gratification, and this book shows very powerfully the needs of patience, hard work and self-assessment required for the beginning of a career."
Q. Where can readers get your book?
A. You can go to my web site www.ariaready.net, or Amazon.com
Q. What's next?
A. I have just been asked to be part of an ongoing blog on Classical Singer's Auditions Plus Blog so watch for me there. You can also sign up for my free monthly newsletter on my web site. I have a pretty full schedule with a very select vocal studio and do lots of consultations.
My newest project has been prompted by so many requests from Music Schools, Universities, Apprentice Programs, Summer Programs, etc. for my Aria Ready Bootcamps. So in response, I am now busy putting the final touches on my program to train Certified Facilitators of the Aria Ready Process (Bootcamps) in North America and Europe so we can meet these demands for teaching the Personal Skills and Business Aspects needed to build a singing career.
I also wanted to say that I have had the adventure of a lifetime with my singing, teaching and writing career. Now it is time for me to give back and I am doing just that as a Mentor through all that I do. Thanks to all of you for a great ride.
* * *
You can sign up for Carol's newsletter here. And you can also become a fan of Aria Ready on Facebook.