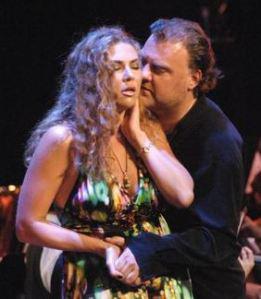 Don Giovanni, Verbier Festival
Today, I learned that my contemporary novel with an opera backdrop (loosely mirroring Mozart's Don Giovanni), advanced to the second round of the Amazon Breakthrough Novel Contest. Out of the 5,000 entries initially submitted, 1,000 moved on, and mine was one of them. 
Holy Mozart Jubilate Deo! 
 There aren't many contemporary novels published with classic opera as a backdrop. Mine is one of a precious few.  By March 22, the field narrows to 250 books, by the following month, 100, with six finalists announced a month later. My joy may be fleeting, but just for today I'd like to celebrate that opera rules, and share with you the first chapter of my novel, DEVILED BY DON. If the novel moves on to later rounds, I hope I can count on "Operatoonity" readers to support it. I can say with confidence the number of opera novels in this fiction contest will be slim pickins. (In fact, mine might be the only one.) Let me know what you think. 
"A well-born Cavalier, such ev'n as I am,
tamely can see such sweet and dainty freshness,
such delicate perfections." 
—Don Giovanni 
1 
The Cavalier 
Late March, downtown Hankey, Pennsylvania. Morning has broken like a brown egg cracked into a rusty skillet. The main thoroughfare, Henry Avenue, is deserted. Its centerpiece is the Hankey Opera House—the only handsome building on a blighted street.  
Deanna Lundquist never imagined she'd be late for a meeting she had called herself. She'd arrived twenty minutes early, coffee and Danish in tow, and dug out the keys to the opera house with her free hand. Expecting it to be locked, she leaned against the glass door. In the next second, it gave way and sent her stumbling into the foyer. The front door crashed into the adjoining glass before slamming shut behind her. 
Though she stayed on her feet, one of the Styrofoam cups tumbled onto the carpet. She'd better find some paper toweling and mop it up. A wet ring was spreading and deepening on the carpet with each second that passed. 
She hurried to the ladies' room around the corner and set her things on the tiled counter, surveying the sink. No paper towels. Only a turbo-powered hand dryer that felt like it was tearing off her flesh the first time she used it. 
Why had the front door been left unlocked? It had to be the ballet company loading in for tech rehearsal, she thought, reminding herself other arts organizations were managing the same challenges she was, merely on alternate weekends. 
Back to cleaning up that spill. After their winter fundraiser, she'd packed some spare linens in the first-floor storage closet that could sop up the coffee. She had the key, a tiny one, as she recalled. Grasping the smallest key on the ring between her forefinger and thumb, she paused, sighing. She was supposed to be upstairs, preparing the rest of the guild members for the interviews. Deanna felt the air rustle around her and sniffed. The acrid scent of sweat rushed into her nostrils, turning her empty stomach. The next thing she knew, someone grabbed her around the waist and clamped a sweaty hand over her mouth. 
"Don't move," a man said in a husky voice. "I'll snap your head off." 
Deanna froze in stunned silence. She'd taken self-defense classes. In the throes of an attack, her mind had gone blank. What had her instructor said? Don't capitulate. Refuse to cooperate. 
He took his hand off her mouth and wrapped it around her neck. "I want you talk nice to me, eh?" 
"You worthless piece of—" 
He clamped his hand over her mouth again, more forcefully this time. "I said, talk nice," he hissed through clenched teeth, dragging her toward the elevator. "You don't look stupid. Don't act stupid. You better be sweet if you want to live to see your thirty-fifth birthday. Okay, signora?" He took his hand away from her mouth. 
 "If you let me go now," she said, "you'll get off with a hand slap." 
She heard him push the elevator button. He nuzzled the back of her neck, and she stiffened. "Please," she cried softly. The feel of his hot breath and clammy lips sent nausea climbing into her throat. 
"That's better," he purred, his voice becoming melodic. 
"Please stop," she managed to say, but he continued grazing her skin with his mouth. She focused on picturing the size and weight of his lips, which felt blubbery and a little scratchy as if he wore a mustache or a mask. His accent was slight, lilting. Since he wasn't revealing his face, she'd need those details to identify him to the authorities, assuming she lived through this. She heard the freight elevator doors clunk open. 
He pressed his lips against her ear. "Call me—il cavaliere." 
Deanna shivered. "What?" she whispered. 
He inched them closer to the elevator, digging his arm into her chest. Was he going to hurl her down the elevator shaft? Her body recoiled in terror. If he dragged her inside the elevator car, he could do whatever he wanted to her. 
He yanked her closer to him. "Il cavaliere," he repeated in a husky voice. "Il cavaliere." 
His Italian sounded perfect, as if he'd studied the language. As if he'd been a student of opera. The irony of it. This guy was no simple Hankey thug. 
"Il cavaliere," she said, doing her best to mimic him. 
"Again," he commanded. "Louder!" 
Deanna struggled to clear her throat with his forearm against into her neck. "Il cavaliere," she croaked. 
He released her and shoved her hard in the middle of her back. She tried to break the fall with her hands, but he'd acted so savagely, she'd flown across the hall, landing on an elbow. The pain coursing through her arm was paralyzing, and she lay there a second, immobile. Yet, she had to see his face. She twisted around in time to see the elevator doors close on a mustachioed man wearing a black demi-mask, sweeping a dark cape through the air with a flourish, à la Don Giovanni.