Operatoonity.com review: A Coffin in Egypt, an East Coast Premiere presented by Opera Philadelphia
Live performance: Sunday, June 8, 2014
The Perelman Theater, Kimmel Center
5.0 stars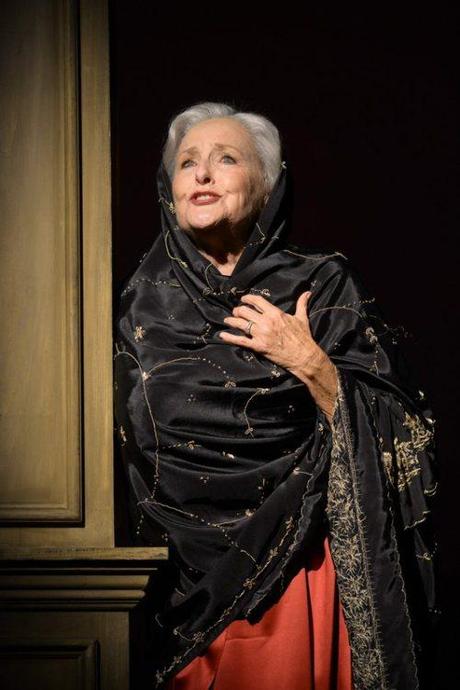 Frederica von Stade as Myrtle Bledsoe
A triumph. A tour de force. A masterpiece.
A Coffin in Egypt presented by Opera Philadelphia merits all of these accolades and more. This chamber opera is a five-star production that constitutes the very future of opera and demands to be seen. More than melodrama. More than one style of music. More than great score and greater singing. Both visual and vocal, humorous and tragic, vivid and visionary, A Coffin in Egypt is an original contemporary opera based on the masterful play by Horton Foote that must be experienced. Because it is an operatic experience.
Opera Philadelphia deserves a tremendous amount of credit for bringing the show to Philadelphia audiences. Of late, they have made the intimate Perelman Theater a showcase for some of the most important new works in opera: Dark Sisters, Powder Her Face, and now, A Coffin in Egypt.
This show is a gleaming amalgam comprising a great book by Leonard Foglia, who directed this production and the original Foote play; a hauntingly beautiful score by composer Ricky Ian Gordon; and a vehicle for a world-class talent, Frederica von Stade as Myrtle Bledsoe.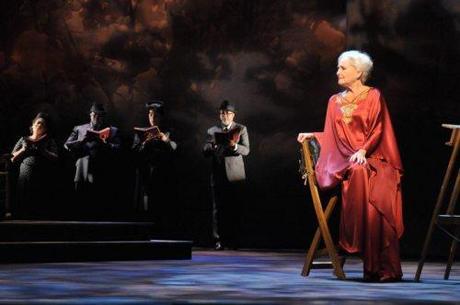 As Myrtle Bledsoe, Frederica von Stade portrays a woman who has lived ninety years.
In Coffin in Egypt, 90-year-old Myrtle Bledsoe, who has outlived her husband, her children, and other close relatives, looks back on her life, and relives all her hurts, regrets, and sorrows–coping with a philandering husband, losing her coveted looks, and settling for a secluded life on the lonely Texas prairie. Like many significantly old people, she repeats herself. Watching this opera is like putting a puzzle together. Pieces and themes introduced earlier drop in during remembered scenes in her life, which are played out for the audience.
This show was written as a vehicle for Frederica von Stade, and within moments of her first appearance on stage, it is apparent why. She creates a sensitive, soul-searing portrait of a nonagenarian who traded love and adulation for duty and permanence. And the audience is enraptured as von Stade splays open Myrtle's soul, sharing why she feels cheated, betrayed, and full of remorse for the choices she made, when she might have been a great actress or someone's treasured soul mate. While exiting the theater, another audience member commented on what a great actress von Stade was. She is better than great. She is a transcendent performer, with vocal gifts so pliant that she scales emotional heights and depths in song and words for which many reputable stage actors have only words.
And she is exquisitely directed by Foglia, who pushes her to the edge of melodrama, then shoves her off the cliff to obtain an authentic portrait of a flawed, Southern woman who keeps on living only to recount torturous memories.
One of the most evocative elements in the show are the gospel hymns sung by a quartet of "Negroes," as Myrtle Bledsoe calls them, dressed in church attire, juxtaposed against Myrtle's reflections.  The composer's production notes explain that the show was to be a one-woman vehicle originally and that the gospel music was only going to be recorded and overlaid with sounds of the prairie. It was a stroke of genius to add the gospel-singing churchgoers singing live in the onstage production. The gospel tunes, idyllically harmonized by Veronica Chapman-Smith, Julie-Ann Green, Taiwan Norris, and Frank Mitchell, added a rich and highly original texture to the show. Their singing started out as sheerly beautiful music but evolved to become Myrtle's tormenter as she recounted the story of her husband's emotional abandonment when he fell for a mixed-race woman.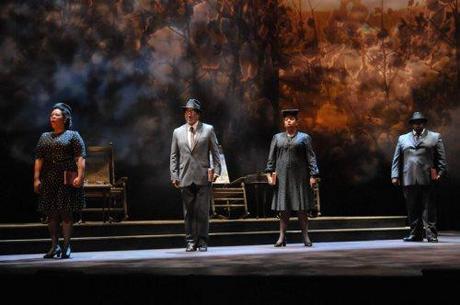 All of the elements that should work in tandem in a production did just that. A symbolic yet powerful and often luminous set by Riccardo Hernandez, lighting by Brain Nason, and the Opera Philadelphia Orchestra conducted by Timothy Myers were critical success factors in the artistic quality and production values this show offered.