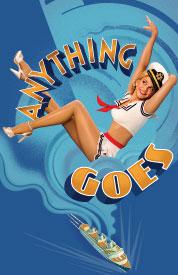 I got lucky earlier this month when I went to the Big Apple. I didn't have to choose between seeing an opera or Broadway show. I packed them both in one day–Ariadne auf Naxos at the Met and Anything Goes at the Stephen Sondheim Theatre later that night. I realize I was fortunate to have seen both. Today's theatre prices might have demanded I choose.  No, I'm not independently wealthy. I hadn't seen a Broadway play since 2008.  
Surprising, really, for someone whose early ambition was to be on Broadway, that I would rather travel to New York to see opera than catch the hottest Broadway show. Stunning, considering I never used to miss the Tony Awards and always tried to pick the winners ahead of time, always knowing most of the contenders. Now, I have a strong command of many of the names and personalities you're likely to see at the Met and other houses in addition to the roles they are playing. And let's not forget who's doing what–thanks to Bachtrack.com, which I consult regularly. Yet I couldn't tell you more than a handful of details about the current slate of shows on the Great White Way.  
I enjoyed both productions though perhaps not equally. The point of this post isn't really to pit opera against Broadway and make the reader choose. The point is to tell you that I think my love affair with Broadway has ended–and that I have a new love interest. Begins with an "o." Ends in an "a." Five letters.  
No, it's not Omaha.  
It's opera, of course. But why? Because it is so damn difficult to sing and to present. And the performers and houses that do it well make an art form that requires consummate skill and knowhow look easy, like you should try it at home.  
Unless you are a trained professional, don't even attempt opera singing. You might kill yourself. Or the people living with you, if you persist.  
I won't go into the reasons why I didn't pursue that Broadway career. Had life circumstances not changed my path radically, I think I might have made it. I did have talent way back when. Whereas I never could've sung opera professionally. Too difficult. It requires too much discipline to study and perform.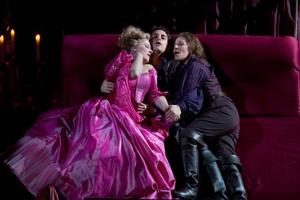 Damrau, Florez, and DiDonota in Le Comte Ory
Le Comte Ory
As I said in my review on Le Comte Ory for Bachtrack
I've never seen Rent and doubt I ever will. The last thing I want is to pay heapum lottum money to be serenaded by an audience of Rent-heads.  
Given the chance to see another professional production of La bohème, I'm there faster than you can say, "Mimi."